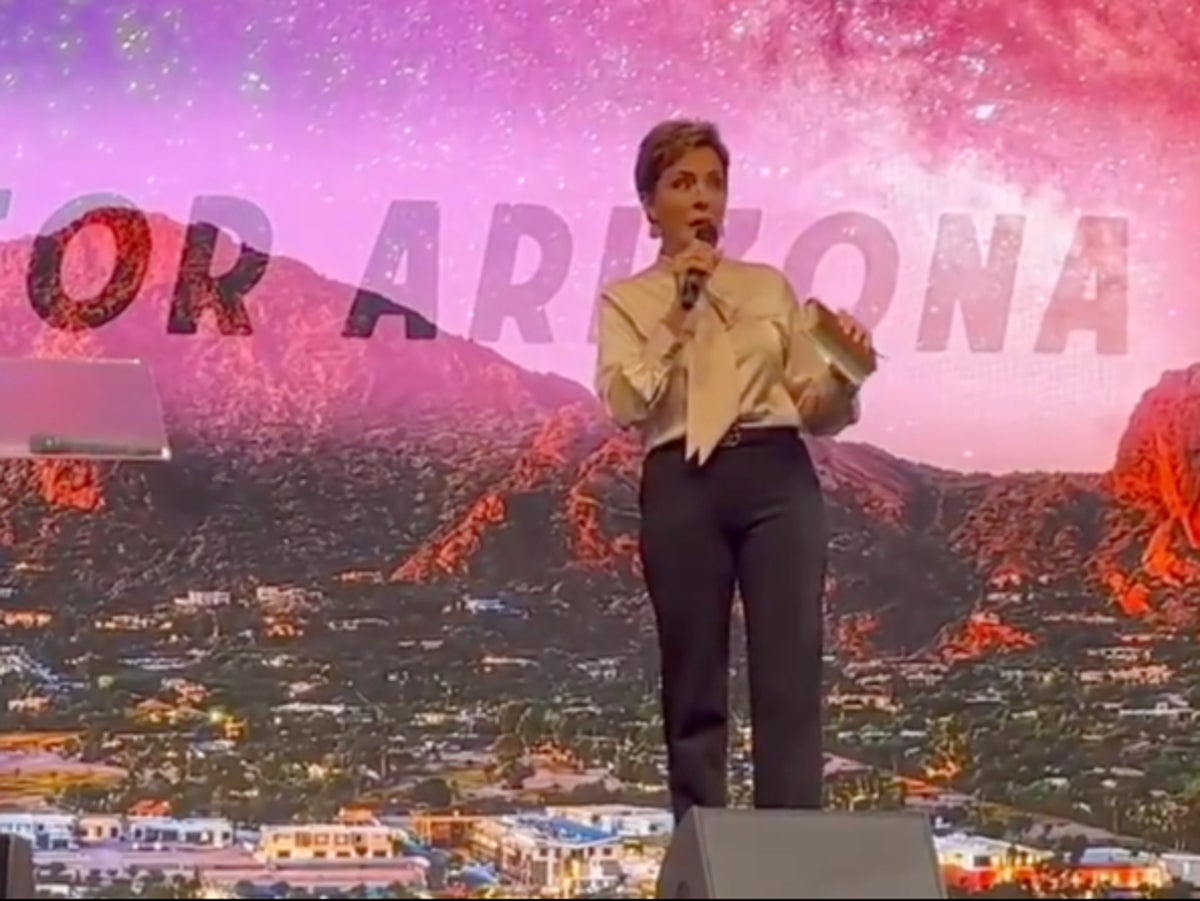 Failed MAGA gubernatorial candidate Kari Lake is urging her supporters to pray for not only her lost election, but also seemingly for Donald Trump as the former president faces possible indictment.
Ms Lake shared a video to Twitter in which she asks supporters to pray that her Arizona election loss is overturned, and for a "bigger prayer – an end to corruption, a restoration of God's glory and a restoration of our God-given rights."
Though she did not name Mr Trump in her video or tweet, she did shortly after share a Twitter quote from the former president saying "the best thing you can do for me is to pray for our Country and the safety of our Country."
In a video attached to the tweet Ms Lake is seen clutching a Bible and speaking to a crowd, telling them "we need to open more eyes and wake more people up to what's happening."
The crowd responds "amen."
Ms Lake also commented directly on Mr Trump's looming indictment, repeating his talking points that the government was "after" regular people, and not just him.
"It's not him they're after. They are after all of us. He's just in their way. We've got his back, because he always has ours. RT if you stand with President Trump," she wrote.
She further claimed the accusations against Mr Trump are a plan to "derail his re-election," according to Newsweek.
"Accusation after accusation. Investigation after investigation. And they've come away with nothing," she said. "Now, in their desperation to derail his re-election, we see this ludicrous effort to jail him on the flimsiest campaign finance violations they can find."
The former president endorsed Ms Lake in her gubernatorial run, making her one of many of his preferred candidates to lose their midterm elections.
Mr Trump is facing possible indictment by the Manhattan District Attorney's office for hush-money payments he made to adult film star Stormy Daniels. He called for his supporters to protest in the event he is arrested, though those protests have largely failed to materialise.
Much like Mr Trump, the news anchor-turned failed MAGA candidate has refused to accept the results of her election and has repeatedly claimed that election integrity issues caused her to lose.
Ms Lake sued Maricopa County, Arizona, claiming that voting machine malfunctions during the midterm elections prevented same-day voters from casting their ballots. A judge and a later appeals court tossed out her case for lack of evidence that any of the malfunctions were intentionally caused to disrupt Republican voters, Newsweek reports.