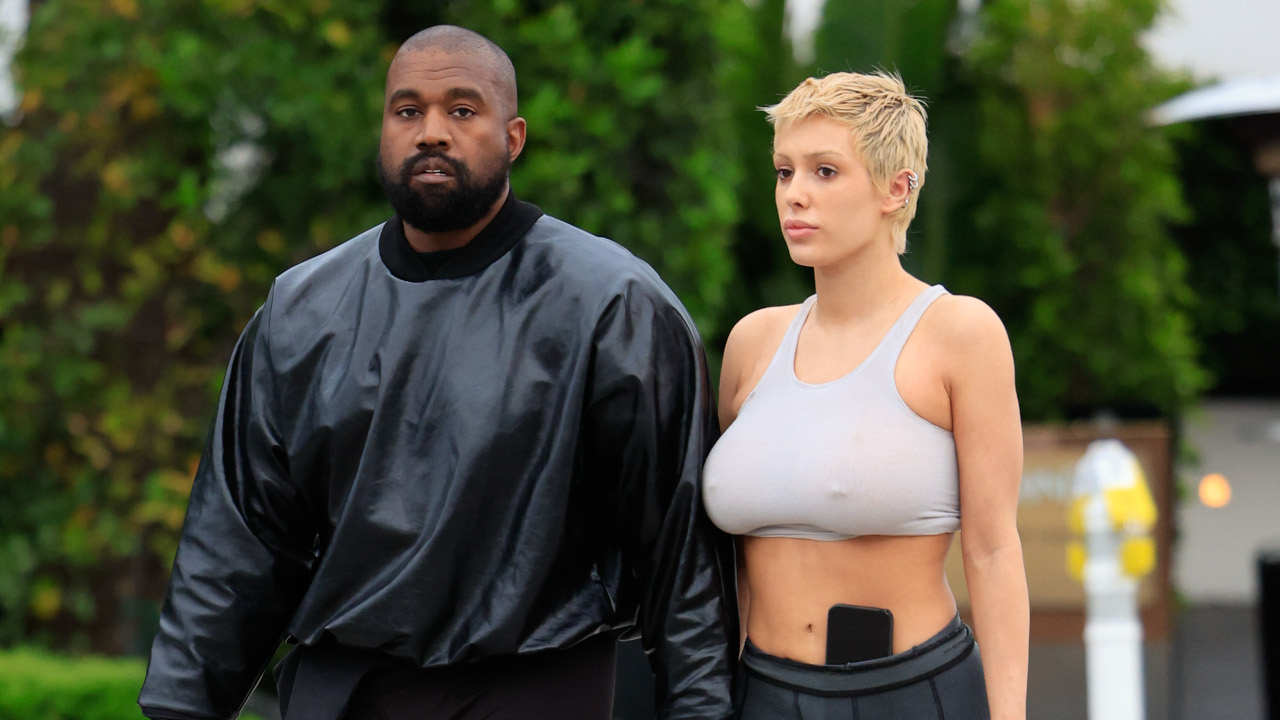 There are probably a lot of things one needs to consider when becoming the wife of Kanye West. One of those things, if said wife was previously basically unknown to the world at large, will, of course, be how one chooses to present oneself now as the spouse of a very famous person who's also a fashion mogul. As we've seen lately, Bianca Censori has been delighting in her ability to rock some uber-specific looks, and has continued her quirky fashion streak by sporting something that many are comparing to a condom.
What Did Kanye West's Wife Bianca Censori Wear That Looks Like A Condom?
There are a lot of people who really enjoy using their clothes to make bold statements, and it would seem that West's new architectural designer wife is among that lot. It wasn't that long ago that we saw her in a daring (and body baring) body tape look, and now Censori has taken her fashion in the complete opposite direction by sheathing herself head to toe in what some on Twitter are (pretty fairly) calling a "full body condom."
The controversial rapper and his bride were spotted on June 4, supposedly heading into Sunday service. Both were in all black, with him wearing leggings, a t-shirt with some kind of shoulder pads underneath, and what appears to only be socks on his feet. However, Censori is quite literally covered in a black, mostly form-fitting sheer dress, with sheer netting fitting tightly over her head, and her hands inside of the dress under the same see-through material. 
Even better? Her covered head is poking through a massive folded collar which encircles her upper body and must be roughly two-feet tall. As you might imagine, people had things to say about their outfits, especially what she's wearing:
This is basically true, it seems. As wild as this look is, we've seen other wild fashion moments become trends, even if those trends exclusively appear whenever famous faces are out and about. Everyone from Florence Pugh to Ciara has boarded the free the nipple train, and pantashoes have been a celeb thing for a while now. So, why not what Censori's wearing, which I will more gently call "sandworm chic"? Obviously, not everyone was so gentle, as there was plenty to say about how her head pokes out of the outfit:
Look, I cannot pretend to understand what either of them are wearing, as I've cultivated a 90% pajamas lifestyle that I'm thoroughly proud of, though at least the legally embattled Grammy winner looks relatively comfortable. I will not, however, understand how his wife could have gone to the bathroom with her hands totally covered by her dress or, in fact, how she had a full range of motion or saw anything that wasn't in front of her with that collar. Something that I think lots of people were wondering about:
While Censori's also recently gone out in more than one "the mummy, but make it fashion" sort of look that saw her covering her whole head, her black body condom/uncircumcised penis attire was crazy enough to make more than a few think the whole photo was a fake, as there were questions about it being A.I. generated, though one person had another explanation:
People have been so baffled by her fashion choices as of late, that a relationship expert was asked to weigh in on why she's changed her style so drastically, and, apparently "a desire to recalibrate how one looks" is normal after a big change like getting married, so I guess we should all just continue to sit back and enjoy the fashion ride she's decided to take us on.