Josh McDaniels is proving to be like every other coach who emerges from New England.
If they see an opportunity to recreate Foxborough somewhere else, they do it.
McDaniels has aggressively pursued that notion during the early days of free agency. The Raiders have already signed quarterback Jimmy Garoppolo and receiver Jakobi Meyers to deals totaling $100.5 million over three years. McDaniels spent four years in New England with Garoppolo and three with Meyers. Now, they'll reunite in Las Vegas.
While Raiders fans are hoping for greatness, history proves otherwise.
In recent years, we've watched New England lose linebackers coach Brian Flores to the Dolphins, defensive coordinator Matt Patricia to the Lions and special teams coordinator Joe Judge to the Giants in head coaching capacities.
All were fired within three seasons, and, in Judge's case, it took only two.
Flores came to Miami before the 2019 season. That winter, the Dolphins signed tight end Dwayne Allen and corner Eric Rowe, both from the Patriots. The following offseason, Miami signed away linebackers Kyle Van Noy and Elandon Roberts, and center Ted Karras from the Patriots, with Van Noy earning $51 million over four years.
Van Noy lasted one season with the Dolphins before being released and returning to New England. Karras did the same. Allen was cut before playing one game for Miami. Roberts and Rowe endured in Miami and are now both free agents.
In Detroit, Lions general manager Bob Quinn—also from New England—hired Patricia, who went 13-29-1 while bringing in more than a dozen former Patriots over that stretch. The headliners were edge rusher Trey Flowers, linebacker Jamie Collins, receiver Danny Amendola, safeties Tavon Wilson and Duron Harmon, and defensive tackle Danny Shelton.
As Patricia's record indicates, it was a disaster. Flowers signed a five-year, $90 million deal, including $56 million guaranteed, after helping lead the Patriots to a Super Bowl victory in 2018. He proved an expensive flop, totaling 10.5 sacks over three seasons before being released.
Amendola played two seasons in Detroit on a pair of one-year deals, totaling 1,280 receiving yards. Collins spent 16 games across two campaigns with the Lions, his time in Detroit bookended by his second and third stints with the Patriots. And Shelton lasted one year.
As for Judge, he followed the script. The Giants signed former Patriots offensive tackle Cameron Fleming, running back Dion Lewis and safety Nate Ebner in his first year at the helm.
Ebner lasted two seasons, almost exclusively on special teams. Fleming was gone after one, struggling on the right side. Lewis totaled 242 yards from scrimmage in 2020 before retiring after the season.
The following offseason, Shelton was brought to New York, and he lasted one year.
Judge never found his stride, going 10–23 over two seasons before being dismissed.
Then there was Scott Pioli, who left New England's front office to take over as the Chiefs' general manager in 2009. Pioli immediately sent a second-round pick to the Patriots for quarterback Matt Cassel and linebacker Mike Vrabel. Cassel spent four seasons in Kansas City, completing 57.4% of his passes with 59 touchdowns and 44 interceptions.
In 2011, Pioli fired coach Todd Haley and replaced him with a former New England defensive coordinator in Romeo Crennel, who went 2–14 the following year, leading to the dismissal of Pioli and the release of Cassel.
Last year the Raiders hired McDaniels and Dave Ziegler, also formerly of the Patriots' personnel department. And they went to work, signing former New England edge rusher Chandler Jones, running back Brandon Bolden, tight end Jacob Hollister and Harmon.
Harmon played 96% of Las Vegas's snaps last season but struggled on a unit that ranked 28th. Jones was one of the year's biggest disappointments, notching a career-worst 4.5 sacks save for 2020, when injuries limited him to five games. Hollister played three games and didn't record a catch, while Bolden totaled 104 yards from scrimmage.
Now the Raiders are again relying on New England connections, agreeing to terms with Garoppolo and Meyers in the first two days of the NFL's legal-tampering period.
While McDaniels and Ziegler are loading up on familiar faces, the team isn't improving.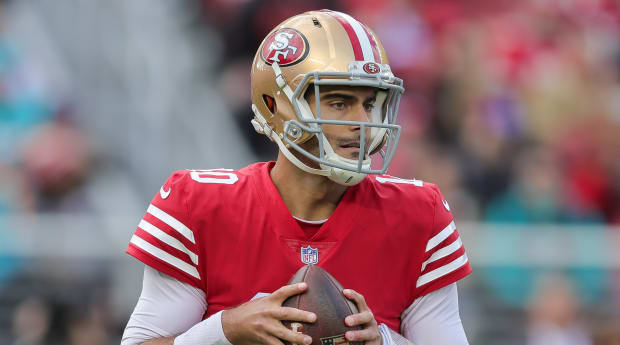 Garoppolo is cheaper than Derek Carr, but he's not the better player. Both entered the league in 2014, and Carr has reached four Pro Bowls and thrown for at least 4,000 yards on four occasions. Garoppolo goes for zero in both categories but did lead the 49ers to Super Bowl LIV.
And while Carr's cap hit would have been almost $24 million more than Garoppolo's in 2023, the ceiling of the team has been lowered. Carr is also far more durable, missing only two games due to injury in his nine-year career. Since becoming a full-time starter in '18 with the 49ers, Garoppolo has played in 51 games while missing 30 due to various ailments.
If Las Vegas falters over the next year or two, there's a great chance Garoppolo, McDaniels and Ziegler will all be looking for new gigs.
If that happens, they'll join a long list of those who tried to re-create Foxborough outside of Gillette Stadium and failed miserably.