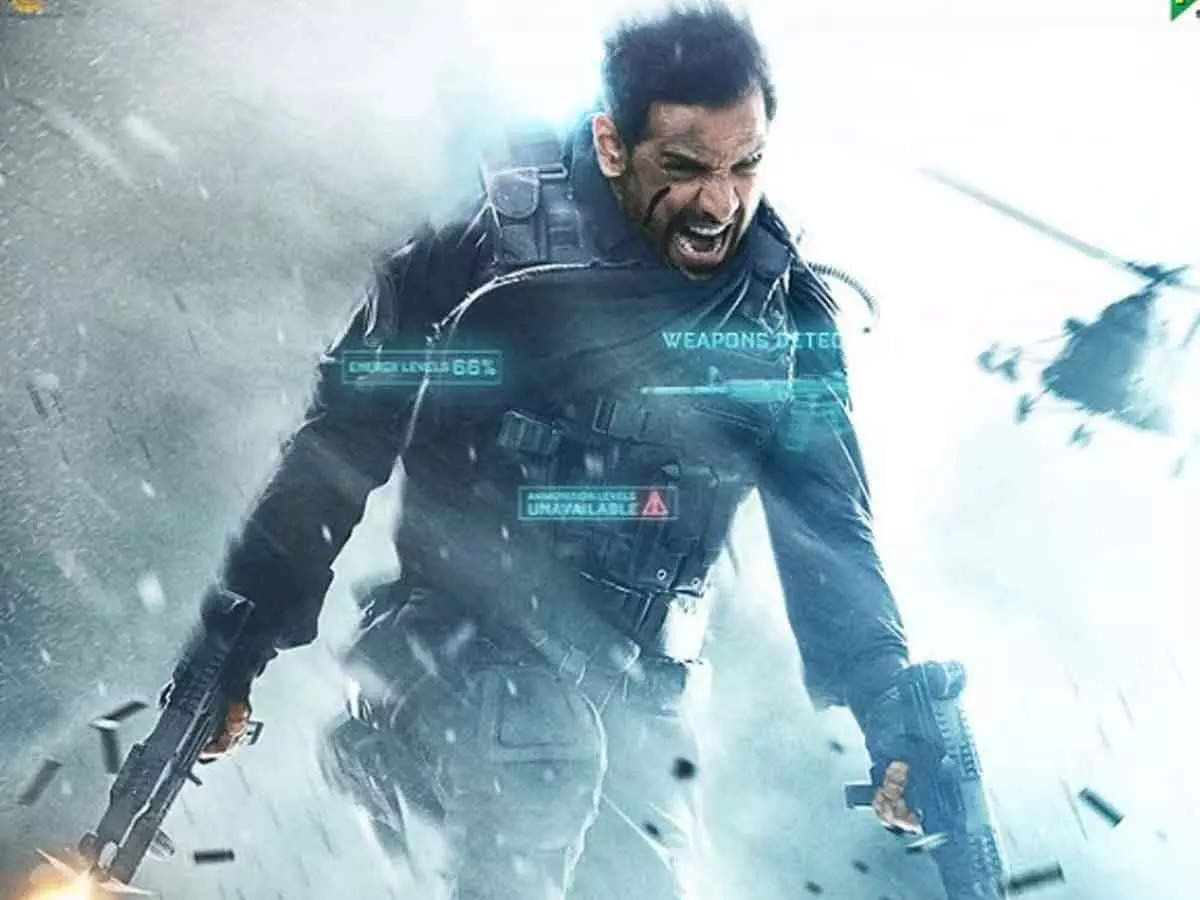 Bollywood star John Abraham will soon be stepping back into the ring of fire with his next action-packed film 'Attack'. The star, who plays the lead in the film, has also doubled up as producer and writer, with this Lakshya Raj Anand directorial.
Ahead of the film's release on Friday, the actor and director duo didn't just set the record straight about the real inspiration behind their film but also got candid about their 'humble attempt' to make India proud, toying around ideas of 'Attack: Part 2'. John also spilled the beans about his exciting plans to have a female antagonist "beat the s**t out of" him.
Excerpts:
John, tell us about your film 'Attack' and the inspiration behind it.
Why did we make 'Attack'? We were inspired by a guy named Nathan Copeland, an American civilian on a wheelchair with a chip implanted in his brain and electric nodes sticking out. His nervous system is telling his muscle to raise his hand, but he can't do it because his communication is cut off. That chip becomes the bridge. With all those nodes sticking out of him, his brain can command his body. So that man is able to walk today.
Elon Musk is making something called the neuralink in people's hands by 2023. He thought 'SIM card ki kya zarurat hai? I'll put everything, SIM, Adhaar, Pan card in that chip. So wherever you go, you can scan that. That is coming next year. So 'Attack' becomes relevant this year. Talking about heroism and why I made this film, DRDO, is making exoskeletons for the Indian Army. This means we are making super soldiers to stop the collateral damage and loss of lives. Our DRDO is doing this and we don't even know it. It's out in an official statement. What I am making is something relevant today.
When people watch 'Avengers', they say 'so good, so good'. Why can't India make its own super soldier? I am not saying we are as good, but what I am doing is in my own little way, a humble attempt to make India proud. And, I hope our industry support different kind of cinema, because if you all don't support this kind of cinema, then we will belt out the kind of crap you are seeing. Including me. We belt out that s**t you are seeing and it is the last kind of thing we want to do.
John, you have often talked about creating your own Avengers universe in India; is this super-soldier a way in that direction?
'Attack' is an amalgamation of many different kinds of films. My director has been inspired by so many films. Is 'Attack' story unique to India? Yes. We haven't copied another story. It is actually what is happening with the DRDO. There is a lot of credibility. Whether it is 'Parmanu' or 'Batla House', you will see a post-script in 'Attack'. Even though we have made a hyper-real commercial entertainer, there is some factuality in the whole thing. It is our own story, but yes, there is a 'Robo Cop', a film called 'Upgrade', 'Universal Soldier', there is even an 'Iron Man' with this thing (arc reactor) here. There are so many films like that. Have we been inspired by all of that? Yes, possibly we have. But in the end, we wanted to create our own super-soldier.
Do you see yourself as a Captain America or Universal Soldier?
Captain India.
The film toys around politics, there were so many ways this super-soldier could have been used as an anti-hero or villain. What would you say about putting across that kind of content?
You know what? This is very interesting! I think all these cyborgs are always used as villains.
You give him a purpose and put him in a negative light, do you think it could be a good plot because you don't really see such things in Bollywood.
In part one he is positive, there is a purpose and there is also an emotional hook in the film. We have shown the guy as a romantic guy, that things have happened to him in his life. It is a nice film. But there is only that much you can do with one story. And, I think we made the best of what we could do in Part one.
Lakshya, would you say that making this super-soldier the villain would make for a better plot?
You watch the film and then say this. It is the next plot. He is the first prototype and he is going to face those challenges.
As a director, do you think we don't see many anti-heroes because they run the risk of being called anti-national?
No. I think the anti-hero is working more than anything today. Be it Pablo Escobar or Pushpa, this is the age of anti-heroes because people are bored of seeing the good guy saving the day and doing charity. They want to be bad and see the person be aspirational. I think you will see a lot more of this in Bollywood. It will follow soon. I'm not sure why they don't make it, but they should.
How will 'Attack' be a box office game-changer in the sci-fi genre? As not many films, except 'Krrish' have worked in Bollywood so far...
I really hope this works. I don't know about it working commercially, but I believe that it will work at a lot of levels. This will be a game-changer. I am not trying to be overconfident, but this is not your regular superhero film that has been released in the past. It is relevant today and tomorrow. When you walk out, you will say great production value, greatly executed, cool concept, different. You will say 'hey, why don't we make more of this?'
Films like these deserve support. You have a young director who has made something so uniquely different.
Lakshya, will the box office play a part in deciding if this franchise will go forward?
This is obviously a business. We've had producers who have already told me that they want to make the sequel and don't care about the (box office) play. After seeing the film also they were very confident.
But for me, it would. I would take a step back and try to understand that maybe the audience does not want this kind of cinema right now, or there may be another way to say it. If it doesn't get that recognition, I would personally take more time to evaluate. I also am aware that this film could either go rocket high with the audience coming in after seeing the teaser and trailer, or that this could be something new, so the audience takes time to feel it. If people don't come now, we have 8th as well, so by word of mouth the audience can grow.
John, will we ever see you getting beat up by a girl in your next film?
Yeah! This is what I was planning for one of my next films. I'm only fighting guys. I said let's throw this notion out of the window because honestly, I feel that a man doesn't need to open a door for a woman. A woman can open a door for a man because she is really powerful. I said why not get the antagonist to be a woman who really throws me around? Like someone who hammers the s**t out of me. I thought that will be fun. I am planning something, but don't want to say too much otherwise someone else will do it.