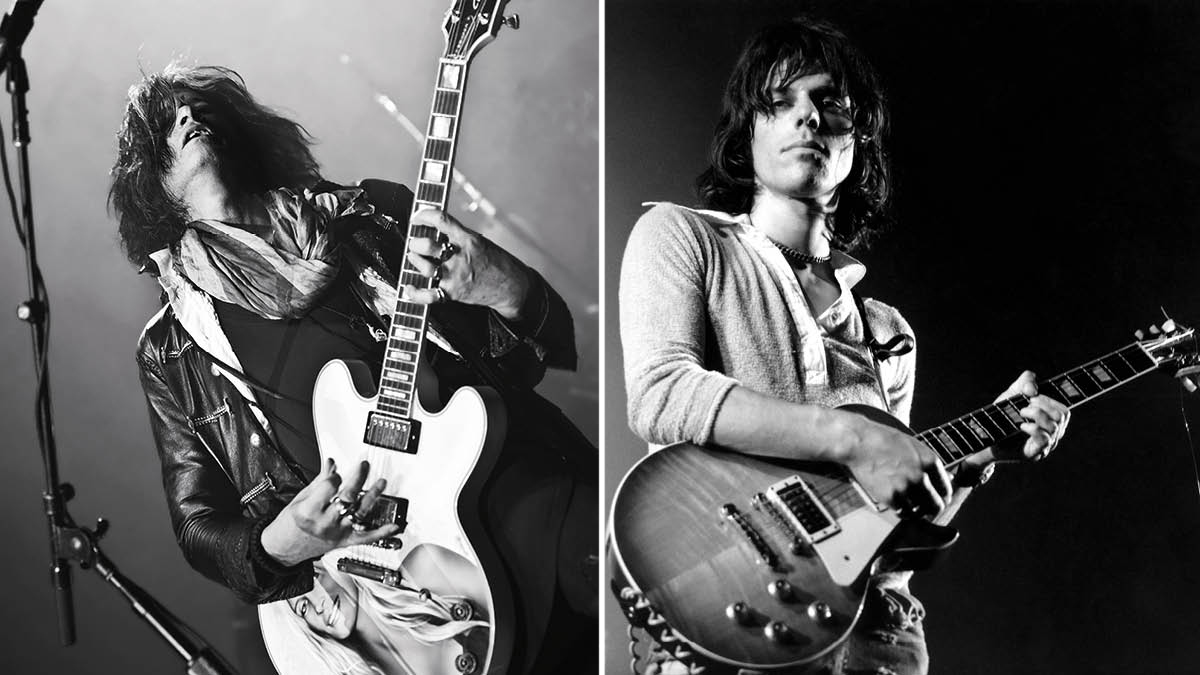 For Your Love was the first Yardbirds song I remember, and then Happenings Ten Years Time Ago and those songs where he was using a Fuzz-Tone for the first time. Those songs came out around the same time as [The Rolling Stones classic] Satisfaction, and they're pretty close as far as using a Fuzz-Tone goes. I would try to figure out licks from the records. 
I just know I was never really that good at it! Train Kept a-Rollin' was the first song that I tried to play, but it ended up sounding like Aerosmith. I was lucky enough to have some friends who had older brothers who had records – and not the original but one of the ever-evolving versions of Train Kept a-Rollin' by Johnny Burnette. 
That really helped me figure out what was driving these English blues-rock things. Some of the early Jeff Beck stuff I could come close to. Definitely I was always trying, and at least his influence was always there.
The hand of God
I was a fan for a long time before I even got to really meet him. I was 18 or 19 on that first Jeff Beck tour. I was at the stage door waiting for him to come out; I was the only one standing there after seeing him play at the Boston Tea Party. He came out alone with his guitar case in his hand, and I said, 'I have to shake your hand.'
I told him he was the best in the world, and that was the first time I met him. I know he doesn't remember it because I asked him about it many years later. I always think about that first time that I shook his hand, before Aerosmith, when I was just one more kid in the audience.
I'd heard things about him in the press that he could be really moody, and he still stopped for a second, looked me in the eye and said, 'Thanks a lot, man.' I thought about that moment as time went on and our band got lucky enough to get some success.
Jeff plays while Rome burns!
In '76 we did a run of dates. I think it was Rick Derringer first on the bill, and Jeff Beck and then Aerosmith. I always felt really strange about that, with Jeff going on before us. Somebody got word to him that it was my birthday and he came out and played Train Kept a-Rollin' with us. 
I think it was Comiskey Park [Chicago baseball stadium] because that was the gig where when he was playing and part of the stands caught on fire. It was really hot out, and of course back then they didn't stop the show, they'd just kind of move people away. We're all joking like, 'Jeff plays while Rome burns!' We went through our encore and Train Kept a-Rollin' and then he was gone. It was great. I really felt honoured.
His own man
We played with Guns N' Roses when they were starting to get rolling. It was after they opened for us. It was great watching that happen because it's the most exciting time in any band, when you realise you're not just trying to fill the club with your friends. In '92 they were playing the racetrack in Paris. 
There were 100,000 people or something, and they invited me and Steven [Tyler] and Jeff to play Train Kept a-Rollin'. It meant us doing dropping everything and getting on a plane, but of course we would do it. It's one of those things you just do.
At the soundcheck, I really didn't talk to Jeff much. I don't think he liked the sound he was getting at the sound check. I knew it was bound to be a lot of fun, and again Guns N' Roses are a great band.
We did went through the soundcheck, and the next day Jeff's gear was gone. I said, 'Where's Jeff?' I mean, that's kind of the reason I wanted to do this. They said, 'Well, he wasn't feeling right about it so he went home.'
There were the stories about leaving a tour with The Yardbirds and that kind of thing, but it was the first time that that side of his personality touched me. But the soundcheck was fun. I thought it sounded good, but he is what he is.
When you're going on to somebody else's stage like that you have to have to adapt a little bit to what they're doing. You don't have the same kind of control as when it's your own gig, so I wasn't surprised. When you go and jam with somebody you want it to be as good as it can be, but very often you're not using your own amp. Playing outdoors like that in a huge arena, you've really got to feel comfortable with it if you're gonna do your best, and that's what Jeff's all about. 
The introvert
When Jeff was inducted as a solo artist into the Rock And Roll Hall Of Fame in 2009, we started talking more. He was a pretty introverted kind of guy until you spend some time with him.
The stolen fuzz
When we were just starting to make it in Aerosmith, our manager had been one of the big promoters in Boston and so we were able to get tickets and backstage passes to a Jeff Beck show. We had a road manager who was a great guy, but he just looked at the world a little different. 
Backstage, I didn't talk to Jeff then but he was using an orange Colorsound [fuzz]. We're driving home and our road manager pulls this orange Colorsound out of his jacket. He said 'Well, he had six of them so I just picked it up for you!' I got really pissed off. I said, 'No, we don't do that! That is not us.' But we were still pretty hand to mouth, and back then getting equipment going back and forth across the pond was a big deal. What was I gonna do – ship it to him?
I had it for about three weeks and then it got stolen from me. I was actually kind of happy to see it go. So I always felt bad about it. So later on me and Brad [Whitford, Aerosmith guitarist] were some of the first guys to get some Klon Centaur pedals. We each had three or four of them. They're pretty amazing, and still today they're kind of the '59 Les Paul of pedals.
I took one of my original ones and after the Rock And Roll Hall of Fame soundcheck I told Jeff the story and said, 'I just want to adjust the karma here, so I want you to have this.' I think he was pretty surprised to get it and I was really happy to give it to him. I've given him a few presents over the years, just to let him know I'm listening.
Rockabilly Beck
I've seen almost every tour he's done. The first one I missed was when he was playing with Stevie Ray Vaughan. I was really bummed about missing that one, but pretty much every tour I've gotten to go back and talk with him for a minute. It was really only in the last five or six years he invited me over to his house. 
Hollywood Vampires [Joe's side project with Alice Cooper and Johnny Depp] had a song, Welcome to Bushwackers, that was almost a rockabilly kind of thing. One of his favourite hobbies is playing rockabilly. He's a huge Gene Vincent fan. Jeff heard that one and he said he would do it, but he wanted to take it home and work on it. When we got it back it was great. I mean – it was Jeff!
All feel and ears
I've heard him play a lot of times, and I think the one moment that is the most impressive to me was when he played Over The Rainbow with a slide up by the pickups. You know, where there are no frets, and his intonation was spot on. It's all feel and ears. It's not foot pedals, it's not this amp or that amp. He could have done it on anything.
It was stunning. That two-and-a-half minutes, the audience was on the edge of their seats. When he finished he looked up almost surprised, like, 'Holy shit, I can't believe I just did that!' Every little trick of nuance that he stumbles on, it's like he files it and it's right there at his beck and call. That's what makes him the genius that he is.
No repeats
One thing that I've learned from Jeff over the years, and I try to get there, is that every time you heard him play live he would do something different. 99 per cent of the other guitar players out there, they're going to throw all the licks in their wheelhouse together. When Jeff finally got his voice with the Strat, he played something different every time.
Who jams with a bird tweeting?
When he does the Blackbird thing [from 2000 album You Had It Coming], forget it! I mean, who jams with a bird tweeting? And I love [2016 album] Loud Hailer, because he's got that funk side to him. 
Pretty early on reading interviews I heard that he was into The Meters. That's really some of my favourite stuff when he's in that in that mode. He plays some killer stuff on that record.
The slide master
He very seldom if ever does anything that isn't in standard tuning. The most amazing thing about his slide playing is that he finds the notes. Most people use an open tuning. Jeff's influence on me as far as slide playing is that there are no boundaries. 
You'd swear to God he was tuning his guitar down, but what he's doing is playing in keys that make it when you go down to an E or whatever it sounds like down the road a ways. He's not a capo guy, he's not an open tuning guy. I don't even think he's picked up an acoustic guitar in 40 years but he sure has picked up a Stratocaster!
The artist
Salvador Dali looked at the world with different eyes than most people, and was able to put it out there and try and get people to see what he was seeing. He was always inventing new ways to express himself, and so I think that of all the painters in that world Salvador Dali probably comes the closest to what Jeff does.
The genius
One of the last times I saw him play live we were doing the Classic Rock Awards in Tokyo. [Photographer] Ross Halfin put it together, but I didn't want to go all the way to Japan for one thing. I said, 'Okay, who's gonna be there?' Ross went down the list and I said, 'I cannot miss this!' I remember sitting in the audience during the soundcheck when Jeff came out.
I was sitting there with Jimmy Page, just the two of us, like two kids elbowing each other every time Jeff would play something. I don't know why he bothers playing his slide because he can duplicate that with his vibrato arm. He'll test his amp just to make sure it's working and it's like, 'I never heard that before!' 
That's the thing about Jeff: he's on this journey and always has been, discovering new stuff. That's the genius. That's why there's all of us other guitar players and then there's him. Every time you see him he's doing something different. That's the thing that inspires me the most about Jeff.