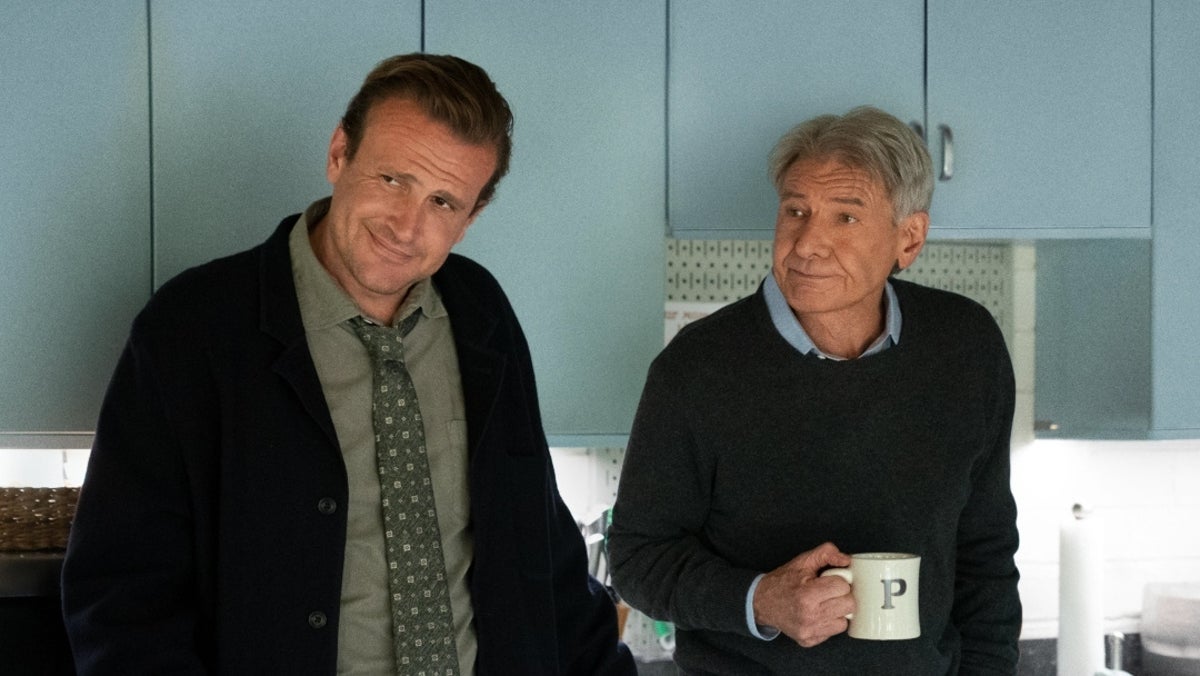 A dishevelled middle-aged man rides his bike to work, shouting "Get the f*** out the way!" at other cyclists. He's hungover. Having spent the night mainlining tequila at a depressing pool party, he's been knocking back prescription pills all morning. Naturally, there's some unresolved trauma – his wife recently died in a car accident. But as he hurries into the Cognitive Behavioural Therapy Centre in his hometown of Pasadena, late for his appointment, it turns out he's not the one receiving therapy – he's actually the one paid to be there.
This is the opening scene of Shrinking, Apple TV+'s chaotic, heartwarming new 10-part comedy. It stars Jason Segel as Jimmy Laird, a grieving therapist who starts to break protocol and tell his clients exactly what he thinks. "Grace, your husband is emotionally abusive," he snaps at one woman. "Just f***ing leave him."
While watching him ignore his training and ethics by telling his patients what to do – and at one point even admitting to being high during a session – I found myself thinking back to my own experience of therapy. I've often wanted to shake my therapists with frustration. I've wanted the solution to my pain – not just a caring smile followed by "and how does that make you feel?" In Shrinking, Jimmy turns the tables. He's the one who's infuriated, who can't just listen to his clients beating around the bush any more.
But a real-life therapist would never usually do what Jimmy does (no matter how much they might want to). I've met a lot of them, having had bouts of therapy at different stages of my life – when I struggled with addiction issues in my twenties and later when dealing with the grief of losing my partner. It's more about coming to conclusions yourself, and finding peace in all the emotional turmoil by talking about it. The therapist is supposed to be the calm, collected counterpoint.
I've had plenty of helpful therapy over the years, where I've gained insights into myself that have changed things forever – I was 22 when one therapist helped me realise that I had a fear of abandonment, which was leading me to behave in ways that scared my boyfriends off.
That's not to say I haven't had some whacky therapists along the way. They might not have yawned loudly behind my folder of notes, or turned up at a restaurant and confronted me while on a date, like Jimmy does in Shrinking, but I've certainly encountered my share of oddballs.
One therapist I saw for six months when I was 23 suggested that I saw her mentor after our sessions came to an end. He turned out to be a physic healer dabbling in magic. He tried to get me to meditate with weird chants, and build altars to deities to transcend my issues. He also wanted a lot of cash for his services. It turned out that the therapist I had originally been seeing was under his spell. I never saw him again.
Another therapist I had, during a stint in rehab a few years before, was secretly having an affair with another client. I only discovered this after I left – but it took me a while to feel completely safe on therapists' sofas after that.
Years later, when I was pregnant, I was given therapy on the NHS to deal with the grief of losing my partner before our first child was born. I told my counsellor I was more than 25 years sober, and she asked me why I didn't try to drink sensibly. Luckily, I didn't entertain the thought, or I might have fallen off the wagon.
And a therapist I had in my late twenties once challenged me, asking if I was attention-seeking when my mother was seriously unwell. She later apologised and said that her own issues had crept into the session, saying that she needed to keep a better check on her own emotions.
When I was a teenager, my mum was a therapist, but she kept her work and personal life strictly separate. Or at least she tried to. It was hugely embarrassing one morning when I came flying out of my bedroom, naked, bumping into her client on the upstairs landing. My mum had told me not to come out during arrival time – but I forgot.
My mum said it was important that her clients knew nothing about her life; she had to be a blank canvas for her therapy to work. If we were ever out shopping and she saw someone she'd been working with, she would hide.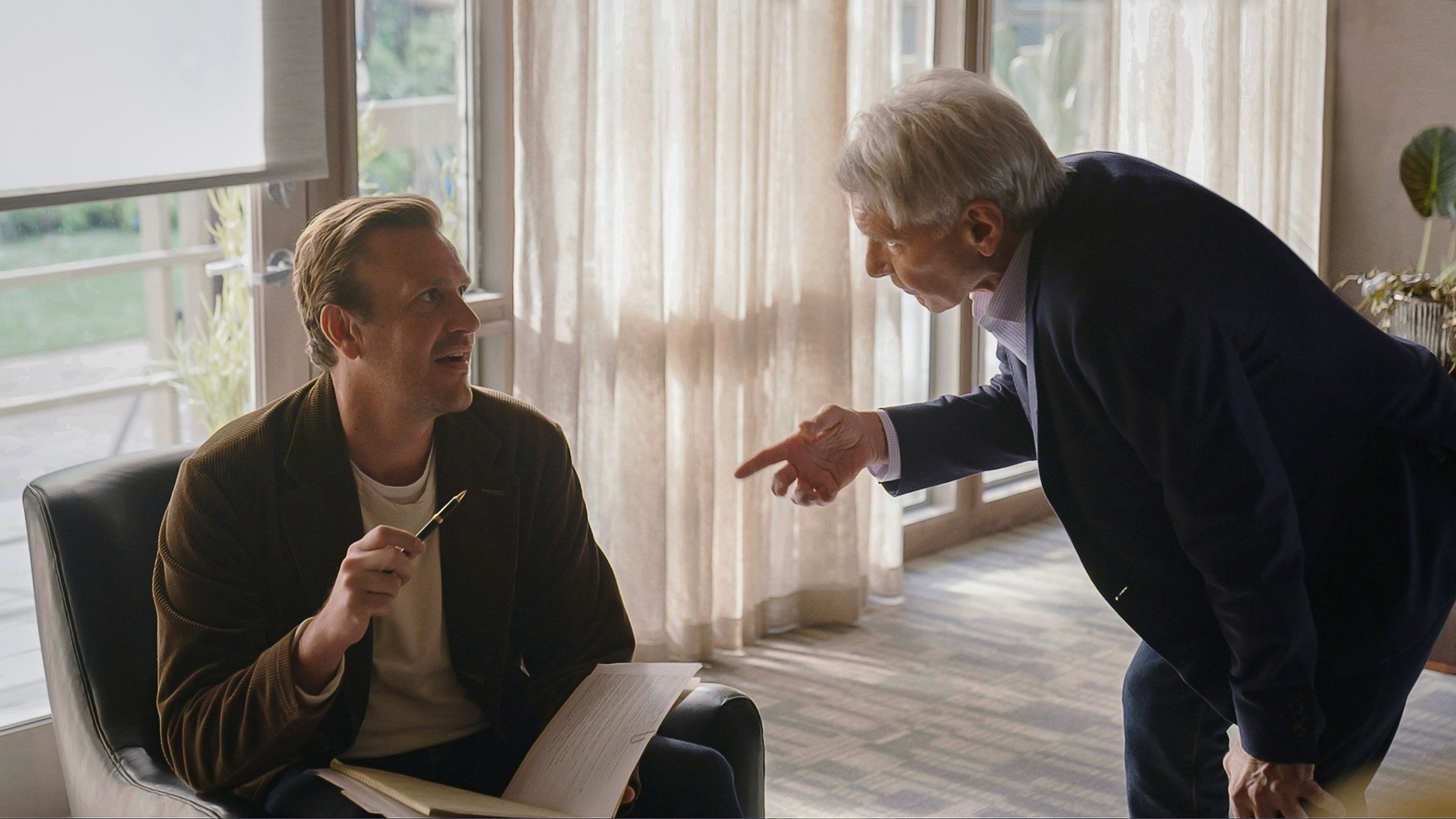 This is the opposite to Jimmy, who lets his personal and professional lives bleed into one another in catastrophic ways. I mean, the man let a client move in with him and his teenage daughter, for crying out loud.
Therapists need to work within an "ethical framework", says Karen Laird, a registered therapist in London for the British Association for Counselling and Psychotherapy, who says that to admit to a client that you have been drinking and high on drugs the night before a session is, you guessed it, a no-go area. "You just wouldn't take that into the room," she says. "You wouldn't even go in to work in that state – you would cancel."
Jimmy has also not even started to properly grieve his wife, according to his colleague Dr Rhodes (played by Harrison Ford in his first major comedic TV role), who tells Jimmy that he's "replaced booze, drugs and women" with being "overly involved in your patients' lives". Laird – who is trained to leave her emotions "at the door" – says that if a therapist is grieving, they "would be dealing with it elsewhere" and "either take time away from working" or "completely understand what they are going through in order not to project their feelings onto others".
Top London psychotherapist Susanne Hakimi, who spent years running UK rehab centres for addiction issues, says that it's important to remember that therapists are "human beings". And while Jimmy certainly reveals his flaws as a therapist, showing that he is frustrated with his clients isn't the best way to do so.
"The most important thing for a therapist is that they process their anger and frustration with their supervisor," says Hakimi, "and to remember that therapists can be impacted by the material that clients present." Hakimi does, however, believe it's helpful to challenge a client if they are "stuck in a repetitive loop" with their thinking or behaviour. But it's breaking the rules to "lose the plot" and tell a client what to do. "That would be judgement and a biased response. It could be linked to a therapist's own experience. Instead, it's important that you pay attention to what the client is saying and to empathise."
Segel's Jimmy, however, has no such self-control. "I'm rooting for them," he says. "I'm like, 'Come on you f***ed up person, you can change,'… and they just never do." Dr Rhodes calls this "compassion fatigue" and tells Jimmy, "We all hit those walls." But Jimmy says he wants to cut to the chase and be more proactive. "Great idea – we just rob them of their autonomy and any chance they have to help themselves," comes Dr Rhodes's sage reply.
Marie French, a UK therapist based in private practice, says that the "premise of therapy is to facilitate clients to empower themselves and to make healthy decisions – not to be dictated to by the therapist".
Any therapist worth their salt would say that Jimmy needs to do some serious work on himself. But I have to admit, there is a part of me that would quite like to go to Jimmy. He might be zany, and, granted, his interference often ends in chaos, but there's no denying he'd have saved me a lot of money over the years.
'Shrinking' is on Apple TV+ from 27 January