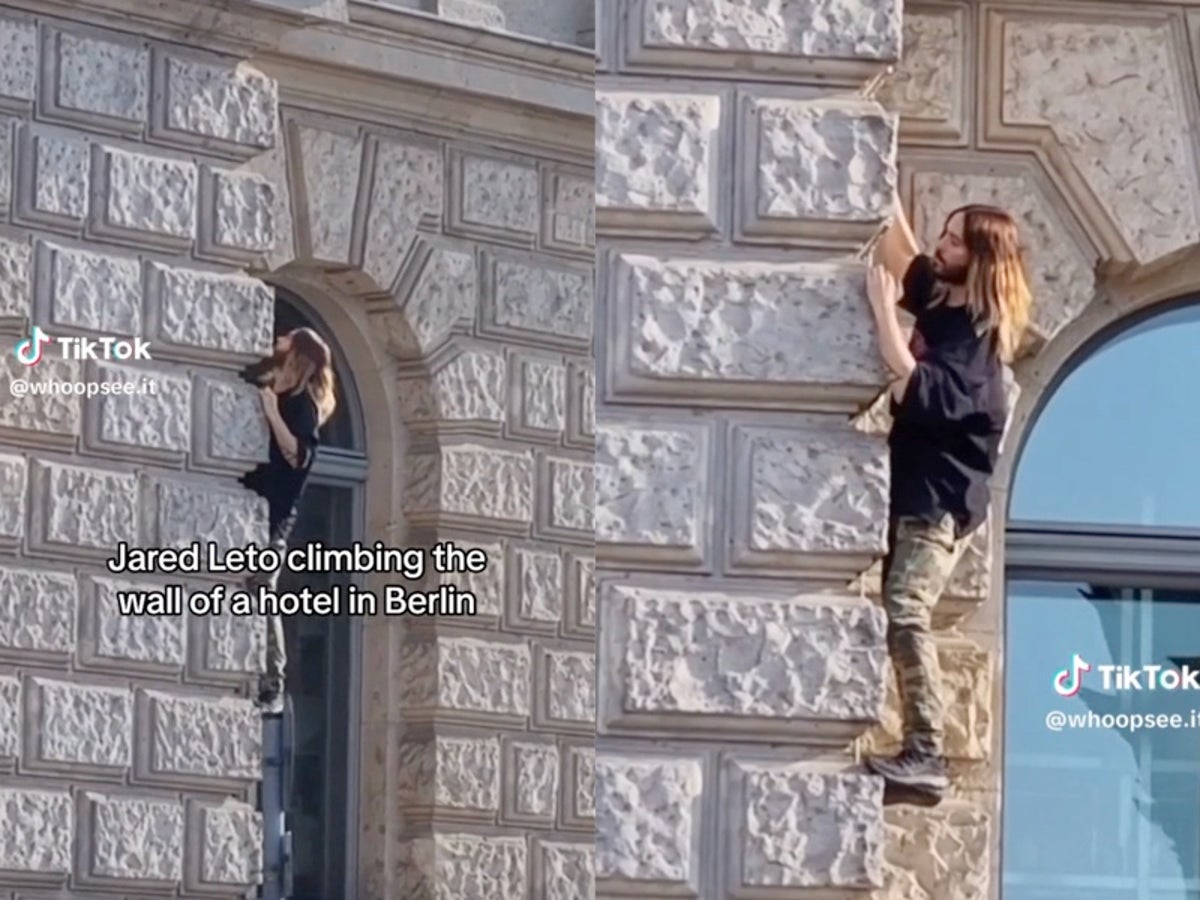 Jared Leto was spotted scaling the wall of a hotel in Germany without a harness.
The actor and musician, 51, was filmed climbing the stone wall of the five-star Hotel De Rome in Berlin on Monday (5 June). The 30 Seconds to Mars frontman – who appeared to not be wearing a harness – was seen scaling the wall while wearing a black T-shirt, camouflage-printed joggers, and sneakers.
In videos shared to Twitter, the stunt drew a small crowd of onlookers outside the Hotel De Rome. Leto climbed only a few feet off the ground to the hotel balcony, before climbing back down the stone wall safely.
It's unclear why Leto climbed up the hotel wall. However, TMZ reported that he was spotted with popular TikToker Younes Zarou, who is known for his illusion videos and wild stunts. According to TMZ, "the gang was shooting some other segments with Jared near the hotel".
The Independent has contacted representatives for Leto for comment.
As videos of his gravity-defying stunt circulated online, many people shared their amusing reactions on Twitter.
"When your intrusive thoughts get to you," wrote one person on Twitter, while another person asked: "Where does he get all the energy I'll have what he's on"
A third user wrote, "Bro thinks he's Spider-Man".
Last May, Leto pulled another stunt when he arrived at the 2023 Met Gala wearing an over-the-top cat costume inspired by German designer Karl Lagerfeld's beloved feline, Choupette.
On 1 May, the House of Gucci star posed on the Met Gala red carpet in the full-length white cat costume. Leto then removed the oversized cat head to unveil his blue-eyeshadow makeup look underneath, before unzipping the outfit to show off another red carpet look.
While many fans applauded the actor for embracing the Met Gala theme – "Karl Lagerfeld: A Line of Beauty" – others were not surprised that Leto took things one step further. "Only Jared Leto would," one person tweeted, while another said: "Of course it had to be Jared Leto."
The Oscar-winning actor wasn't the only one dressed as a cat for the 2023 Met Gala, which took place at the Metropolitan Museum of Art in New York City. Doja Cat also arrived on the red carpet in an outfit that was influenced by the German designer's white cat.