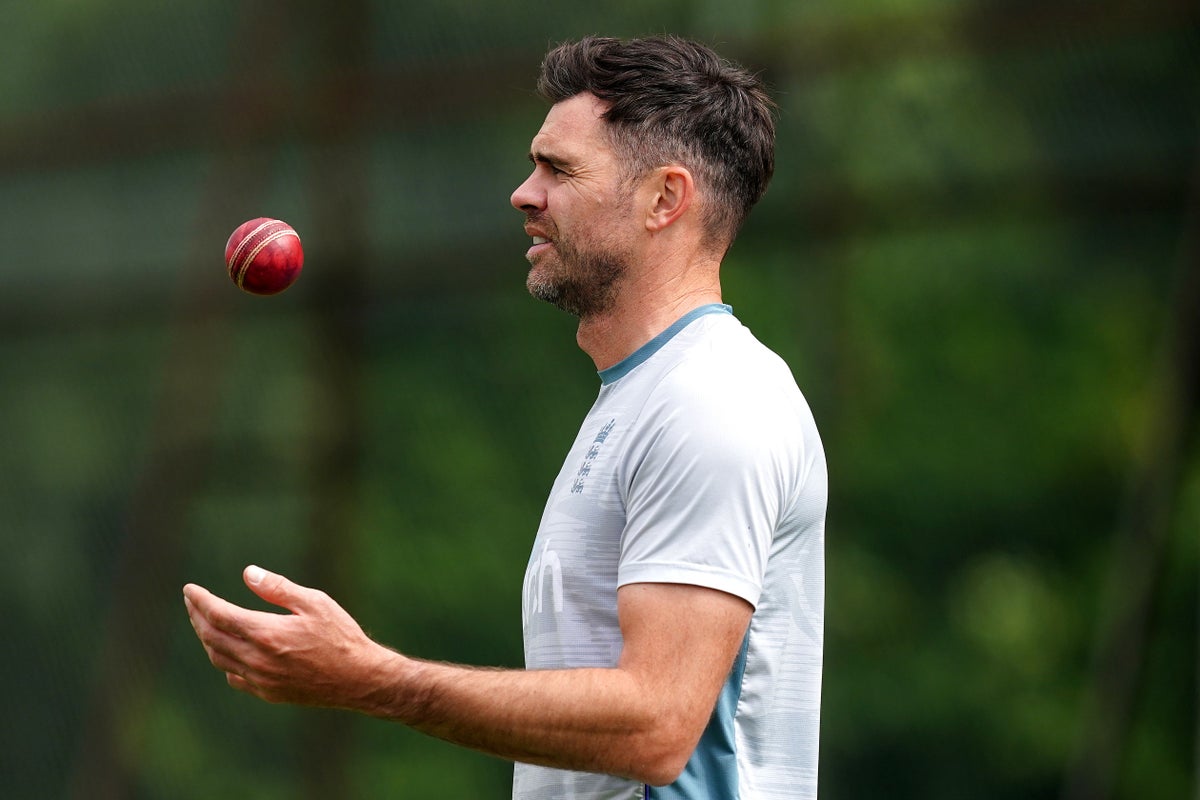 James Anderson has challenged England to stay true to their new attacking instincts when the glare of the Ashes takes over this summer.
The Test team has been on a high ever since Ben Stokes and Brendon McCullum took over last year demanding a new emphasis on relentlessly attacking cricket and winning 10 out of 12 games amid a series of bravura performances.
Outlandish scoring rates, aggressive fields and unexpected declarations have all formed part of a heady mix that has lifted England out of a red-ball rut and positioned them as trailblazers in the five-day format.
There has been speculation that England could err more on the side of caution with the urn up for grabs, but Anderson urged them to hold the line against the Australians this summer.
The 40-year-old was the last man out when England lost by an agonising one-run margin to New Zealand in February, with his team becoming just the fourth in history to taste defeat after enforcing the follow-on, but Anderson believes their Wellington experience should only harden their resolve.
"I'm not saying that result didn't hurt as much, I was still fuming, but we enjoyed the fact we'd been part of such an amazing game," Anderson recalled.
"Everyone in the ground saw an amazing game of cricket, especially towards the end, and we appreciated that. So the next challenge will be the Ashes, especially for the guys that only play Test cricket because there's nothing bigger for us.
"Can we still play with that mentality and that freedom? Can we still take those risks? Can we take the options that risk us losing a game but maybe give us a chance of winning it?
"I think we will. I know Ben will and I know Brendon will. As long as the other players around keep buying in I think we'll be fine. I'm surprised it's taken us so long to play this way, it just shows what can happen if you start pushing the boundaries a little, pushing the ceiling of what you can do."
I just want to make sure I'm fit, first and foremost. I don't want to say, 'I'm going to get a thousand wickets in the Ashes' and then not be fit

— James Anderson
Despite an obvious enthusiasm for the task ahead, Anderson is careful not to talk too expansively about a series that is still more than two months away. The veteran has played a hefty 35 Tests against the old enemy but during the last home series in 2019 he hobbled off on the first morning of the first match with a calf injury and was not seen again.
So while fellow seamer Ollie Robinson has already started firing shots – saying he is eager to give Australia "a good hiding" and "stick one on them" – Anderson is setting himself the more cautious aim of turning up on day one in good condition.
"Ollie is obviously confident coming out like that, which is great, I love his confidence. But I won't be saying anything like that," he said.
"I just want to make sure I'm fit, first and foremost. I don't want to say, 'I'm going to get a thousand wickets in the Ashes' and then not be fit. I wouldn't say there's unfinished business, but 2019 is one reason why I don't want to think about it at the moment.
"What works for me is looking at next week. I know it doesn't make a good headline but it's always worked for me and it's why I'm still here at 40, it's always the way I've done it."
Smiling ruefully as he recalled his fitness struggles four years ago, he said: "I did bowl four good overs in that series… but it didn't go as well as I wanted it to, obviously."
Anderson will not be lining up for Lancashire's LV= Insurance County Championship opener against defending champions Surrey next week, but does hope to play for at least three of the next four games as he builds towards peak condition.
He took part in his first outdoor net of the year on Friday, running in to bowl at his Red Rose team-mates under a bobble hat, and will be a welcome addition to a side who are looking to go one better than last year's second-placed finish.
"I just want to make sure I build up well, help Lancashire win some games and get the season off to a good start," he said.
"Then we can start thinking about what we want to do in the Ashes. I'll worry about that in mid-May I reckon."