Jacob Rees-Mogg has been spotted on a zip line and people are having Boris Johnson flashbacks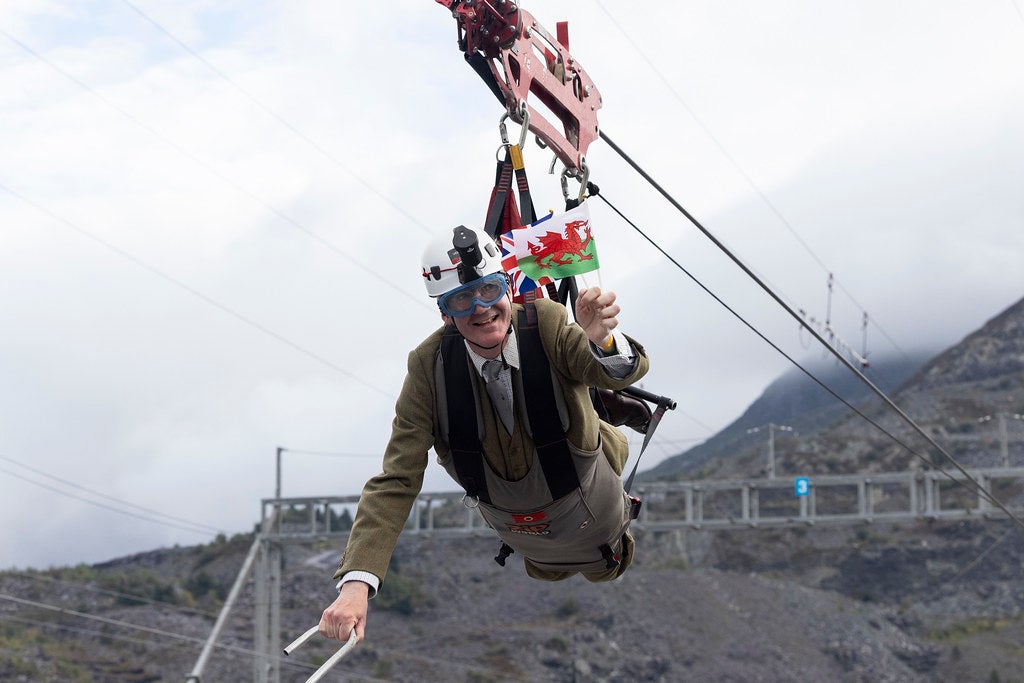 In the latest Tory photo opp, Jacob Rees-Mogg, leader of the House of Commons, was spotted zooming down a zip wire in a tweed suit earlier this week, and we're as confused as you are.
With the flags of Wales and United Kingdom in his hand, the Conservative zoomed down Velocity 2 – dubbed "the fastest zip line in the world" - at Zip World, in North Wales.
It isn't the first time that a Tory politician has been spotted on a zip wire either, of course. Back in 2012, when he was the Mayor of London, Boris Johnson got stuck on one in the capital.
An image of Johnson dangling in Victoria Park soon went viral, and is often cited in montages of the Tory leader's memorable or calamitous moments.
Now he's our prime minister.
The Daily Mail reports that, when asked if his zip lining suggested plans for No 10, Rees-Mogg replied: "God no. I want the PM to carry on being PM because he's great at it.
"There are very, very few PMs of the first rank, and when you have one of the first rank, you want to hold on to him or her."
When the images were shared to Twitter by Tony Driver, political correspondent at The DailyTelegraph, people expressed their shock at the photos:
What fresh hell is this?

— Mat (@_Hydrofish) September 10, 2021
Really thought this was a joke on first and second inspection

— Calgie (@christiancalgie) September 10, 2021
Oh. My. God. https://t.co/5TCf64hQFI

— Connor Dennis (@ConnorDennis01) September 11, 2021
I now want this photoshopped, with no wire and a rocket pack. https://t.co/GTaqmaKE4N

— Lee Rotherham (@DrBrexit) September 11, 2021
September 10, 2021
Oh god. My eyes. My eyes!!! https://t.co/cU60RxM3tw

— 🏴󠁧󠁢󠁷󠁬󠁳󠁿S Mason Diolch💙NHS #YesCymru (@Wogan_Jones) September 10, 2021
Others, joked about what the stunt will mean for Welsh independence:
What's that burk doing here?…. Making a stronger case for independence?? https://t.co/BmaeweCB4q

— Phil Hughes (@thatphillad) September 11, 2021
As someone with Welsh heritage (and proud of it) after all his comments back in March I find this photo op of him carrying the flag misguided and a little offensive

— @Erehwon (@nickbornmanhill) September 11, 2021
Then there were, of course, those who had flashbacks to that incident involving Johnson:
What's it w conservative MPs and zip wires https://t.co/xpy11DMOPm pic.twitter.com/SO66Ol0dde

— Atalandi Dixon (@atalandi) September 10, 2021
Next Prime Minister confirmed? Is this part of the succession plan? https://t.co/u79TP5e9UW

— Andrew McVittie (@Andrew_McVittie) September 10, 2021
I knew Boris Johnson. Sir, you're no Boris Johnson. https://t.co/Yb4HsZig9g

— ☂️ Kelvin 🎗 (@mrchan) September 10, 2021
Who's next for the zip line, we wonder?