ITV weather presenter breaks down during climate change report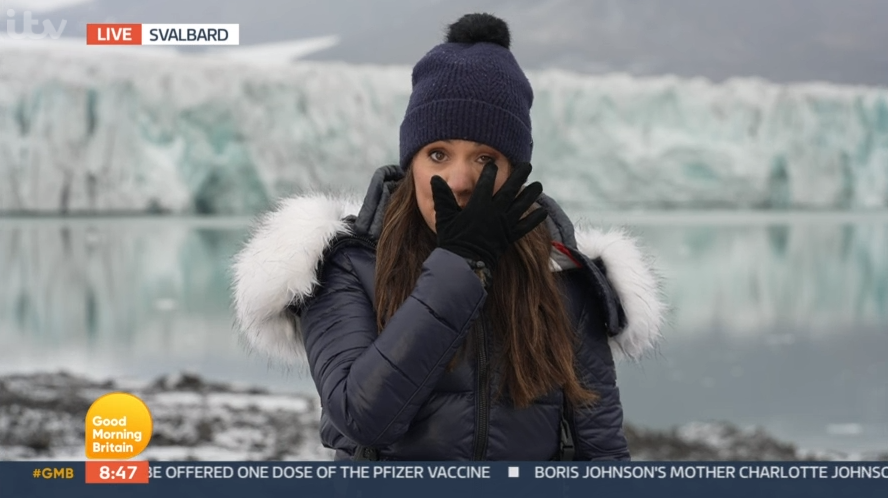 ITV weather presenter Laura Tobin delivered an emotional report on climate change on Good Morning Britain this morning.
Reporting from Svalbard, a remote island halfway between Norway and the North Pole, she explained how the melting ice and glaciers can affect weather conditions in the UK.
She said: "We've come here because Svalbard is warming up more than anywhere else on Earth, and the impacts around the world are huge. We need ice because it helps cool our planet.
"The weather here and the fact the ice is melting disrupts the jet-streams and changes the weather in the UK, the ice melting and glaciers melting leads to sea level rise, which will lead to more flooding in the UK. And here the vision of the changing landscape and the impact it's had on ecosystems and wildlife before our eyes has been inspiring, breathtaking and devastating."
Tobin then began to get tearful and said that she had been away from her daughter Charlotte for six days, and her producer Ruth had also been away from her child.
🌍 I hope you've enjoyed our coverage live from the Arctic in Svalbard

I glad I made the decision to be here for 6 days. I miss my Charlottes but it's important for me to show her and you the reality of climate change & for us to save our planet for her & future generations https://t.co/1pEtQPHgU1

— Laura Tobin (@Lauratobin1) September 14, 2021
She said she wanted to go to Svalbard to tell the story because "it's actually not a story, it's a reality".
She then held up a piece of paper and explained: "My little Charlotte drew this picture of a polar bear and she asked me to give it to the polar bear, I'm obviously not because that's very dangerous but if I were to come here when she's my age there potentially won't be polar bears in Svalbard and we were talking about what we can do, just understanding the reality and everyone making a difference and everyone working together and not pointing fingers will help."
"I hope you've enjoyed what we've done because we've loved it even though I'm crying," she said to hosts Susanna Reid and Richard Madeley who were in the ITV Studios in London.
Reid said: "You said sometimes people go to that particular location for a couple of days and end up staying years, because they are so compelled by what they see and the work they need to do. I know Charlotte means you're going to come back. Otherwise, Laura, we would be at risk of you staying there for a long time because it's such important work."
Tobin said Charlotte understands why her mother is in Svalbard and added: "I want to let her know we did everything we could to make sure this landscape stays the same for her."
People took to Twitter to share their thoughts on the report. Some shared her fears for the future, whereas others took aim at how Tobin had to fly to Svalbard to produce the report.
According to Manchester Evening News, an ITV spokesperson said: "All flights booked as part of Good Morning Britain's trip to the Arctic were carbon offset. The Norwegian Polar Institute worked very closely with GMB on the trip, as they were keen to demonstrate what impact global warming is having in the region."
Tremendously powerful reporting from Laura Tobin. This simply has to be addressed. So worried for, not only my children, but extremely concerned for my grandchildren. @GMB #ClimateAction

— david boother (@martleshamman) September 14, 2021
Laura you are a total legend! So passionate about climate change and I think your gorgeous wee girl will follow in your footsteps. Very emotional this morning.

— Morven Mcculloch (@morvy2) September 14, 2021