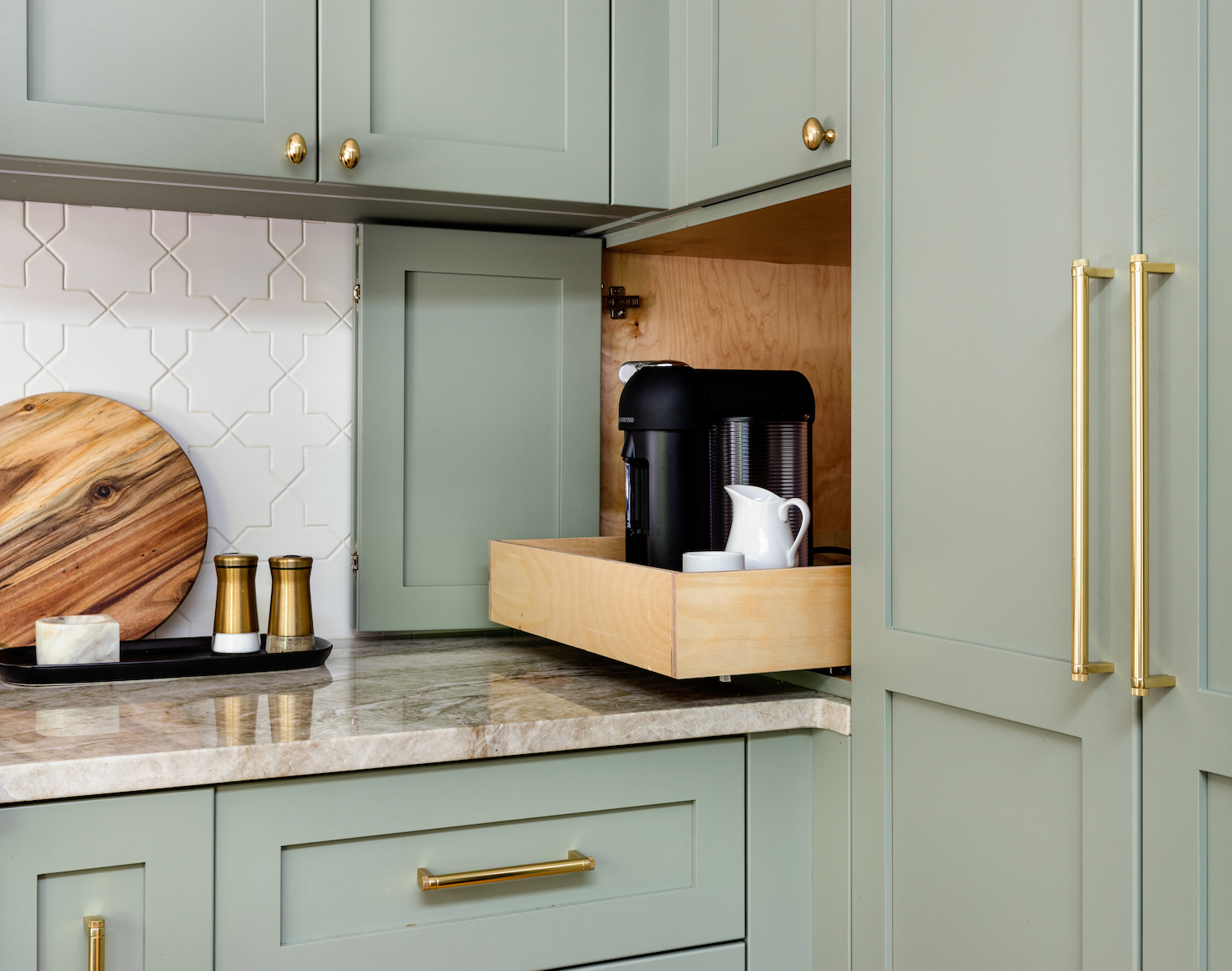 Investing in a good coffee maker can make a huge difference to your morning routine, allowing you to have a gourmet coffee experience in your own home. 
However, from filter coffee makers to espresso machines, many designs can be bulky. Placing a coffee maker in the wrong spot risks interrupting the flow of your kitchen, so it's important to find a place that works on both a practical and aesthetic level. 
Where to keep your coffee maker in your kitchen
There are plenty of ways you can hide a coffee maker discreetly, or even turn it into a design feature of your modern kitchen. Keep reading to for the secrets that will make your morning routine so much more enjoyable.
1. Close to key appliances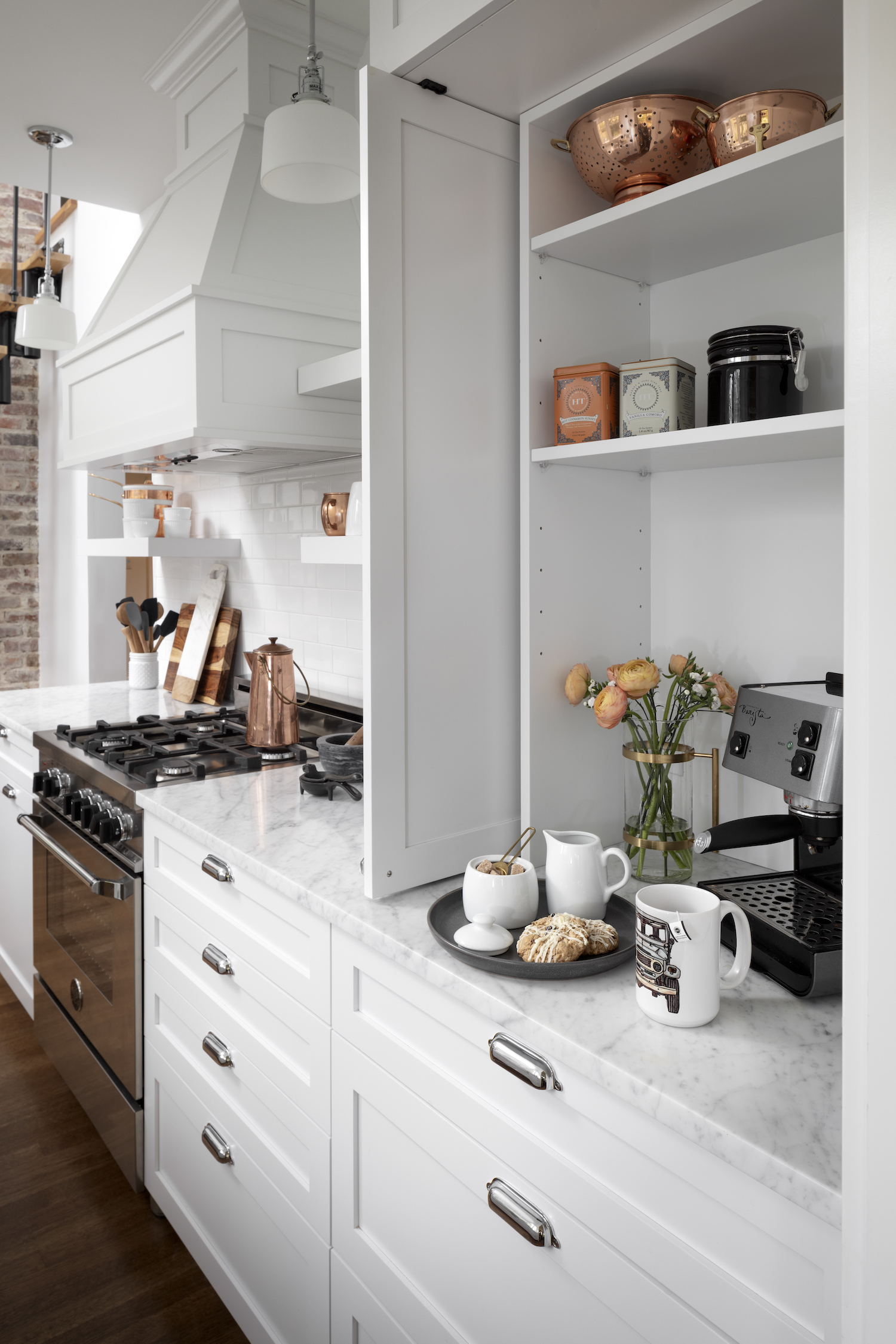 When finding a home for your coffee maker, the most important thing to consider is ease of use. In the above example by Röm Architecture Studio, the coffee station is set up near the stove, allowing the home owners to easily switch between their espresso and stove top coffee makers. Meanwhile, the coffee-plunger-turned-vase adds a sweet decorative touch.  
"The placement of your coffee maker should be somewhere that is convenient and where related items are nearby," says Carol Sundstrom, Architect at Washington-based Röm Architecture Studio. "If you use milk or cream, closer to the refrigerator is a nice option. Make sure your coffee cups and any other related items are within reach. If you don't have water plumbed to your coffee station, have the coffee pot near your filtered water source."
2. Underneath shelves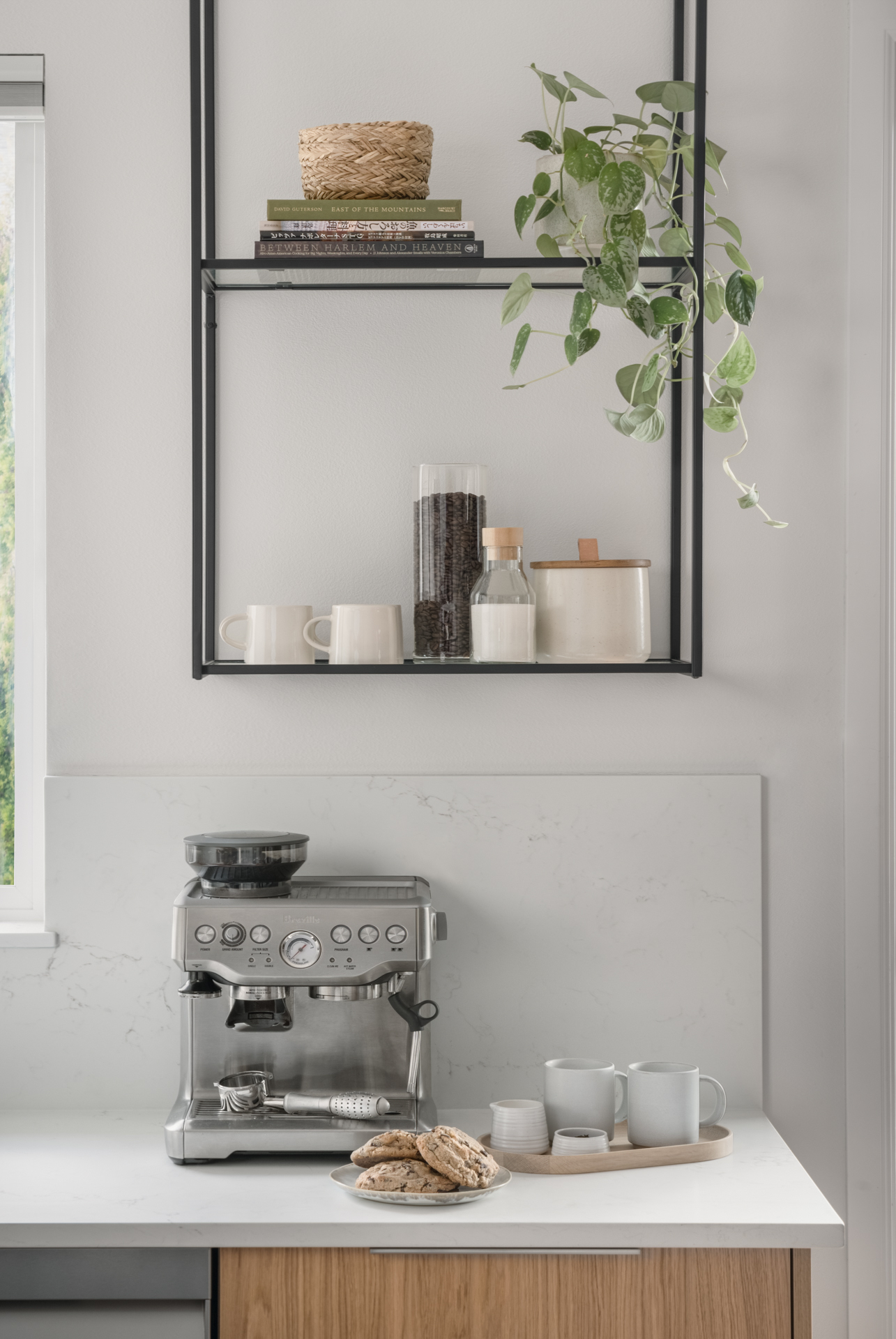 Do you have open kitchen shelving? Try creating a spot for your coffee maker underneath. Investing in beautiful coffee cups – plus storage jars for items like coffee beans and sugar – can make a feature of a coffee maker under shelves. 
'What this also does is force you to curate the display, rather than just shoving all your cups behind a closed door. This turns the area you make your coffee in into a beauty spot, which is always a more enriching start to the day,' says Livingetc's  editor Pip Rich. 'Choose only your favorite cups and add a plant and an objet or two, as well.'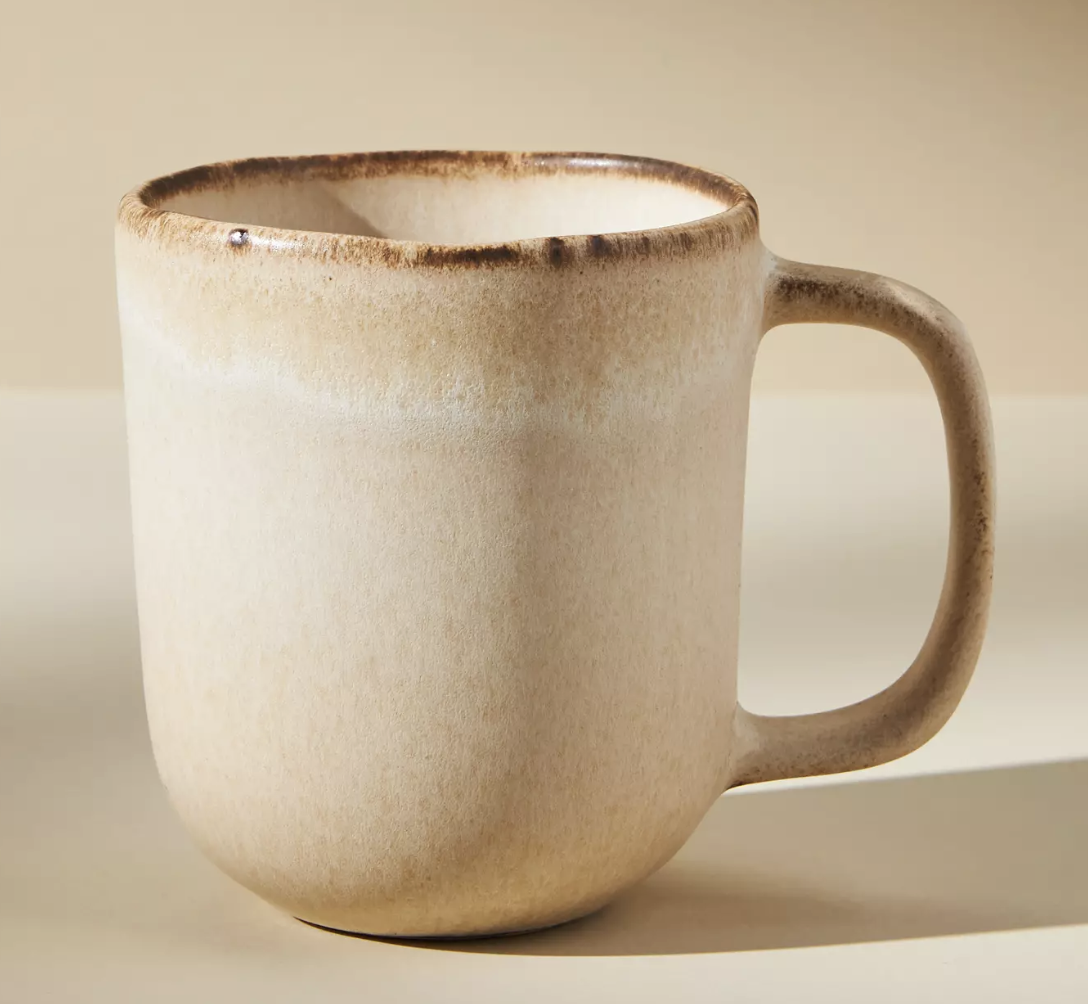 $38.40 for four
3. Inside an appliance garage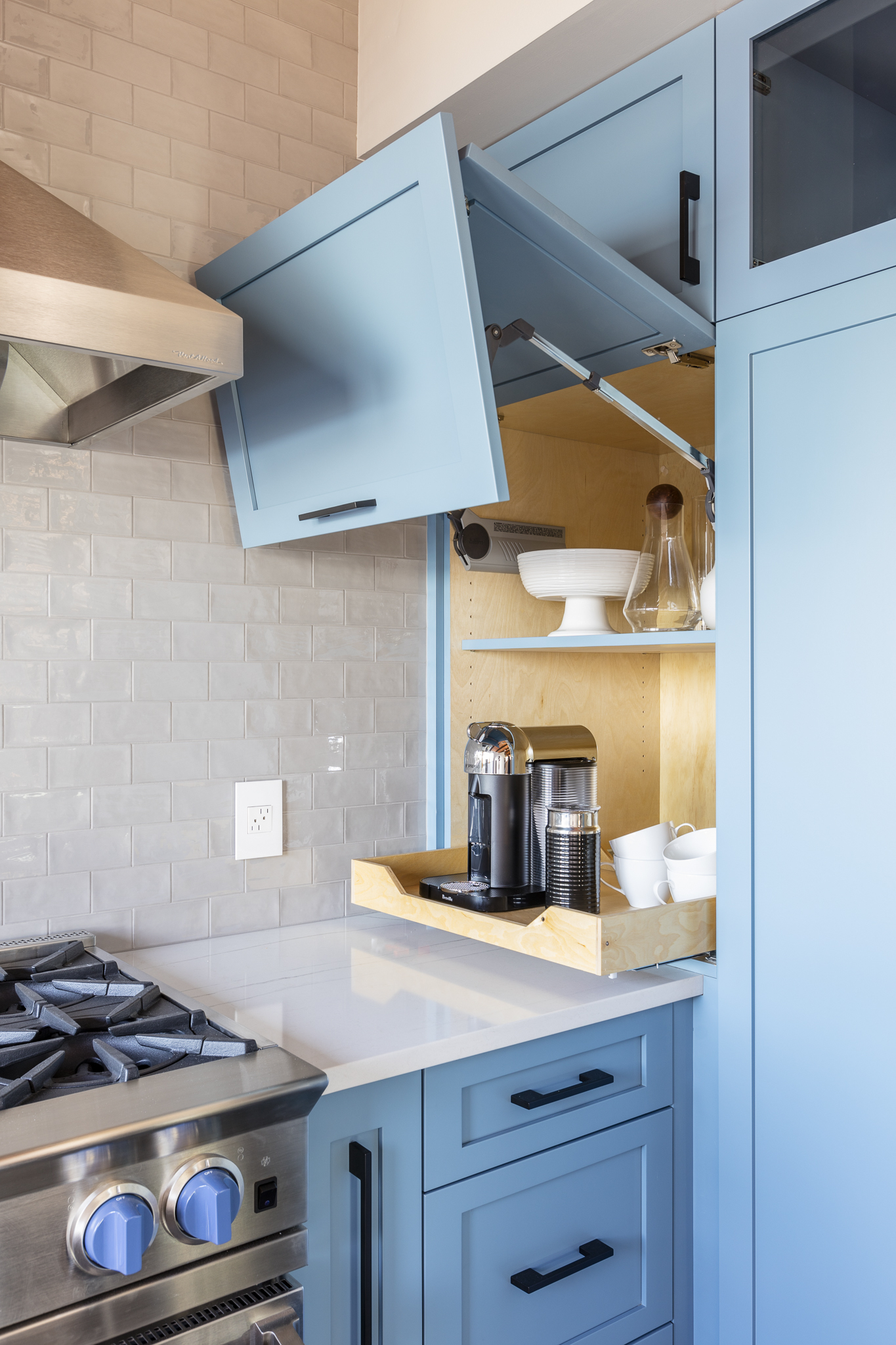 If you're remodeling or building your kitchen from scratch, consider adding an appliance garage. These hidden workstations are ideal for discreetly hiding a coffee maker and other bulky tools, like microwaves, cake mixers or food processors. 
"Here at Interiors by Popov we believe in trying to find space for everything behind closed doors," says Anna Popov, Principal Designer at Bellevue, WA-based Interiors by Popov. "Anytime we can design a dedicated hidden coffee station we take that opportunity. In the kitchen pictured, the coffee station is hidden behind a flip up door. The coffee maker is plugged in and is on a pull-out shelf, making it very coinvent for daily use. Having additional shelving above the appliance provides required storage for the additional attributes to make a great cup of coffee."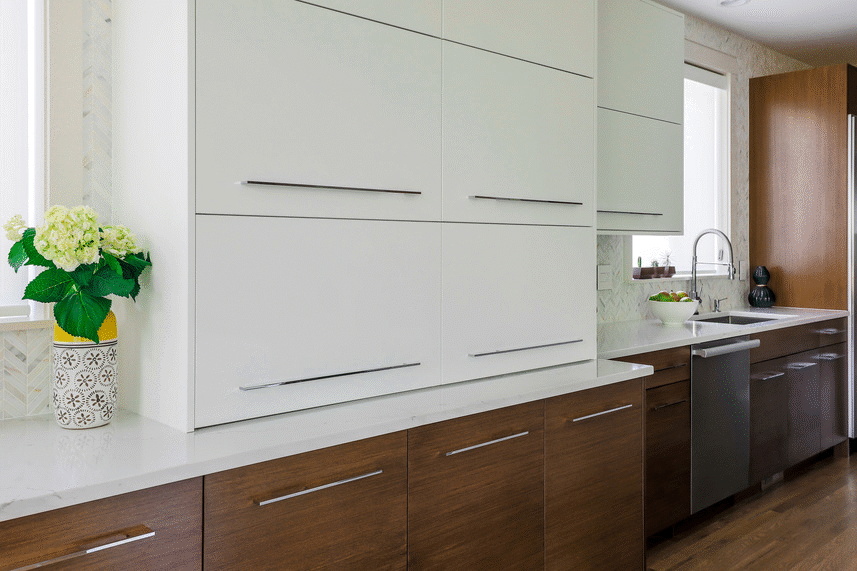 Röm Architecture Studio's Sundstrom agrees: "If you have a lot of coffee-related items such as sweeteners, syrups, frothers, or travel mugs that would clutter your counter, an appliance garage can be a great option to conceal those items when not in use."  
At this point, we should probably also recommend our article on how to declutter kitchen countertops, too.
4. Tucked into a corner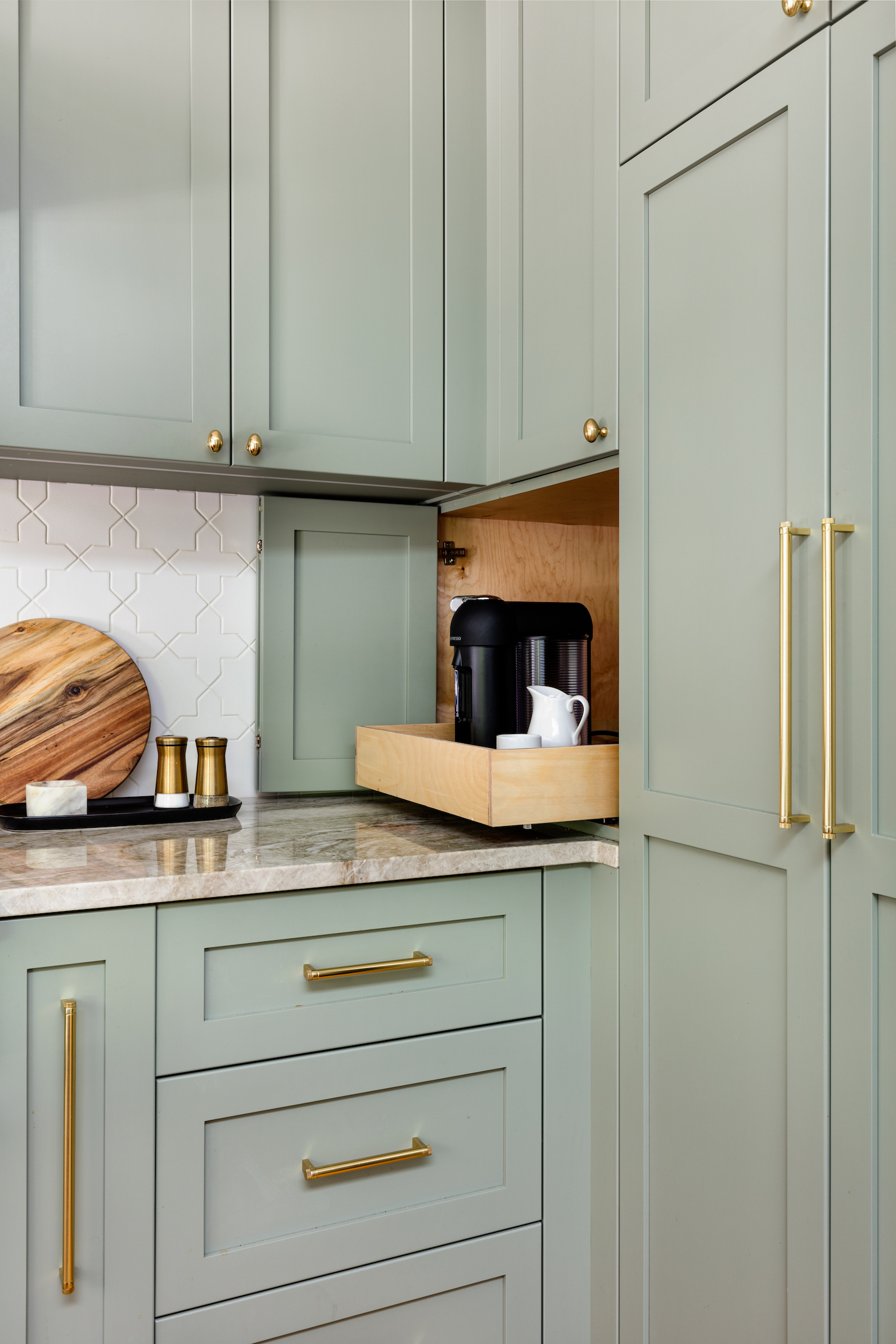 The corner of your kitchen countertop can be an ideal place to position your coffee maker. This makes use of what can often be dead space, while keeping the machine tucked out of the way. "Sometimes a small corner can be designed to act as a perfect little dedicated coffee center," says Popov. "A neat way to use a bi-fold door was introduced here so a pullout shelf can come out with the coffee maker."  
5. In a countertop nook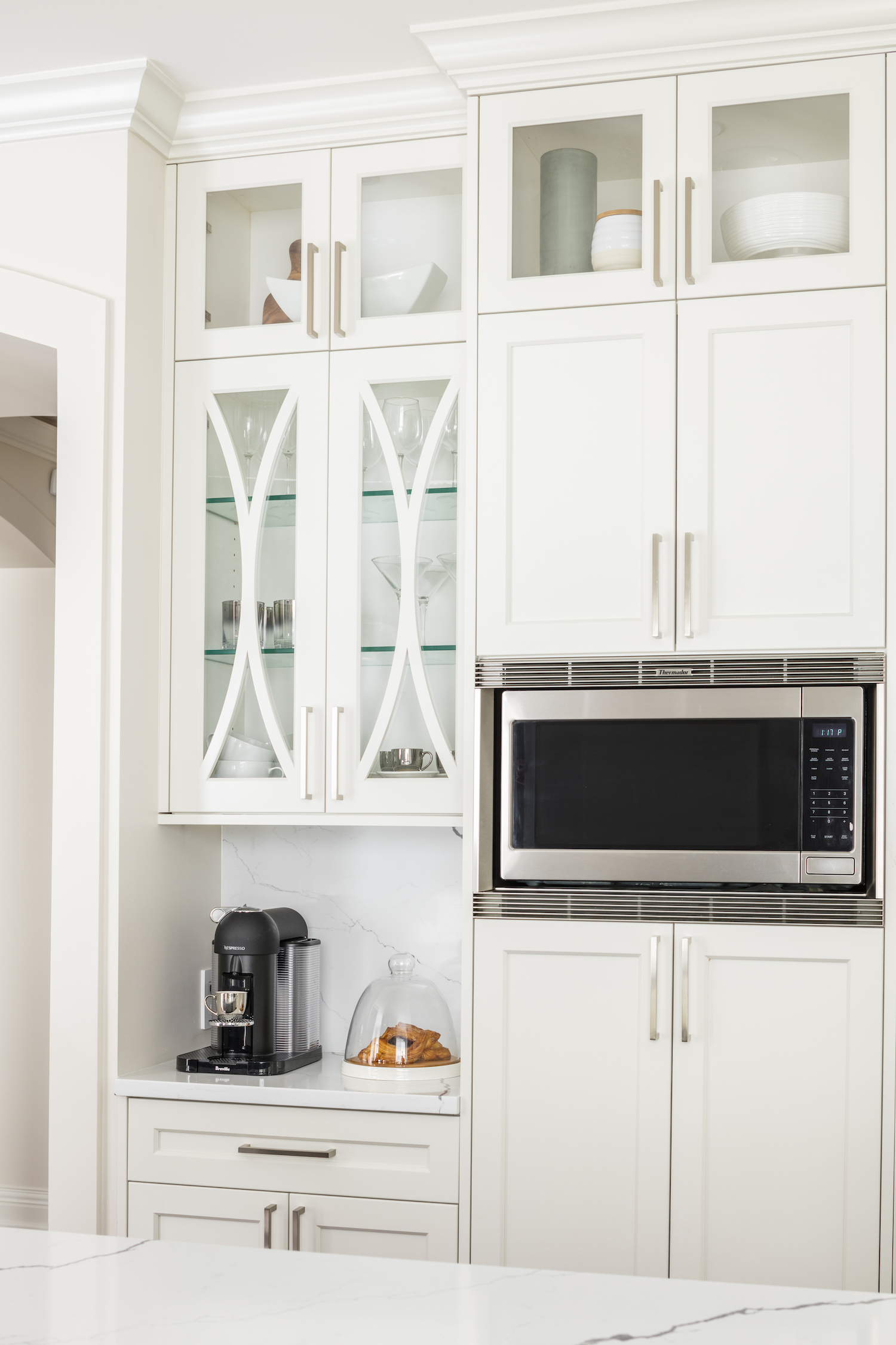 Try clearing a nook on your countertop to create a dedicated area for your coffee maker. In the design above by Interiors by Popov, the display of pastries help make a feature of the area, while coffee cups are hidden away in the kitchen cabinets above. 
Popov explains: "Sometimes the best solution is to have your coffee maker right on the countertop. In this case we suggest situating it somewhere in a corner or at the end of the counter run. You can design a nook to act as a functional and aesthetically pleasing coffee station."