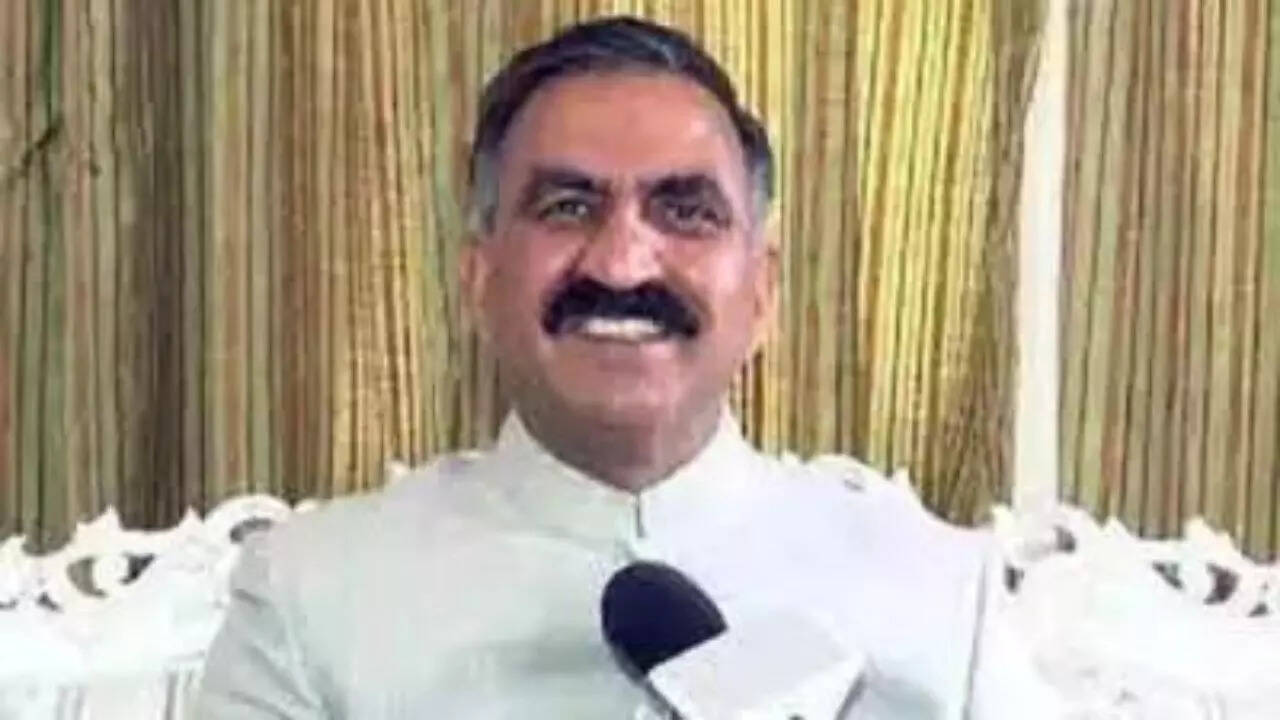 SHIMLA: Himachal Pradesh government is establishing an Investment Bureau in the state to scale up the ease of doing business and to minimize delay in getting requisite approvals through a single-roof facilitation mechanism.
Chief minister Sukhvinder Singh Sukhu, while presiding over a meeting to discuss the modalities of the proposed investment bureau on Wednesday evening, said that it would replace the old 'single-window' system and would be given the powers to approve investment proposals.
He said that the Investment Bureau would be set up under the Industries department and will comprise officers from all the concerned departments to facilitate hassle-free investment and would work together to ensure that the investment cases are processed quickly and efficiently. Additionally, penal provisions would be in place for the officers responsible for the delay.
In the meeting health minister Dhani Ram Shandil, industries minister Harshvardhan Chauhan, rural development and panchayati raj minister Anirudh Singh, chief secretary Prabodh Saxena, principal secretary to chief minister- Bharat Khera, Principal Secretary R D Nazim, Director (Industries) Rakesh Kumar Prajapati, Additional Director (Industries) Tilak Raj Sharma were also present.
Sukhvinder Singh Sukhu said that the bureau would consist of two committees including an executive committee to be formed under the CEO of the Investment Bureau responsible to oversee investment cases on a day-to-day basis and an apex committee which will be headed by the Chief Minister himself and would be responsible for approving investment proposals.
He said that the establishment of the Investment Bureau aims to expedite the approval process, allowing investors to start their work soon after applying and the State Government would make necessary amendments in law as well to empower the Investment Bureau. The state government is expecting investment in Tourism besides attracting investments in IT, solar energy, green hydrogen and other sectors, he said.
He said that the investments would not only generate revenue for the state exchequer but will also open employment opportunities to the youth, said the Chief Minister. He said that government's move to establish the Investment bureau is expected to reduce delays and streamline the process of doing business in the state which will go a long way in attracting more and more investors besides strengthening the economy of state.
In Himachal Pradesh a need has been felt to review the Industrial Investment Policy, 2019 in view of the fast changing national scenario and international events. Considering this, the chief minister Sukhvinder Singh Sukhu led government will soon bring a new "Industrial Investment Policy". As a follow-up, an Open Arm Policy will be followed and the existing single window system will be transformed into a "Bureau of Investment Promotion", for which a Bill will be introduced in the Assembly.
This Bureau will facilitate the potential investors to get all clearances under a single roof, which will reduce the need to visit Government offices repeatedly. This Bureau will provide a Plug-and Play interface to the investors. This will help in providing employment opportunities to local youth and also in developing the State as an 'Ideal Investment Friendly State'.
State government aims at bringing an investment of about Rs 20,000 crore in manufacturing, tourism, energy, construction, housing etc. This will have a potential of providing direct employment to about 40,000 persons and indirect employment to about 50,000 persons.