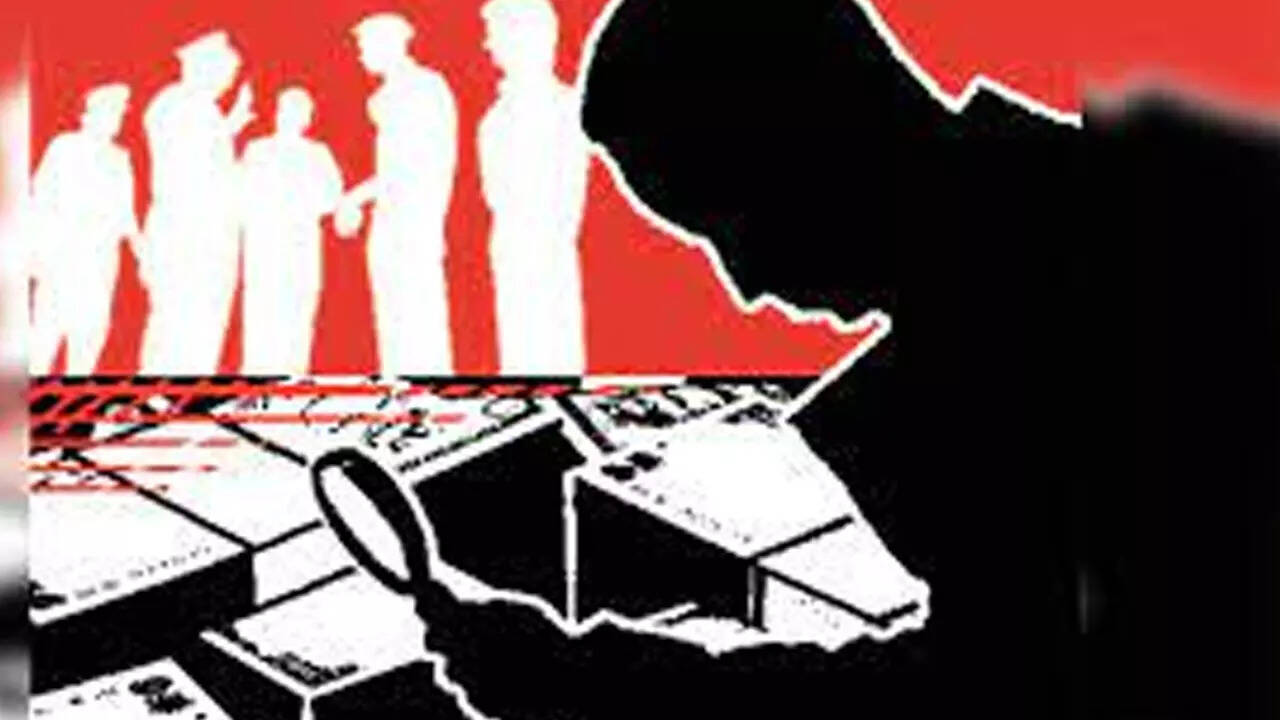 BENGALURU: If Anti-Corruption Bureau (ACB) raids and subsequent action can be used as a barometer to gauge corruption in government departments, here are the top four picks: Revenue, urban development, transport, and rural development and panchayat raj (RDPR).
In the past five years, ACB has conducted at least 310 raids against 371 government officials of various ranks. A TOI analysis of the raids shows investigation has been completed in 63 cases, while ACB has recommended action — which has been implemented — in 223.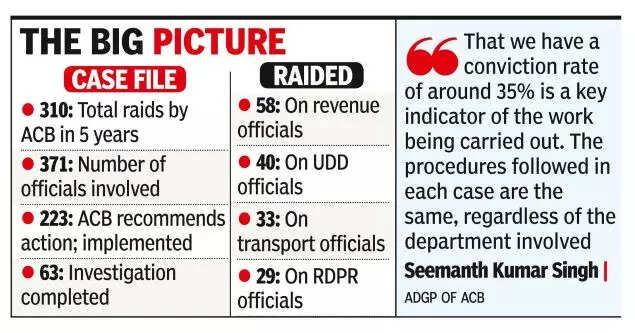 Out of the 310 raids, which do not include raids carried out in the past few months, 58 were against officials from the revenue department, followed by UDD (40), transport (33), and RDPR (29).
Tushar Girinath, principal secretary, revenue, said: "We have the highest number of officials directly interacting with people and offering a large number of services. While there has been no analysis of past trends, our drive has been to make a lot of services contactless, make them entitlement-based from application-based, which means if someone is entitled to something, they must automatically get it."
Pointing to various changes in the process of issuance of certificates, pension and more, he added: "Things are improving and new systems are being put in place to curb corruption and the department is also cooperating with agencies in achieving this. Even internally, we are booking cases and vigilance has increased."
Rakesh Singh, additional chief secretary, UDD, did not offer a comment. Urban development minister Byrathi Basavaraj said: "I will summon the data and look into it. But from the time I've taken charge, there has been no case. There was only one involving an engineer from urban water supply, but it appears to be an instance of someone maligning the official."
Rajendra Kumar Kataria, principal secretary, transport, said the department oversees registration of vehicles, issuance of licence and other services, all of which are monitored. "...In the past six months, we've made significant progress in establishing a more transparent system. We've put 36 services online and several, including vehicle registration, renewals, and learners' licence, will be done centrally without the need for physical visits."
LK Ateeq, principal secretary, RDPR, said the department is committed to weeding out corruption. "Our vigilance department has been active internally while we also extend full support to other anti-corruption agencies such as ACB. RDPR as a department employs a large number of people, it has a lot of powers — such as issuing certificates, sanctioning projects, licences, giving grants etc., — and also has huge spending powers. All this and the fact that there's a lot of public interaction could be the reason for a high number of cases."
Most raids in DA cases
Among the other departments, 15 raids were on power officials, 16 on commerce and industry officials, and 13 each from finance and public works departments.
Seemanth Kumar Singh, ADGP of ACB, said the bureau has more than 2,000 cases, including traps, disproportionate assets (DA) cases and others based on petitions or complaints transferred by the government or those that came in directly from people. "Most traps don't result in raids, but in cases like the recent town planning official who got caught with Rs 20 lakh, we do conduct raids subsequently. In DA cases, a raid is a must. At least 80% of the raids are for DA cases," he said.
Since 2018, the Prevention of Corruption Act has been amended to include Section 17(a), which mandates prior nod from a competent authority to register cases, but it gives exceptions to raids in DA cases and traps. "That we have a conviction rate of around 35% is a key indicator of the work being carried out. The procedures followed in each case are the same, regardless of the department involved," Singh said.