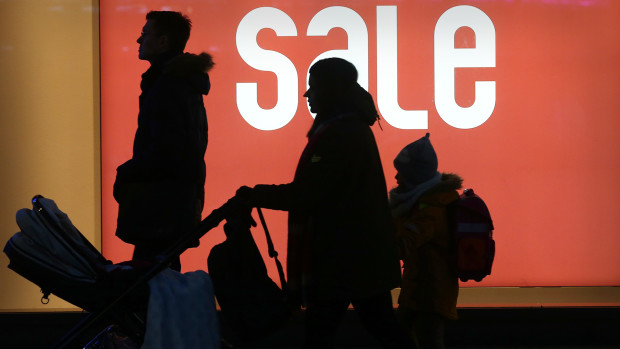 Americans love nostalgia. That's why bringing old brands back to retail has become a massive business.
Sometimes that has meant taking a defunct brand from the 1980s –Pert Plus shampoo, for example – giving it a new formula, and attracting adults who used the product as kids and teenagers. In other cases, well-established brands like Coca-Cola (KO) -) and PepsiCo have brought back products people remember fondly, even though they were actually reviled at the time of their release. 
DON'T MISS: Popular retailer abruptly shuts down
Few people actually liked Crystal Pepsi or Coca-Cola Surge (a sort of Mountain Dew knockoff), but both have been brought back as limited-time offers (LTOs) to a lot of acclaim. It seems that people knowing the brand matters more than whether said brand was actually well-liked.
Defunct big-named retailers have also been brought back in a variety of ways. Target (TGT) -), for example sells products branded The Sharper Image. That retailer closed as a brick-and-mortar chain, but it's name recognition has been used to get attention to a line of As Seen On TV-style products.
Toys R Us, another bankrupt retailer that closed all of its stores, has come back in a number of ways. It has operated a few standalone stores, popped up in grocery stores over the holiday season, and now, it's the branded toy section at every Macy's (M) -) location.   
If a brand has enough recognition, it rarely goes away and a new owner is bringing another once-big retail brand back to some form of its former brick-and-mortar glory.
Radio Shack ready for a comeback
Radio Shack went through multiple bankruptcies and, while the brand shuttered thousands of locations, it never fully went away. In the U.S. a few hundred franchisees continued to operate as did franchise owners around the world. 
The biggest franchise operator of the brand, El Salvador-based Unicomer Group, has now acquired the company. It has big plans to not only revamp its website but also to build back its brick-and-mortar presence in the U.S. 
Radio Shack's new owner plans to add more merchandise for its current franchisees to be able to stock and it plans an Amazon storefront as well as new physical locations for the once ubiquitous chain. At its peak, Radio Shack was pretty much everywhere, operating 7,000 stores globally with most of those in the U.S.  
The new owners plan to lean into the offerings that differentiate the brand Best Buy and chains like Target and Walmart that sell a lot of electronics.
"Private label offerings, including drones, headphones, radios, and adapters, were strongly emphasized pre-bankruptcy to offset the margin pressures, a push expected to be continued under the new owners," RetailWire reported.
Does the market need Radio Shack?
Radio Shack went out of business because Amazon (and to a lesser extent Best Buy) made its selection less unique. As smartphones became common, chargers and accessories basically became commodities, which squeezed margins, and forced Radio Shack into bankruptcy.
That competition has only gotten more intense and it does leave questions as to whether there's a need for the chain to grow its brick-and-mortar presence. 
"A major comeback in the US will be extremely challenging. The electronics market has thin margins, loads of competition, and because the products are very similar from retailer to retailer it can be hard to differentiate," GlobalData retail division Managing Director Neil Saunders commented on Retailwire. "As such, I struggle to see a new pathway to success – especially in the current market where electronics sales remain firmly in the doldrums."
Gary Sankary, who has 50 years in the retail business, was less kind in his comments.
"I can't see any scenario where this works in the United States," he wrote. "...The market for private-label electronics is small. The market for electronics components (which I do miss) is even smaller these days, no one fixes anything anymore."