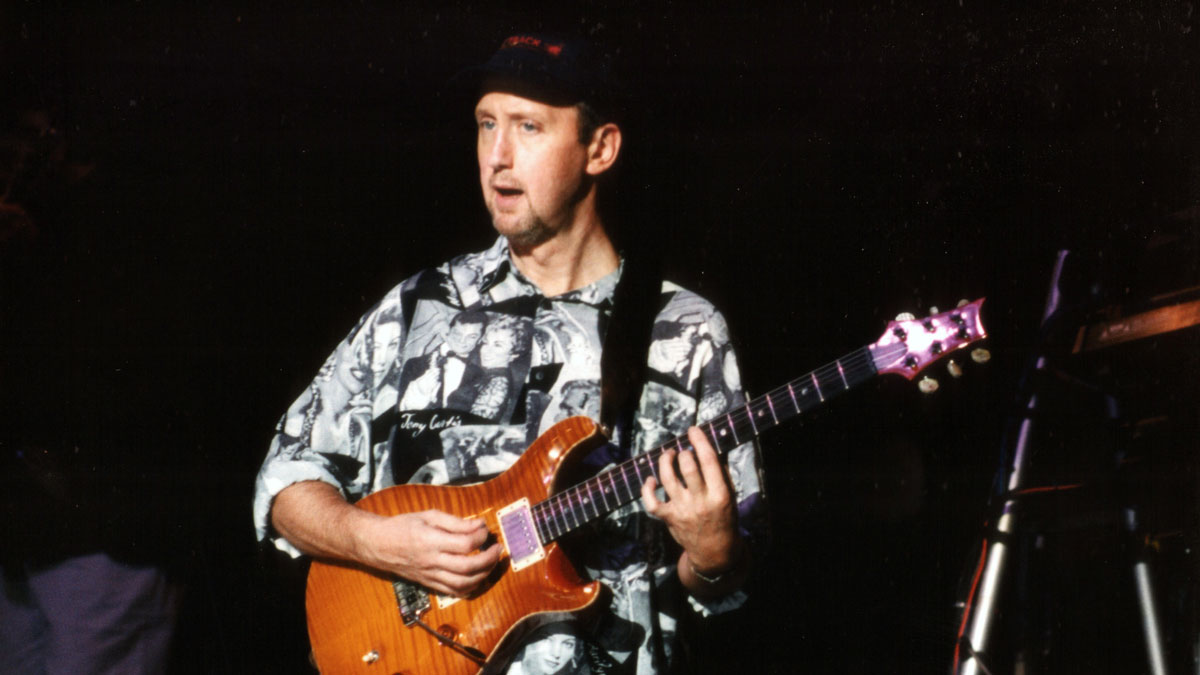 Ian Bairnson, the Scottish session guitarist best known for his work with the Alan Parsons Project and Kate Bush, has died aged 69.
The news was announced by the guitarist's wife, Leila Bairnson, on social media, stating: "It is with deep sadness and regret that I let you know that my loving husband Ian Bairnson has passed away on Friday 7th April.
"Ian was the sweetest, kindest, loving husband I could ever have wished for and I take comfort that he is resting now up there in his very own piece of 'Blue Blue Sky'.
"Although Ian has left us, his musical legacy stays with us and will continue to delight and brighten our lives, as it did his, forever."
Born in Scotland's Shetland Isles, Ian Bairnson bought his first guitar at the age of six, and his musical self-determination led to a career as a session musician in Edinburgh when he was still just a teenager.
His earnings allowed him to move to London, where Steve Harley invited him to join Cockney Rebel, but Blairford instead signed up with Scottish rockers Pilot, who had just signed to EMI. Their debut single, January, hit the No 1 spot on the UK charts in 1975.
The producer of Pilot's debut album was prog-rock legend Alan Parsons, who recruited Bairnson and his bandmates to form the core lineup of the Alan Parsons Project.
Bairnson featured on every Alan Parsons Project studio record, starting with 1976's Tales of Mystery and Imagination. His contributions highlighted his singing vibrato and blues-informed feel, particularly on solos such as I Wouldn't Want to Be Like You.
Bairnson's session career continued apace alongside his work with Parsons: he performed live with Sting, Stanley Clarke and Michael McDonald, and racked up over 100 album credits with the likes of Paul McCartney & Wings, Mick Fleetwood, Kenny Rogers and Tom Jones.
Most notably, Bairnson would perform on the first four albums from Kate Bush, giving birth to his career-highlight guitar solo on Wuthering Heights – a masterclass in wide, vocal bends and highly musical lead playing. The song's engineer, Jon Kelly, always regretted not foregrounding the solo higher in the mix.
Bairnson played a number of electric guitars – including several PRS models and a '59 Gibson Les Paul Standard – but he was particularly loyal to his 1973 Gibson Les Paul Custom, which featured on all his Alan Parsons Project recordings and served as his main recording guitar throughout his session career, including his work with Bush.
"I suppose it is true to say that I built a career using only a Les Paul and a Marshall 50-watt amplifier," Bairnson said of his guitar rig. "I never plugged anything between the guitar and the amp. If we wanted effects on the sound, we used the studio effects. They are far better quality and besides... I couldn't afford that kind of equipment."
The Scottish session musician was also known for playing with a sixpence rather than a guitar pick – one of few guitarists to do so other than Queen's Brian May.
Bairnson retired from performing live in 2018 after being diagnosed with a progressive neurological condition, and had been battling dementia in his later years.
"I think you should first concentrate on the more technical approach, but never forget to put your emotions [out there] while you are playing," Bairnson said of his advice for aspiring guitar players in 2018. "The music industry has changed a lot so it is difficult for me to suggest which way to go, but pursuing your dreams is the beginning."