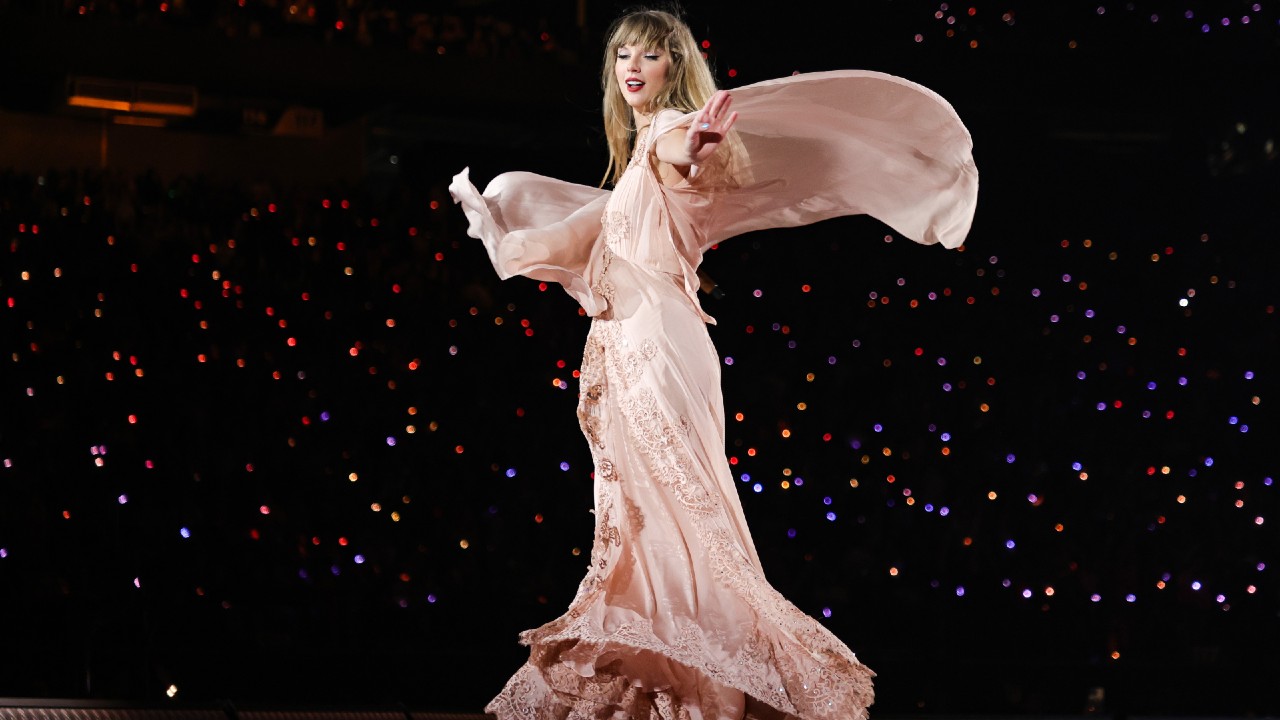 Taylor Swift fans know just how expensive it is to go to Swift's latest Eras Tour. Swifties recently opened up about how much they were willing to shell out to see their favorite pop singer perform. Now, reports are revealing just how much Swift's stadium tour is supposed to gross, and it's an astounding amount of money. Possibly even record breaking.
The Eras tour is on track to be the highest grossing US tour, according to a recent report from The Street. The tour will likely make upwards of $600 million in revenue, blowing out the numbers from her previous tour, 2018's Reputation, which grossed $345 million. With numbers like that, Swift herself will make an exuberant amount of money. Exact figures are unknown, but her $570 million net worth is about to skyrocket -- and I'm simply in awe at the thought of it.
While this seems unconscionable, it probably isn't very shocking to many. The singer/songwriter has been a record-breaking artist for decades, and the demand for Eras tickets was so high that the Ticketmaster website crashed several times. The whole ticket-buying process was so hectic, in fact, that it led to the website being sued by a group of her fans. The demand is understandable, to be honest. The Midnights artist has such a vast catalog of music, spanning across different "eras" and genres, it's no wonder so many people want to see her on tour. 
And based on various TikTok streams and reports from fans who have already attended shows from the tour, Taylor Swift is putting in the work to earn that money, and make the show worth the high ticket prices. The Grammy winner has a long set list containing over 40 songs that span her entire career. She also has several costume and set changes to correspond with her album aesthetics. Swift reportedly surprises fans with new songs every show and even acknowledges some viral moments from her fans, like the iconic "Bejeweled" dance. If anyone knows fan service, it's certainly Swift. 
Her admirers are also making the most out of the concert experiences, as they're dressing up in outfits that correspond with her different eras. With that, the tour has become somewhat of a fashion showcase for the Swifties. Even her famous friends are getting in on the fun. Emma Stone, Laura Dern, and HAIM were all spotted rocking out to Swift at one of her recent shows, and their energy was infectious. One would imagine that the star is pleased that so many are enjoying her work. And I'd assume that she's also not mad about the cash her shows are reportedly bringing in as well.
Those who missed out on tickets for the Eras tour can still experience the magic of one of the Grammy winner's shows by streaming the Taylor Swift Reputation Stadium Tour concert film now with a Netflix subscription. For more information on other headed to the streamer this year, you can consult the 2023 Netflix movie release schedule. In addition, the star also always has new music in the works, so make sure to stay in the know when it comes to upcoming Swift projects.