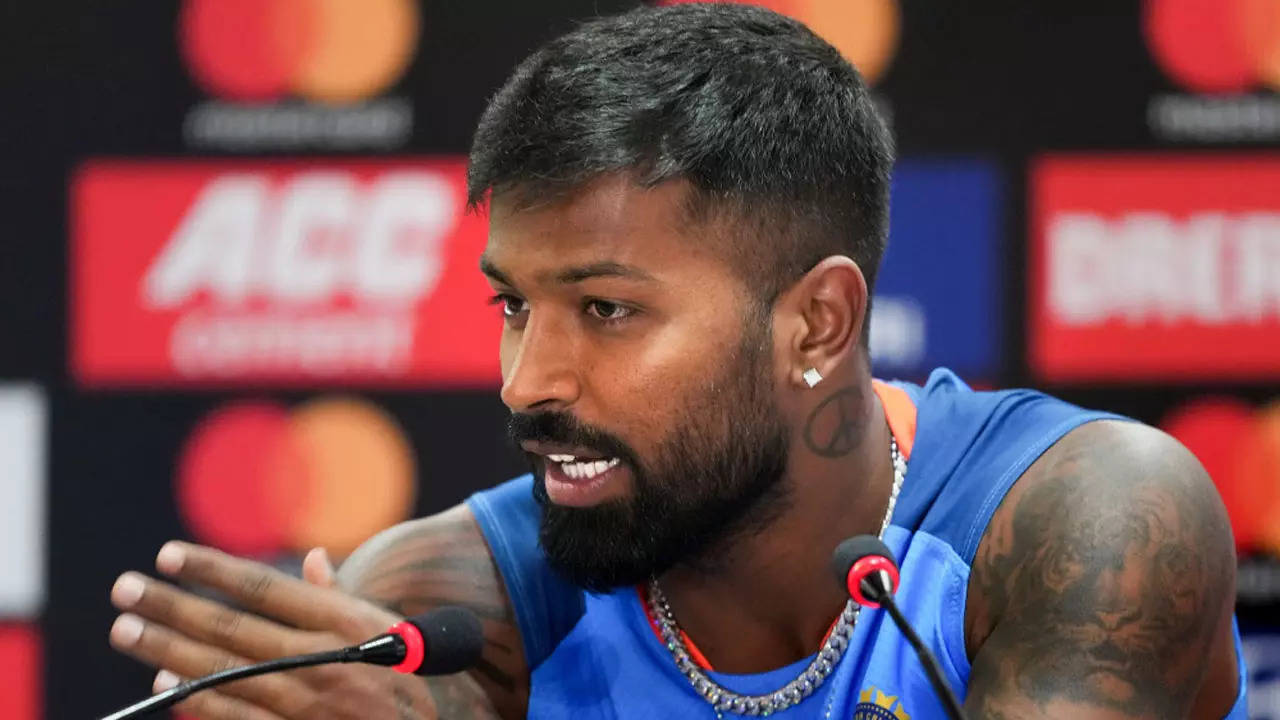 AHMEDABAD: While his unfair comparisons with the legendary Kapil Dev are hopefully a thing of the past, Pandya's brilliant performance with the bat and ball on Wednesday night in the third and deciding T20I against New Zealand at the massive Narendra Modi Stadium were as good as any of those premier allrounders in world cricket who rocked the scene in the 70s & 80s.
His 17-ball 30 and a 40-ball 103-run stand with the rampaging Gill provided India with a flourish at the backend of the innings that saw them plunder 133 off their last 10, and 78 off the last five overs. He followed that up with an incisive spell with the ball, taking a career-best four for 16 in four overs. His first two wickets were owed to some brilliant catching by Suryakumar Yadav at first slip, but it was clear that the Kiwis were finding it difficult to negotiate the lift and swing he was generating under the lights.
While he's at the top of his game, what has been pleasing to see is the way he has taken to India's T20I captaincy on a full-time basis post the T20 World Cup last year, at a time when the future of big guns Rohit Sharma and Virat Kohli is uncertain in this format. The team seems to be gelling well under him, and he looks like a leader who won't be afraid to speak his mind. Post the second T20 against Sri Lanka, he didn't hold back while criticizing left-arm seamer Arshdeep Singh for 5 bowling no balls, calling the transgression "a crime in any format," neither did he mince words while ripping apart the pathetic pitch at the Ekana Stadium in Lucknow as "shocker."
In press conferences, he has come across as a relaxed individual, shaking hands and greeting media persons warmly-not many former India captains in the recent past have been known to do that.
At this stage of his career, Pandya is relishing his role of a finisher. He feels it is his responsibility to step into the great Mahendra Singh Dhoni's shoes. "In that way, maybe I have to get my strike rate down or... Taking new opportunities or taking new roles is (something) I've always looked forward to. I don't mind coming in and playing the role which somewhere down the line Maahi (Dhoni) used to play," Pandya said on Wednesday night.
His batting, the 29-year-old feels, has evolved from the point when he was a youngster who just loved hitting the ball as hard as he could. "See, to be honest, I've always enjoyed hitting sixes, but I have to evolve and that is life. I have to take the other part where I've always believed in partnerships. I want to give my team and the other person more calmness and the assurance that at least I'm there. I've played more games than any of those guys out there. So, I've known the experience and more than the experience part, it's where I've batted, and I've learnt how to accept pressure and I've learnt how to kind of swallow the pressure and kind of make sure the team and everything is calm," Pandya said.
The additional responsibility of captaincy and filling Dhoni's big shoes hasn't meant that Pandya has compromised on his strike rate-it's still a healthy 142.17 in 87 T20Is, in a tally which includes 1271 runs. It's futile to look for hundreds or fifties from a batsman whose 15-ball 30 can prove to be a game-changer. "I think at that time, I was young, and I was hitting all around the park, but now since he has gone, all of a sudden that responsibility... It has just naturally come to me, and I don't mind (doing it). We're getting the result we want and it's okay."
Ever since pace gun Jasprit Bumrah went out of the scene due to a bad back injury, Pandya, who has taken 69 wickets at 26.43, has shown that he can be relied upon to bowl with the new ball, should the need arise. More often than not, he has given India the early breakthrough, and has looked dangerous while fully exploiting any bounce and movement that the surface has to offer. "I had to bowl with the new ball (in T20Is) because Arshdeep (Singh)... I don't want any new guy to come and have that difficult role of (bowling first up with the new ball) because if they're put under pressure, then we're chasing the game. So, I've always been (like) leading from the front and I've been working on my new-ball skills, which is helping me," Pandya said.
The way he's bowling and batting right now, Pandya seems to be at the prime of his career. You're tempted to ask him: "When do we see you back in Test cricket?" The Baroda man last played the last of his 11 Tests in August 2018 at Southampton. Next year, he underwent a massive back surgery. There is talk that he may return to Test cricket in the home five-Test series in January next year against England. I will come (back) when I feel (it's) the right time to play Test-match cricket. Right now, I'm going to focus on white-ball cricket, which is important, and if time is right and body is fine, I'll give (the long format] a try," he said with a smile.