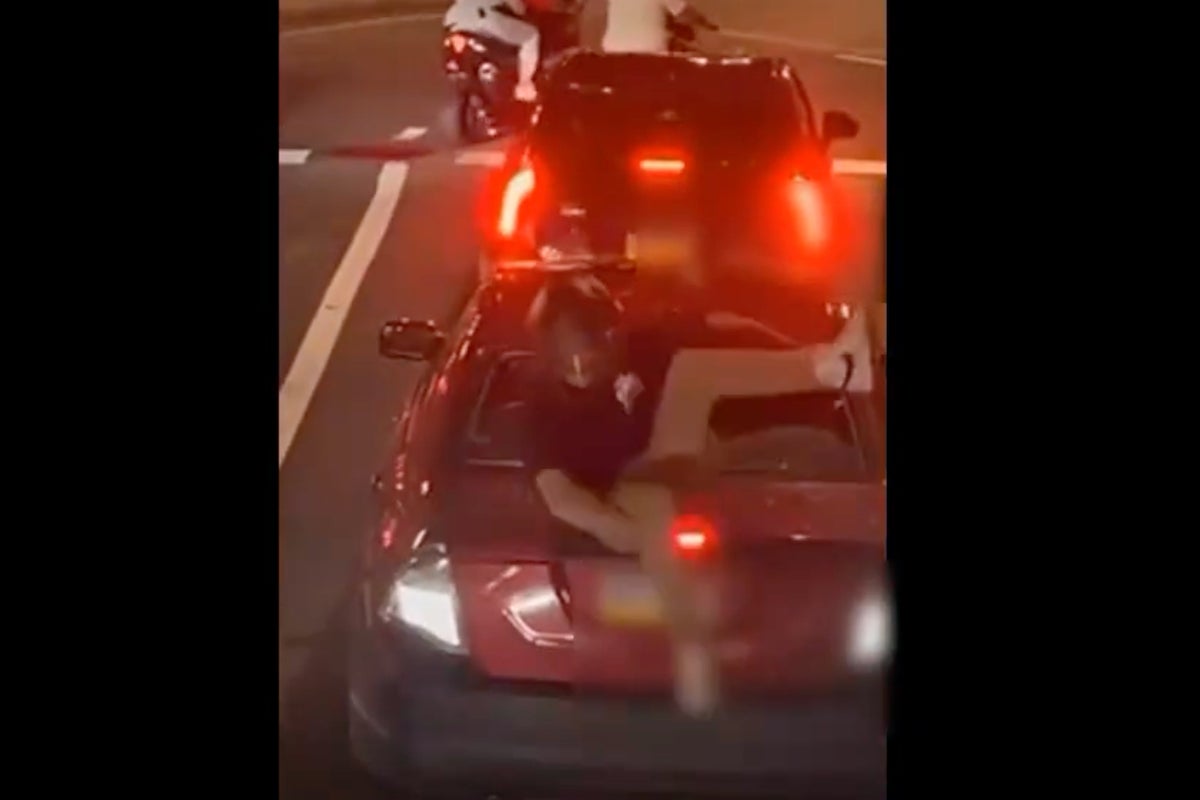 Police in Philadelphia are seeking information after a man riding a dirt bike jumped on top of a car containing two children, broke the back windshield and then threatened the driver with a gun.
The incident occurred at around 9pm on Sunday as a group of ATV and dirt bike riders converged on an area close to the City Hall building at a red stop light.
Footage shows the man jumping up and down on the rear of the vehicle, before sliding off and retrieving a gun from the ground, which he then points at the driver of the car – who has exited the car to confront him.
The man, who is wearing a black motorcycle helmet with gold decals, then appears to headbutt the female driver and push her away. Not backing down, she then pushes him off the bike, which falls to the floor.
The Philadelphia Police Major Crimes Auto Squad released the footage on Tuesday, alongside a photo of the man sitting on the stationary bike with his helmet up, in an attempt to identify him – citing charges of alleged assault and vandalism.
The force pointed to identifying factors such as the helmet decals and the man's arm tattoos.
The driver of the car, Nikki Bullock, told Fox News 29 that she had been delivering food orders for Uber Eats with her friend in the front seat and had two children in the backseats.
She told the outlet the altercation had started after the suspect hit her vehicle and then, along with the rider of an ATV, began to argue with her.
"We were arguing back-and-forth because he hit the car, so after that his friend in front of me, he was arguing with me and while I'm arguing with the friend, he jumped off the bike, jumped on the back of the car and kicked the windshield in," she said.
"I didn't see [the gun] hit the floor at all until he picked it up. He pointed it at me, I couldn't hear anything he was saying, I was screaming at him.
"He pointed [the gun] at me and then he put it away and I was like 'whatever, shoot me then, you're not going to shoot me' and then he headbutted me with the helmet and we were just going back-and-forth after that."
Ms Bullock told Fox News that neither of the children were hurt during the incident and that several people have reached out to support her with repairs to the car after the footage was circulated on social media.