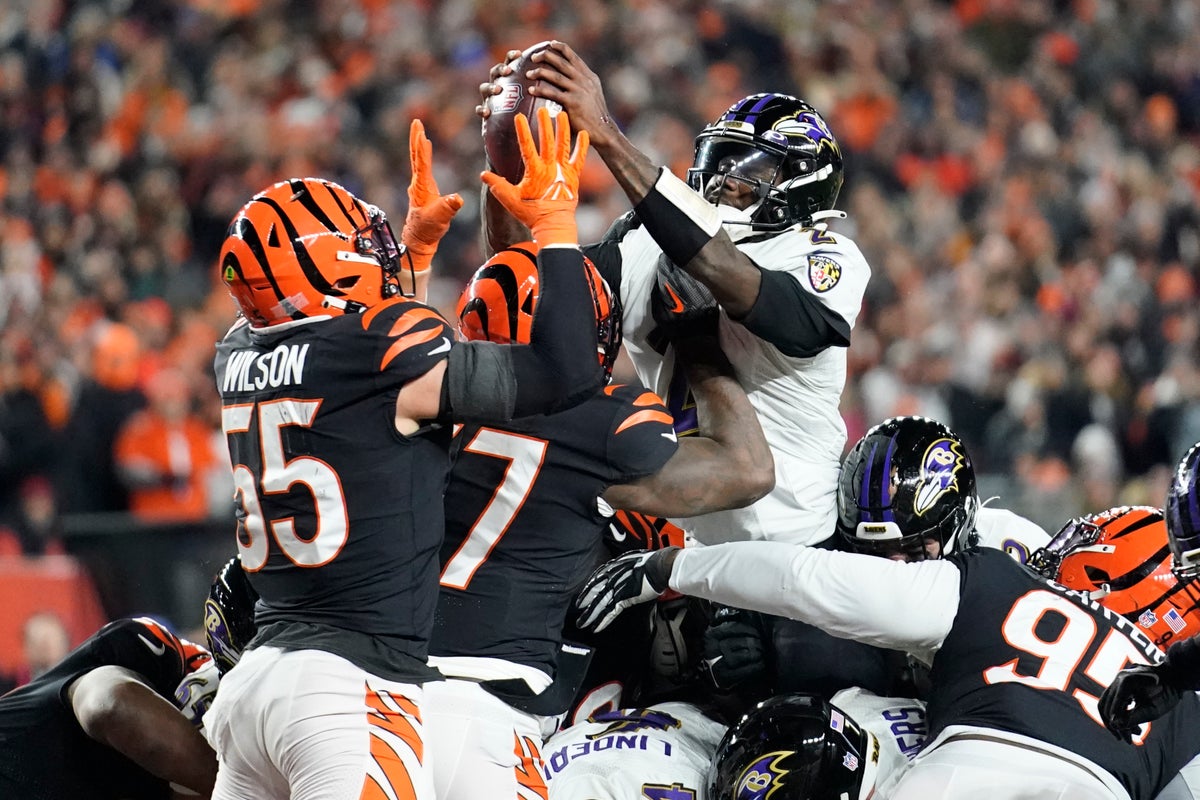 Sam Hubbard returned Tyler Huntley's fumble 98 yards for a tiebreaking touchdown in the fourth quarter, helping Joe Burrow and the Cincinnati Bengals beat the Baltimore Ravens 24-17 in an AFC wild-card game on Sunday night.
Facing third-and-goal at the 1 with about 12 minutes left, Huntley tried to go over the top of the line for the go-ahead score. But he was stood up by Germaine Pratt and stripped by fellow linebacker Logan Wilson.
The ball went right to Hubbard at the 2, and the defensive end took off down the field for the longest fumble return for a touchdown in NFL postseason history. It also was the longest go-ahead TD in the fourth in the postseason.
Moments after the play by the Cincinnati native, with the Paycor Stadium crowd of 66,399 still buzzing, Hubbard sucked on oxygen as he sat on the bench on the sideline.
Baltimore drove down to the Cincinnati 17 in the final minute, but Kevin Zeitler was flagged for holding and Huntley threw incomplete to the end zone on the final play.
Playing behind a patchwork offensive line, Burrow passed for 209 yards and a touchdown for the AFC North champions. He also had a 1-yard touchdown run a week after the Bengals beat the Ravens 27-16 in the regular-season finale.
Next up for Cincinnati (13-4) is a trip to Buffalo for a rematch of their Week 17 game that was canceled after Bills safety Damar Hamlin went into cardiac arrest on the field. With Hamlin watching from home, Buffalo advanced with a 34-31 victory over Miami on Sunday.
Baltimore (10-8) now heads into the offseason with questions about the future of star quarterback Lamar Jackson.
___
Follow Jay Cohen at https://twitter.com/jcohenap