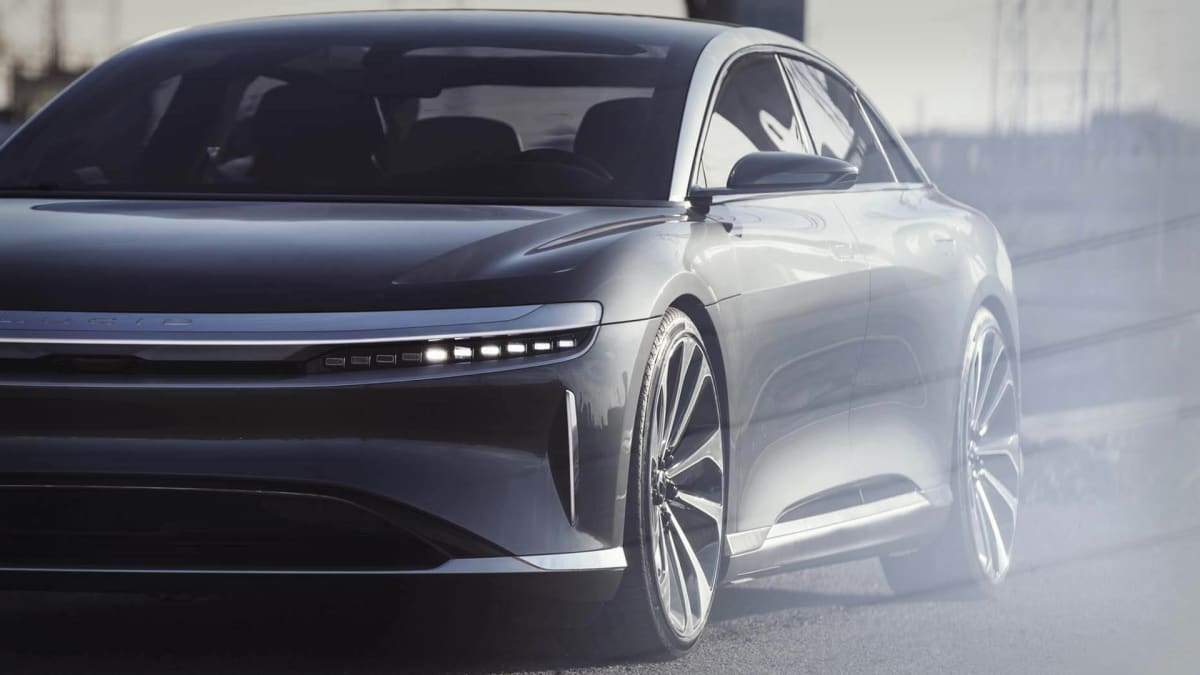 Shares of Lucid (LCID) have been in focus lately as takeover speculation is heating up.
The electric-vehicle producer's shares nearly doubled at one point on Friday and ended the session up 43%. They were trading higher again in Monday's premarket session, but have slipped after the opening bell. At last check they were off nearly 6%.
Even with the fade from Friday's high, shares of Lucid are still up about 78% for the month of January and have roughly doubled off the 52-week low.
The move comes on speculation that Saudi Arabia's Public Investment Fund will increase its stake or potentially take over the company. The fund already owns a 62% stake in Lucid.
The spike in the share price also comes as Tesla (TSLA) shares have been roaring higher, currently up 70% from the 52-week low.
Trading Lucid Stock Amid Takeover Speculation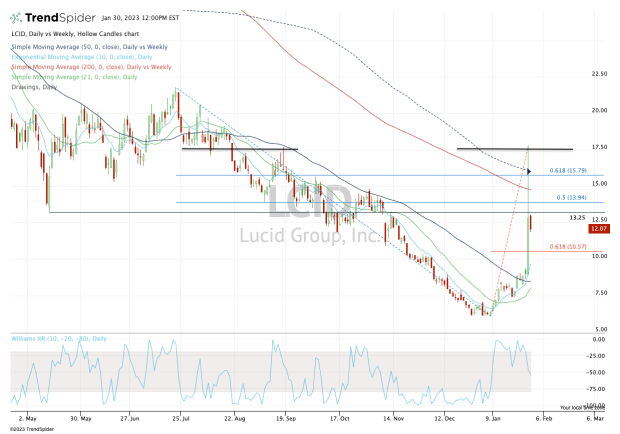 Friday's spike sent Lucid stock up toward $17.50, where it promptly faded. While the move was enough to send Lucid up through the 200-day and 50-week moving averages, this $17.50 level remains significant.
This was support in July and clear resistance in the third quarter. It's clearly still resistance in this case, too.
From here, investors face a bit of a binary event. 
If there is a larger investment in Lucid stock from Saudi Arabia's Public Investment Fund, then the shares could roar higher. If not, then they could collapse. So anyone trading this name should be aware of this potential.
That being said, the $10 to $10.50 area is key on the downside. That's the 61.8% retracement of the rally, the key $10 level, and where the 10-day moving average will rise to in just a few days.
A break of that zone opens the door down to the 50-day and 21-day moving averages, currently near $8.50.
On the upside, $13.25 is the first level of interest. Above that and Lucid stock could make another run at $15 and the 200-day moving average. Above $16 and the recent high is back in play, followed by $20-plus.