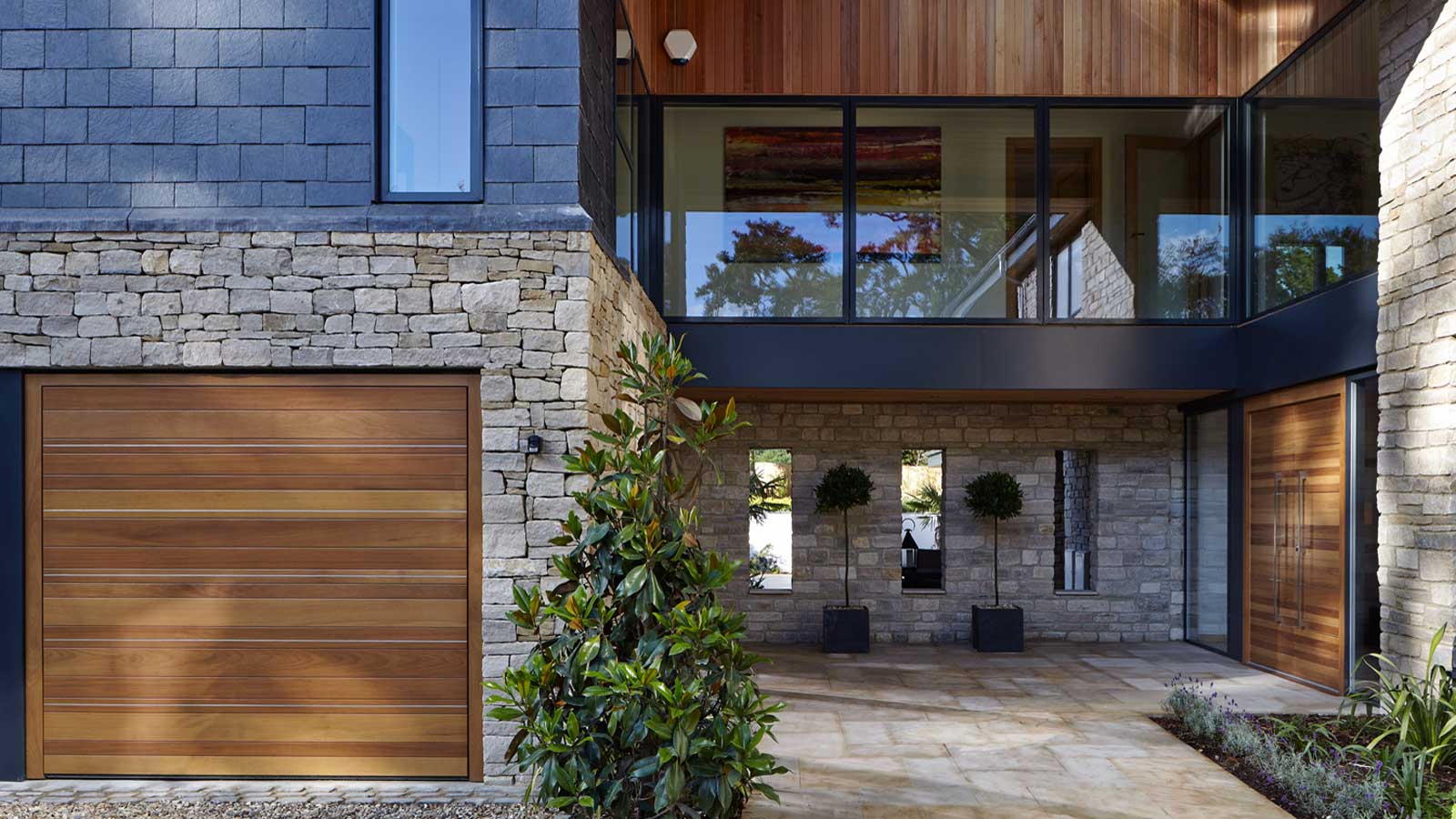 The use of a garage can range from home office to gym, DIY space to storage, playroom to studio. With so many potential uses, the garage often ends up housing lots of stuff, much of which ends up being hard to find or simply forgotten about!
There's no reason why sorting this I-can-do-it-all room should become a dreaded task. Keeping the garage organized might seem borderline impossible, but worry not – below includes many ways you can get yours organized and keep it that way. 
 How to organize a garage with too much stuff
One of the key issues with a garage is not necessarily that there isn't enough space for all the things, but that there aren't enough handy solutions for them, which leads to the space seeming so full that tackling it becomes overwhelming.
So where to start?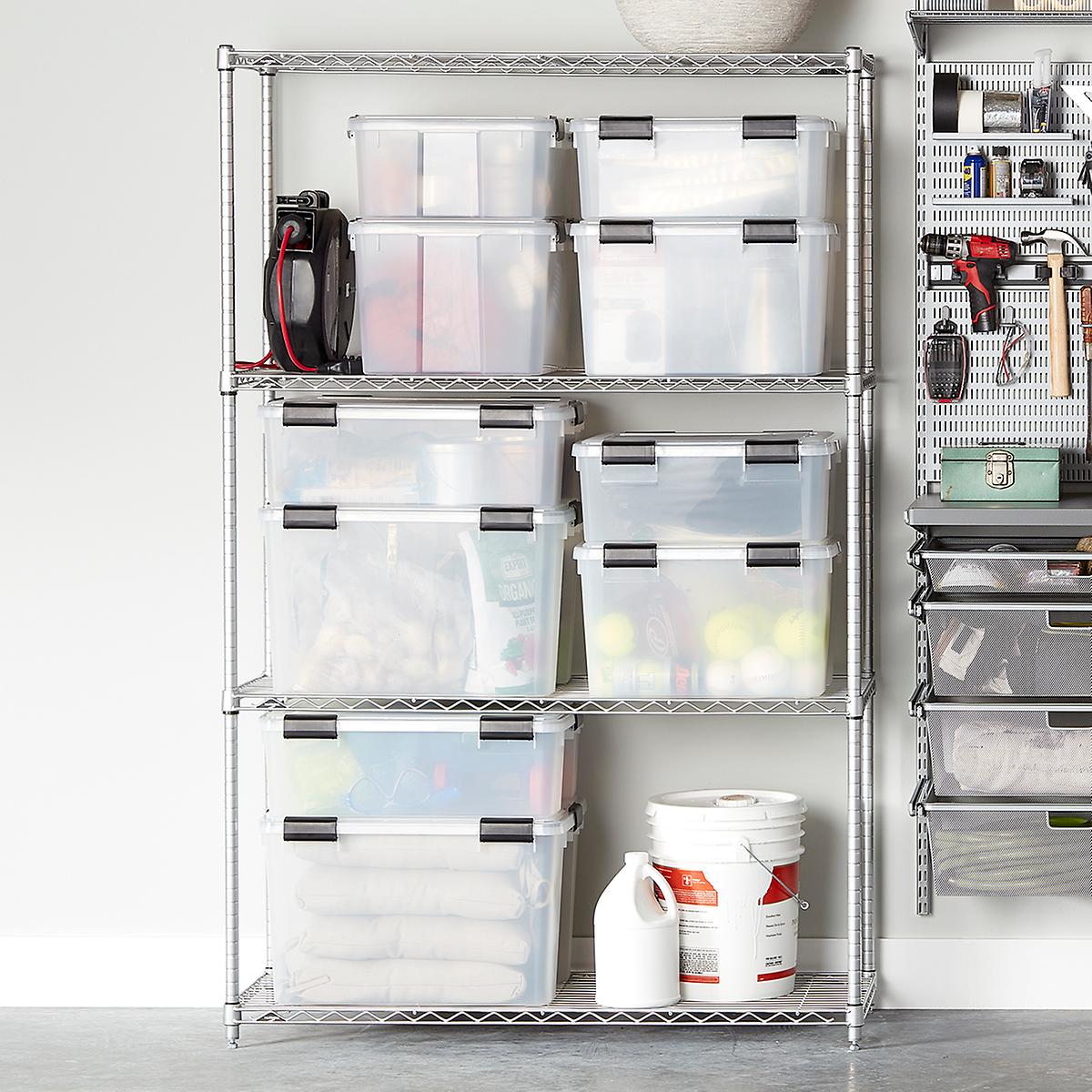 1. Start by removing any recycling
'When organizing a garage, I love to start the project by removing the recycling. Every garage I've ever worked in has extra cardboard boxes that have been long forgotten and are taking up space,' says Carly Adams, professional organizer and co-founder of Tidy Revival.
'By removing them first (and then any trash you can easily spot), you'll get a better picture of how much excess you truly have. From there, you can set a goal of how much you'll need to let go of to have things fit well in your space.'
2. Declutter your way around the space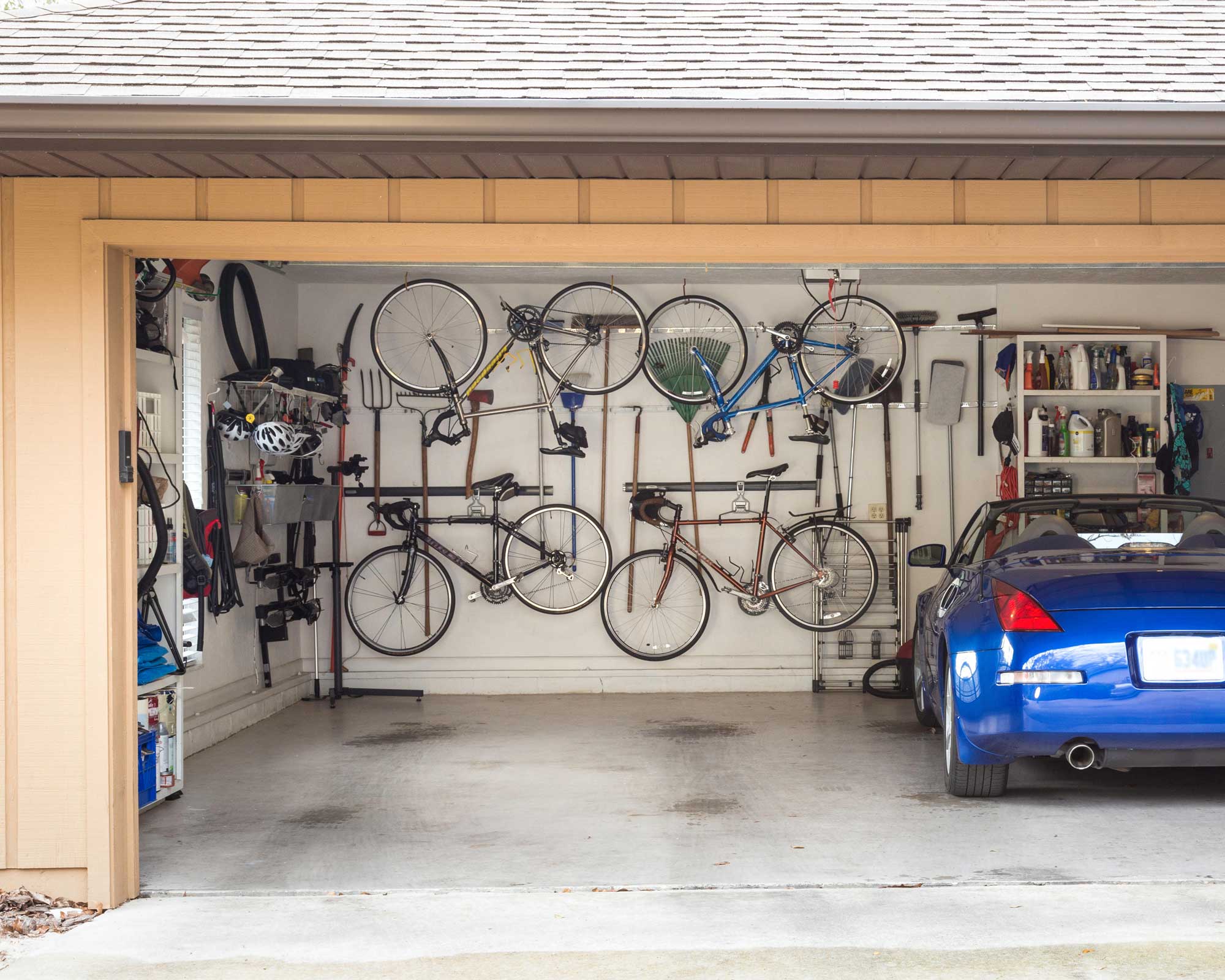 While much of what's in the garage can be useful, there's every chance that some of what's in there needs to go, which can be the hardest part of this home organization project. Experts say that anything flammable and any clothing are among the things you can get rid of in your garage right now, which might help spur you on.
Adams suggests we approach decluttering systematically: 'It can be really easy to become overwhelmed as you declutter a space, especially in the garage. I suggest to my clients that they work in one direction as they declutter. 
'That way, when you inevitably need to take a break, you know exactly where to start again when you return. Remember, it's a marathon, not a sprint, but by decluttering the excess, you'll be able to set up your garage as efficiently as possible.'
3. Consider the function of the space
Bearing this in mind though, have you decided what your garage will be used for? If it typically holds many functions, it's important to clarify how you will be using the garage moving forward to ensure the same problem doesn't arise at a later date.
Shantae Duckworth of Shantaeize Your Space said: 'You have to make sure that you understand what the functionality of your garage is going to be. 
'Is it gonna be a place where you're able to park your car or is it a place that you wanna be able to work out? Is it a place where you have a kids area or a place for art supplies in a studio space? Is the garage a place for everyone to be able to work on their hobbies and activities?'
4. Pace yourself
Meanwhile, Lauren Saltman, professional organizer and owner at Living. Simplified suggests taking your time and asking for help: 'Another way to remove the clutter is to set a timer for 15 minutes each day and only work for that amount of time.
'You might want to invite a friend over to help or even hire a professional organizer to work alongside you and help you make the many decisions regarding what to keep, what to discard and what to donate or sell.'
5. Ensure you have adequate storage solutions
Now that you've decided what the main purposes of the garage are going to be and what you're planning on keeping, the next difficulty comes when deciding exactly how you're keeping it all, calling for some clever storage ideas that fit your space.
How to store all the things in the garage can feel like a headache, but it doesn't need to be.
Some easy ways to make the most of garage space is to do the following:
Use labeled storage bins
Ensure all items are accessible
Use vertical storage where possible
'Utilize plastic bins with labels on sturdy garage shelving for items not often used, and hang bike racks on the ceiling or wall to get them out of the walkway,' suggest Briana and Erica Spruile, professional organizers and co-founders of Just BE.
Storage bins are one of the main go-to storage solutions. However, you may have items that don't quite work in a storage bin for a range of reasons, for example, due to their shape or the frequency with which you use them. 
Shantae Duckworth offered: 'Really deep storage bins are going to be one of the best tools that you can use to store items in the garage, something that is lightweight and what is weatherproof are going to also be amazing. Make sure that they are stackable.' 
Duckworth also recommends making sure that you are maximizing the wall space of your garage as in installing storage racks, at Amazon, and hooks to be able to hang tools, gardening supplies, and other items needed for your household's hobbies.
6. Set yourself up for success with organizers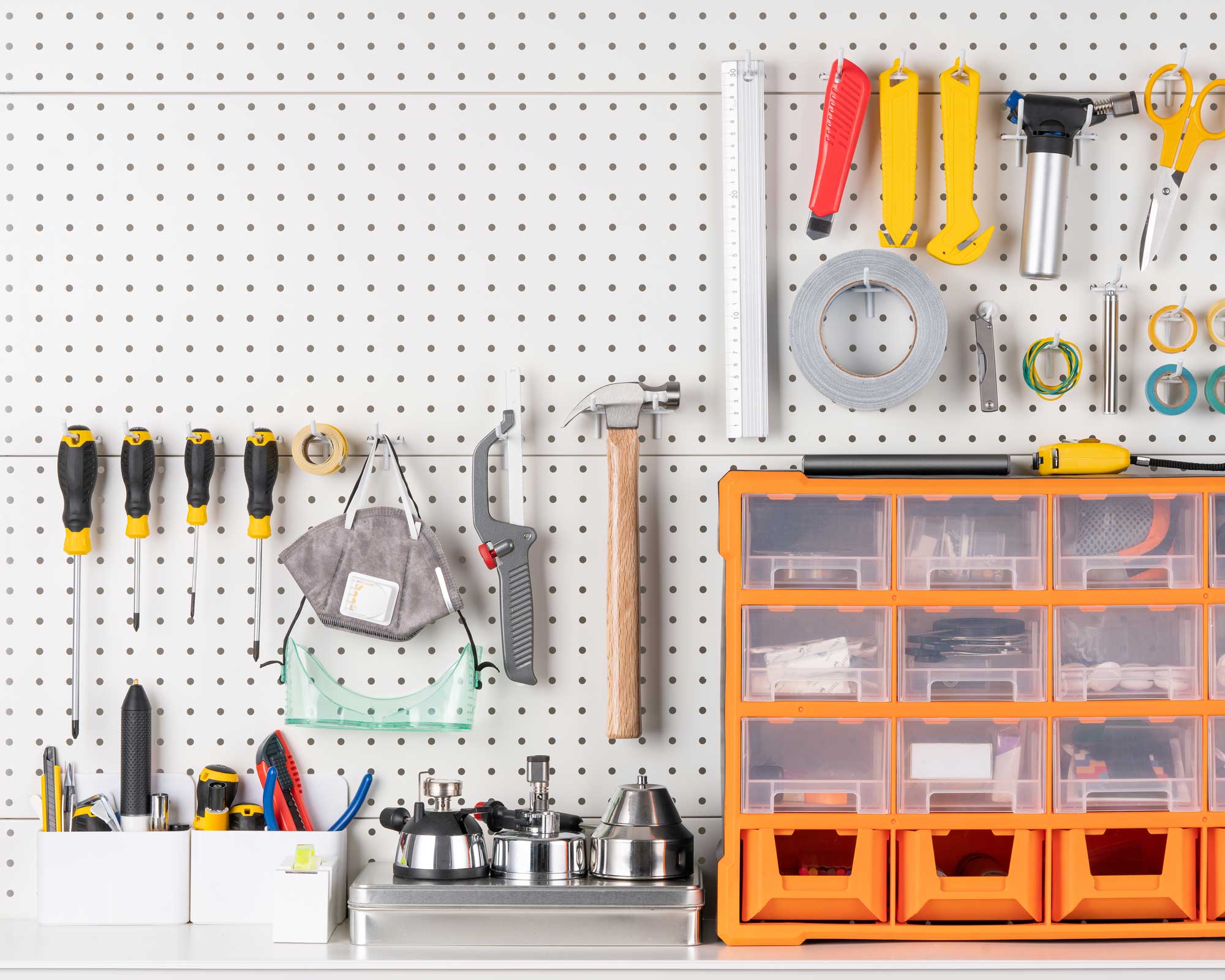 Besides the bins, Duckworth suggests peg boards, an often underrated storage solution much like these peg boards at Amazon. They can be used to hang tools and so much more, ensuring that everything has a clear home within the garage and are easily accessible.
Elsewhere, we've mentioned waterproof and stackable storage bins. Sometimes they can end up so full that the ones at the bottom never get opened due to the weight of the ones on top. Thankfully, there are solutions for sliding organizer bins to prevent this from happening and some that have doors, much like these storage bins from Amazon.
Storage bins and other storage containers are great, but can also become a nuisance if you have no idea what you've put where. In order to prevent this from happening, labels are an absolute must-have. These amazing chalkboard sticky labels from Wayfair can be reused, come in a generous pack of 72, and can be written on with chalk which allows you to wipe down and re-write should you make a mistake or change your mind about that container.
FAQs
How do I group things in my garage?
The key thing is to categorize according to major groups. Rather than 'hammer with hammer' for example, put DIY tools with DIY tools, or lawn tools with lawn tools. 
This will allow you to create order in your mind and separate parts of the garage according to the larger groups, before creating subgroups within them.
How do I make my garage look nicer?
A key step that's often forgotten is the clean! After decluttering, a garage can look quite empty but it also highlights the areas that have fallen victim to the initial mess. Before re-organizing and sorting, it's advised that you clean the space and the accumulated dust, etc.
If you really want to make it look fresh without breaking the bank, a coat of paint over the walls (and painting the ceiling if you feel like it) can make all the difference.
---
The garage can seem like one of the most daunting parts of the house to tackle, but with these tips, it should be a breeze, and may even become one of your favorite spaces.
Remember to have a plan beforehand, buy handy organizational solutions, and approach the project systematically. The room will be done before you know it!