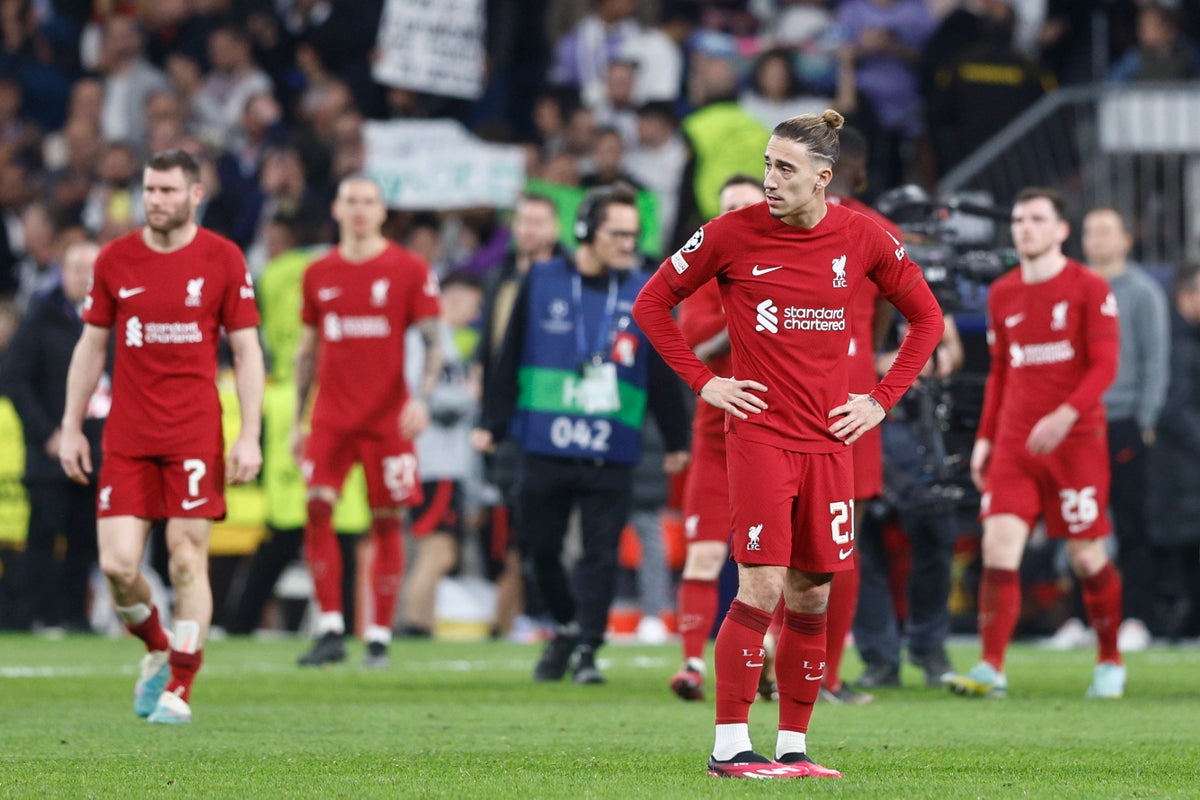 Different manner, same result, and enough to at least leave Jurgen Klopp wondering what is going on here. Real Madrid have ended Liverpool's chances of winning the Champions League for the third successive season. On this occasion, though, the wonder wasn't how you beat them but how you even score against them. Liverpool couldn't get anywhere close to a comeback because they so struggled to get forward, leaving Karim Benzema to pick them off for a 1-0 that made it 6-2 on aggregate.
A large part of that was admittedly down to an injury crisis in midfield, which made it a bad – or perhaps inevitable – night for Madrid to show how imperious they are in that area. Far from this being a team that could be ageing, in transition or just vulnerable, the European champions look a more complete team than last season. A lot of that might have to do with the fact they can call themselves European champions. It is as if it has given young stars like Vinicius Junior and Eduardo Camavinga the conviction to go to another level, while Luka Modric and Benzema stay at the standard of last season.
That makes them an immensely formidable side, and one that can't quite be considered upstart revelations in all those twists of history en route to Paris. They might even be the best left in the competition, if that doesn't sound odd for a team that hold the trophy.
In contrast to that, Liverpool aren't quite coming apart at the seams, but a season of injuries, issues, chaos and wild unpredictability eventually came to bear on a tie at this kind of level. It was asking a lot to overcome all of that against opposition like this, and means Klopp is now left to just focus on trying to get back to this level next season. All they have got remaining in the campaign is the race for the top four.
That might work in their favour, because this is a side that can't currently seem to perform to top levels twice in a week. They never got going here, although that isn't really down to any failure of planning or quality.
If the key to these comebacks is an early storm, Liverpool left it locked up, but that was in part because their midfield was necessarily so open. Klopp had only two fit starters for the area, and one was a 37-year-old more recently used as an auxiliary right-back. Madrid weren't so much winning the midfield battle as just being the team with the actual midfield – and a strong one at that.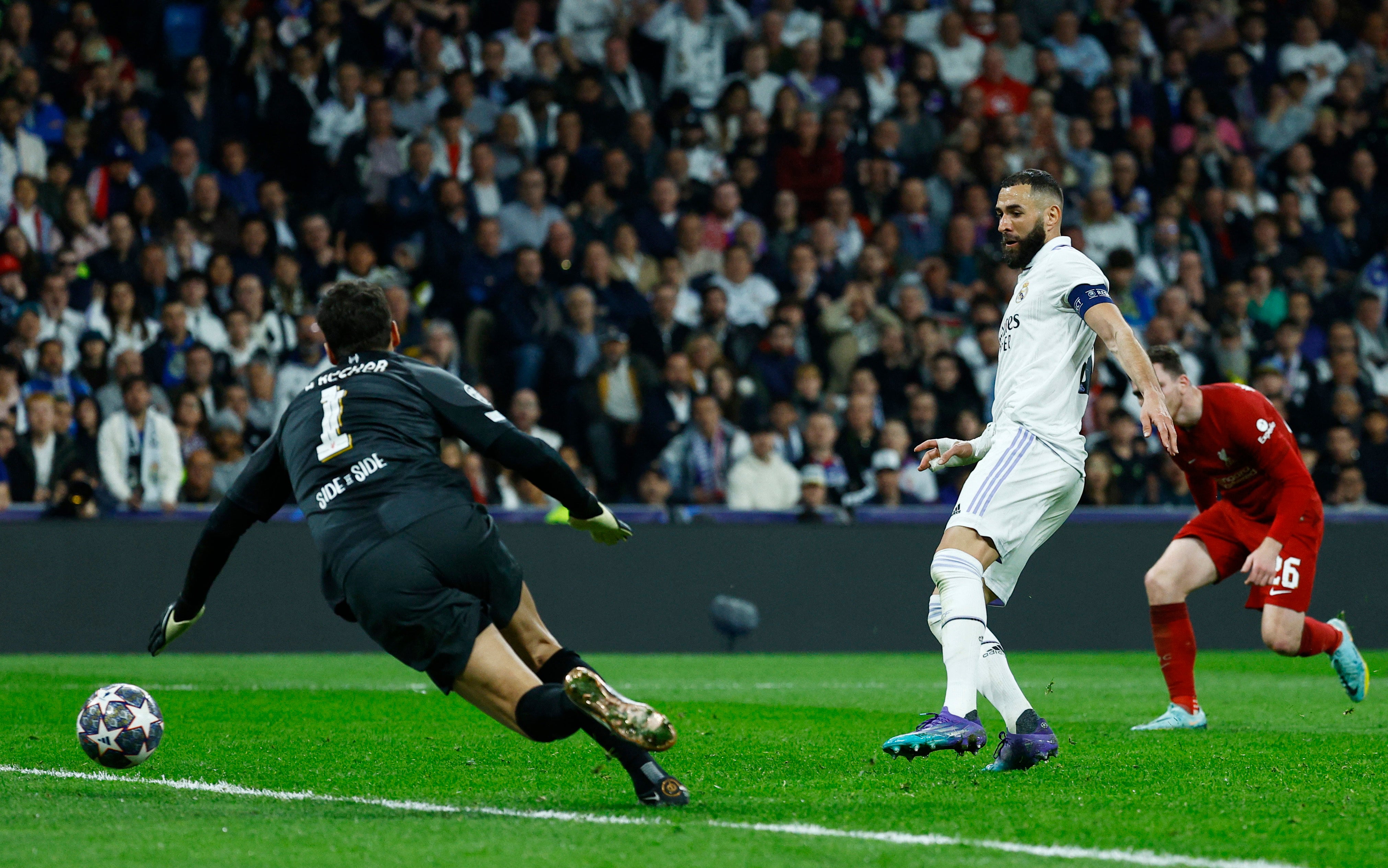 All of that had more weight to it, since these are the two clubs currently seen as favourites for Jude Bellingham. One side had a more obvious vacancy. As it was, all of Madrid's midfield stars just strolled through that to pick passes and take potshots from wherever they desired. Amidst Toni Kroos setting so many attacking moves in motion, Camavinga smashed the crossbar and Modric had a fully struck half-volley fly just over.
Vinicius constantly looked on the brink of breaking through, while Benzema was alert to every opening. It was actually impressively adventurous given Madrid were in the lead, but that was kind of the point. They were so comfortable in that lead that they could afford to just go out and play and assert themselves.
It was up to Liverpool to make them uncomfortable. They did manage that in moments, but it was always stretched, always as if it was going to take too much. Hence their best opportunities were long shots or half chances, such as when Andy Robertson cut in from the left or Cody Gakpo tried one from distance.
The other end emphasised the difference. Alisson was forced into a number of fine saves, especially from Benzema and Vinicius, while almost every defender had to put in at least one big block. Trent Alexander-Arnold prevented what looked like a certain Benzema goal.
It was the kind of desperate defiance that would have made you think there was a sense of destiny about the game, and something big was going to happen… except there were still three goals in it.
Something big had already happened in the first leg.
There was one suggestion of a moment late on with a quickfire Liverpool passing move in the box… only for no one to actually take the shot. At the other end, Benzema showed them how it was done.
In other words, the customary finish.