You'll remember the reverse-motion plays that freed up Kadarius Toney and Skyy Moore for second-half touchdowns in Super Bowl LVII. You'll remember Toney's big punt return, and Patrick Mahomes's scramble, and James Bradberry's grab of JuJu Smith-Schuster's jersey, and even Nick Sirianni's fourth-and-3 decision.
What you probably don't even remember now, a week later, is the play that every Kansas City offensive player and coach will mark as the one that set the tone for everything that would happen in the Chiefs' come-from-behind win. Their very first play of the night.
The quarterbacks were apprised of the call in their normal Friday morning meeting, at the team's Scottsdale, Ariz., hotel. The rest of the guys got it 24 hours later, as the team went through its Saturday walkthrough, encompassing the Chiefs' "mock game" period, during which Andy Reid and his coaches give the offense its script for the first 15 plays. To say the guys were excited would be like calling Mahomes a pretty decent quarterback.
"I mean, we talked about it a little earlier in the week, saying they were liking the play and everything and it could be up early," center Creed Humphrey said Friday. "Yeah, when we got the first 15, though, installed, and that was the first play, that got me fired up."
The call: 36–37 Cut U EZ.
The concept: Old School.
The idea: Let the Eagles know what kind of game was coming.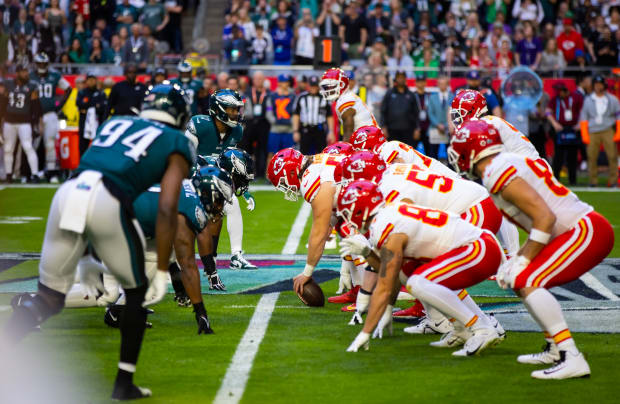 The truth is, with what Reid, offensive coordinator Eric Bieniemy, offensive line coach Andy Heck, assistant O-line coach Corey Matthaei and quarterbacks coach Matt Nagy had emphasized for two weeks, and the way practices had gone, hearing the call itself could be seen as simple affirmation of the plan for the players. But since that plan diverged so drastically from the way Kansas City would normally play and countered how so many people have seen the Chiefs, knowing how the game would begin mattered.
On the play, a first-and-10 from the K.C. 25, Mahomes lined up in the shotgun, with two receivers to his right, one motioning in, and Isiah Pacheco offset to his right. At the snap, Humphrey and right tackle Andrew Wylie pulled left. Humphrey stoned Philly edge rusher Josh Sweat to create a crease for Pacheco, taking the handoff from Mahomes, and Wylie led him through it, ushering C.J. Gardner-Johnson out of the way.
Pacheco picked up only three yards. But the Chiefs were setting the tone—with the pullers taking two Eagles defenders out of the play, and Trey Smith knocking Fletcher Cox's helmet off in finishing his block. The idea was specific to what the Chiefs wanted to do to Philly from a gameplan standpoint. It was also two years in the making.
Of course, Kansas City didn't win the Super Bowl on a three-yard run with 10 minutes left in the first quarter. But listen to the guys executing the plan, and they'll tell you it set the stage for everything that was coming over the three and a half hours to follow.
---
The offseason is here, and we've got plenty to dive into The MMQB (before I take a few days to go skiing with the kids). In this week's column, we'll cover …
• The new boss in Arizona, and why there's more depth to Jonathan Gannon that you think.
• How we'll get an important answer on Lamar Jackson in the next couple of weeks.
• A proper farewell for Chad Henne.
And a whole lot more. But we're starting with our annual week-after look at what won the Super Bowl.
---
Normally, in this space, eight days after the fact, we focus on the fine details of the Super Bowl, and we will here, I promise. But it's impossible to tell this story without going back to the last Super Bowl the Chiefs were in.
Among Kansas City's five starting linemen, Wylie's the only guy who was there, the Chiefs' starting right tackle, as a fill-in for Mitchell Schwartz, against the Buccaneers.
"Came away from that one extremely disappointed," Wylie said Thursday. "I really had to look inward and figure out what I needed to do to better myself and to better this team and to make sure that never happened again. I did a lot of reflecting that offseason. It was just overwhelming, very disappointed at how that game went, start to finish. Especially after earlier in that season, having a good game and playing well against those guys, just to come out on the biggest stage and not do it even close to what we're capable of."
The 31–9 rout would also serve as a flashpoint for Reid's Chiefs—and the juncture at which Kansas City would start detaching from the core of players that helped the team win its first championship in 50 years. It would mean the bookend tackles for the bulk of the Reid era, Schwartz and Eric Fisher, both of whom missed that game, would be gone—guard and COVID-19 hero Laurent Duvernay-Tardif, too. And Wylie knew he was on notice, as well.
Reid and GM Brett Veach set out in the aftermath to completely reimagine the line. They wanted to get younger, yes, but also bigger and tougher, to build an offense around Mahomes that could grind out the hard yard the same way it could hit the big play. And with that amount of turnover, they knew they needed a guy who could also help create a culture in the room to bring everyone together fast, which is why they paid a premium to pry Joe Thuney, who started 80 of 80 games as a Patriot and won two rings, from Foxborough.
Next, they traded for Orlando Brown Jr., knowing the physical edge and presence he could bring, and the desire he had to play left tackle—which would be an adjustment, having been the right tackle in what amounted to an option offense in Baltimore—for a contender. After that, it was catching Humphrey as he slid in the second round, and involving the doctors in the sixth-round selection of Trey Smith, who would've been a top-50 pick had it not been for the blood clots he suffered from over two years in college.
(On that last one, the Chiefs' front office gets credit for realizing Smith's middling last year at Tennessee was because he couldn't practice due to a medication that Kansas City's team doctor, Mike Monaco, told the personnel folks he was 90% sure Smith would come off of. "Monaco was actually the one who was on the phone on draft day," Smith says. "He was the first person to say it, 'O.K., I told you I'd call you back. You're a Chief.'")
That left Wylie to battle Lucas Niang and Kyle Long and the rest of a reworked room to find playing time. The Buccaneers game sent him back to the drawing board on how he studied and how he focused in meetings, so he could find a way to be a different player than he was on that February Sunday in Tampa. In the meantime, he could see what was happening.
Guys like Long, Brown and Thuney were helping Humphrey, Smith and 2020 rookie Lucas Niang (who'd missed all of his rookie year), and those three were developing quickly into viable starting options.
"There were all these older guys there that have been through a lot of games," Humphrey says. "You got guys who won Super Bowls that were in that group, and anything that I had questions about, they'd help to answer. I'd be able to watch film, break things down with a bunch of those guys, too. They made my life a lot easier for sure when I first got there."
As a result, the group coalesced and was able to ride through bumps early in 2021 (initially, it was Brown, Thuney, Humphrey, Smith and Niang). They arrived at what they thought was a turning point in Week 6 in Washington.
"Being a Tennessee guy, I played Alabama's defensive line, and two of their dudes, Daron Payne and Jonathan Allen, were some monsters inside," Smith sys. "You also had a guy, Matt Ioannidis, he's also very good, seasoned. And the end spot's Montez Sweat, Chase Young. That's a talented front. A majority of those guys are first-round picks. So going in there, having the mentality, O.K., it's gonna be a dog fight. They're a physical group, but we have to get after them with the physicality as well. I think that's what shifted it for me."
The trouble was the next week, against the Titans, it went the other way—and Smith remembers that because it happened in his home state, with a ton of friends and family in attendance. The Chiefs got blown out, 27–3, and Mahomes got sacked four times and got injured on the last of those midway through the fourth quarter.
But because the makeup of the group was good, that became a learning experience, rather than another tipping point. "It showed us, obviously, that every game is not gonna be perfect," Smith says. "But in a sense of just having a feel for each other and playing pass protection, passing off blocks, I think it taught us that we'd have to earn that just pretty much through adversity, that you've gotta keep going."
The Chiefs linemen did. Wylie wound up passing Niang on the depth chart after Niang got hurt. He and the four others turned their position group into a strength by the end of the year., and they did it through O-line dinners, and spending Saturday night snacking as a group—just the linemen, Mahomes and Travis Kelce, just like they did with all those game reps.
The vision, by the time this year started, had come together.
What the Chiefs wanted to do to the Eagles on Super Bowl Sunday wasn't so much to make a statement that they could road-grade the Philly defense as it was a signal of the respect they had for a pass rush that churned out 70 sacks in 17 regular season games, then eight more over two playoff games.
In general terms, the idea was to run right at a front that was used to taking the fight to an offense and get them back on their heels by veering away from RPO and zone runs, and toward gap-scheme runs that would force Philly to deal with pulling linemen, physical down blocks, combination blocks and downhill running from Pacheco & Co. In short, it was everything that Reid and Veach wanted to add a couple of years ago, and everything that no one seems to think the Chiefs really are.
And that included media reports that the Chiefs' linemen saw as very focused on the strength of the Eagles' defensive line, without much attention paid to their own group.
"When we first saw the game plan, I mean, I was fired up," says Smith. "To be able to be physical, move people off the point of attack, that's fun, man. Pretty much the mentality, you hit it dead on—[coaches] were just trying to free us up, make it a big man's game. Make it physical. Make it a bloodbath out there, man, and see if they respond to it. We'd see if they did. But at the end of the day, the game plan, it was special. It was complete.
"They drafted us to be physical, to be able to play fast, play violently and play at the point of attack—that's what we wanted to do."
Adds Humphrey: "The week before we got to Arizona, we had kind of a simulated game week—installing everything, and that first day, we were going through the runs, and you could tell every coach in that building was fired up to get after it. Just a lot of different looks, a lot of guys pulling, things going up and downhill through those A-gaps, things like that. We knew it was gonna be a fun game plan, and we knew how much they wanted to run the ball and make that a point for that game."
Which meant that first call, 36–37 Cut U EZ, counted for more, to these guys, than three yards.
"It was just a counter play for us," Humphrey said. "It was built off of a play where it's usually the guard and tackle pulling, but if we got a certain look, we'd keep that guard backside and let me pull instead. We got that look up front, and I gave him the signal for me to pull. Didn't rip off a huge gain on it, but I feel like we did set the tone well. You got me getting Sweat on the ground. You got Trey getting after the three-technique on the backside.
"It was really just kind of a let-them-know-we're-here thing."
It wouldn't be the last one.
• On the Chiefs' first touchdown, Mahomes stood in the pocket as Kelce got wide on his route, to create space on Marcus Epps after coming back inside in pre-snap motion. No one was close to the quarterback as that was happening, which was in part a result of Kansas City calling runs on three of its first five snaps, with a Mahomes scramble for eight yards added on to that.
"Our biggest thing going into that game, especially in protection, was being able to win your one-on-ones," says Humphrey. "A lot of times, you're either rushing four or five. … I think it was four on that play, so I was able to help out Trey on that one. … And any time you give Pat time, he's gonna be able to find somebody and make a big gain of it. That was definitely a good one for us, to get out there in the first series and do that."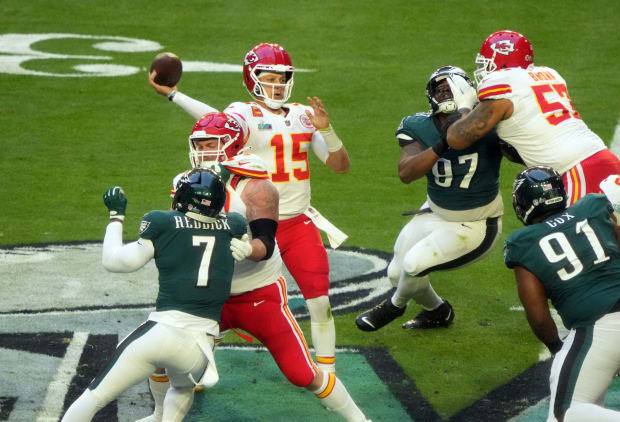 • On the Chiefs' next offensive play, Smith and Thuney were leading blockers on a tight-end screen to Noah Gray. Smith buried Ndamukong Suh almost right away, and first-and-10 became second-and-4.
"Wylie was setting me up perfectly for that," Smith says. "On this play, I'm pretty much just thinking, O.K., I'm trying to keep him away, whatever I can do. And Ndamukong Suh is a guy growing up as a kid, you're like, Oh crap, I'm about to play this dude. So it's, like, cool moments like that, I'm about to really try to smack him and hit him as hard as I can. Wylie sets me up, boom, hits him. I'm able to actually pull him over and keep him down."
• There were two more that explain how Wylie wound up keeping Eagles star Haason Reddick in check. One was on a seven-yard screen to Jerick McKinnon, where McKinnon was split right and Wylie chased down Reddick and drove him into the turf. The other came on the first possession of the third quarter, on a 14-yard Mahomes scramble, where Wylie got Reddick to the ground, Reddick wrestled him off and Wylie drove him back down again.
"We had a lot of things just to make these defensive ends think about what's going on," Wylie said. "Oh, it's a pass, it's a screen, I'm getting chipped. The tight end's chipping me, the running back's chipping me. Oh, they're pulling a tackle for me this time. So it's just keeping them on their toes."
• And the play before that, Mahomes's scramble sent a similar message—McKinnon, on that one, was running behind a Smith trap block on which Smith pulled around to drive Javon Hargrave right down the middle of the field. McKinnon scampered for seven yards, and, had he not slipped on the painted logo that ran from just inside the 35 to just outside the 15, he probably would've had a lot more.
"It's a quick-hitting trap play, so from my perspective, I'm pulling, but I'm trying to go inside off the defender," Smith says. "The biggest thing I had to do is just try to remove him off the ball and make sure he doesn't penetrate inside. So I remember going around, a guy literally flashed out of nowhere, struck him and I felt Jerick right behind me. I saw him fall. I was like, Dang it, man, we almost got way more yards than that. But it goes back to it, man, our play design for this game was amazing. Like, the things we were doing were awesome."
• Then there was the cumulative effect showing at the end of the third quarter, on a second-and-1 on which Brown took Hargrave and simply moved him off the ball right down the middle of the field, as Pacheco came up behind him for 11 yards.
"I feel like that was one that was kind of a tone-setter going into that fourth quarter," Humphrey says of the "duo" call. "It was a tight game, and we hit that one for a big chunk, so that was really good to get right before the fourth quarter."
The result: The supposedly high-flying Chiefs had grounded the Eagles' pass rush. Yes, by helping their linemen with tight ends and backs chipping or staying in to protect, but also by consistently throwing the first punch. Which was the other part of the idea, that with some older players on that Philly front, fatigue would eventually set in.
And, looking back now, it really did set up perfectly, in a roundabout way, for Kansas City. They got their licks in through the first half, but because their play count was limited (their offense was on the field for just 20 snaps through two quarters), Philly didn't have as much to adjust during the longer halftime. So the Chiefs could keep doing what they were doing, and they did well into the fourth quarter against a gassed Eagles group.
It led to the ultimate display of all this for Kansas City, with 3:38 left, the game tied and the offense facing third-and-1. Mahomes had split backs, both in three-point stances, behind him. He handed the ball to Pacheco, coming from his right to his left, on a sweep. Fullback Michael Burton led him, with both guards pulling to join the convoy in front of the tailback. It was so well blocked that all Thuney and Smith had to do was get in the way of a couple of Eagles.
Pacheco went for 10 yards untouched. He might've scored if Gardner-Johnson hadn't upended him—no one else was there.
"Third-and-1, yep, a little sweep play we had on that," Humphrey says. "Two running backs in the backfield in three-point stances. Old-school formation, man, it was awesome. We were fired up about that one, too. For our short-yardage stuff, it's always us just trying to hit the A-gap, so we knew they'd try to load inside right there. And to get those two around, Joe Thuney and Trey Smith, getting those guys around the corner, those are two guys you don't really want to see out in space, man, because they'll get after you."
The Chiefs, of course, by then, had gotten after the Eagles for more than three quarters. And they were seven plays away from putting the game-winning points on the board.
The Chiefs had their exit meetings Tuesday, and back in the locker room the linemen were cleaning out their stuff when assistant equipment manager Cale Kirby stopped by.
"Thanks, Orlando, for tweeting that thing out," he said, smiling at Brown. "Now I gotta actually go make all these T-shirts."
Sure enough, when the guys showed up for the parade Wednesday morning, there were boxes with a couple hundred sets of two T-shirts. One, a white one, simply had a giant zero on it, with "sacks" right underneath that. The other had the body of Brown's Super Bowl–night tweet, that came complete with a Tony Soprano GIF, "0 sacks, put it on a f---ing t-shirt!!!!"
Through the parade route, the guys were wearing them and throwing them to the crowd, and, Wylie said, "those shirts are still a little soggy from all the beer spilled on them. . . . But yeah, that one's going in the wash, and I'm keeping that one."
For good reason. On the biggest stage possible, he and the other four guys didn't just atone for the nightmare he'd been a part of two years earlier. That stat—zero sacks—really is the equivalent of a 300-yard game for a quarterback or a 100-yard game for a receiver or running back, and it came with, and in large part because of, the 158 yards the Chiefs ran for through the heart of the Philly defense (at a clip of 6.1 per carry).
"We knew if we were able to win our one-on-one battles, then the game would turn out in our favor—especially having a guy like Pat behind us, the running back room that we have behind us," Humphrey says. "We knew that if we wanted to win the game, the O-line was gonna have to go there and be the reason we won the game."
They knew that Saturday morning, on the Kajikawa Practice Fields at Arizona State, all the same as they did Sunday just before 7 p.m. ET, when the call, 36–37 Cut U EZ, went from Reid's headset into Mahomes's helmet.
It was an implicit signal that this was, indeed, a different kind of Chiefs offense. Different from two years ago, for sure, but different from even a few weeks ago, too. And different, really, in the way they wanted it to be all along.