Imagine you're a stringer for a major news organisation in Delhi. You're based in Assam, which has seen over 190 flood-related deaths this year. You receive a phone call from your bosses instructing you to investigate a new, sinister claim – that of "flood jihad".
This is what several reporters and stringers in the state faced on July 6, soon after #FloodJihad began trending on Twitter. The theory was that four Muslim men had, in an act of "jihad", purposely breached a river dyke that led to the flooding of Silchar city in Cachar district.
It's not unusual for a catchy phrase to trend in India, especially with the word "jihad" tacked onto it. On Zee News, Sudhir Chaudhary on different types of jihad – film and song jihad, love jihad, land jihad, victim jihad, economic jihad – even though he plagiarised his "jihad chart" from a dodgy Facebook page.
This time, however, while some news channels wondered about the #FloodJihad theory (and we'll get to them soon), others were thwarted, thanks to the efforts of reporters on the ground and the state government.
On the afternoon of July 6, Assam chief minister Himanta Biswa Sarma was asked by reporters about this "flood jihad" theory spinning out on social media.
Sarma refuted it on camera.
He told the media it was "not right" to bring this angle into everything and there was no terror link in the embankment breach. "It is not important to involve them with jihad," he said firmly.
A journalist at this interaction told Newslaundry the "flood jihad" angle was distasteful. "Hundreds of people have lost their lives. Many are still under flood waters," they said. "But no one wants to cover what they are facing. They want to cover 'flood jihad'."
Another journalist with a mainstream news channel confirmed to Newslaundry that several news channels and newspapers had sent their reporters to investigate the #FloodJihad claim or had telephoned stringers to dig for details.
"Several news channels had plans to run the 'flood jihad' story on primetime," the journalist said. "But they did not because a few reporters in Guwahati were quick to pose the question to the CM that afternoon during a public appearance and get a clarification."
Two hours after Sarma's statement, Cachar superintendent of police Ramandeep Kaur mediapersons to a press conference at 6.30 pm that day to update them on the investigation into the embankment breach.
At the conference, Kaur said it had come to her notice through social media, WhatsApp groups, web portals and news channels about "different connotations" given to the breach.
"There is no communal angle to this incident," Kaur said. "In light of the manner in which this is being projected, I appeal to various social media and channels to not spread rumours without facts and evidence. There are various words coming up like 'flood jihad' – this is a word we have never heard. Please do not get into these things. There is nothing of the sort in this particular incident. There's nothing of one community deliberately trying to cause harm to another community. It is an act of god, the rainfall of this year was unprecedented."
A reporter with a news channel told Newslaundry his channel "did not bother chasing" the #FloodJihad angle since "it was not a story for us".
"Some of the people posting about it on social media had links to the BJP, I believe, but it wasn't a planned social media campaign by the party since the CM, in fact, was upset about this narrative and made the SP hold a press conference to clarify," the reporter said. "How can it be 'flood jihad' if people from that community are also affected?"
Facts vs fiction
So, what were the origins of this theory?
On May 24, the state's water resources department against "unknown miscreants" for cutting through an embankment at Bethukandi to "let the rain-accumulated water of a wetland drain into the Barak river".
While this was the line taken by the district administration, that locals claimed "it was already damaged since the floods in May and they have been urging authorities to repair it".
By July 4, four men – Kabul Khan, Mithu Hussain Laskar, Nazir Hussain Laskar and Ripon Khan – had been with the breach.
Silchar-based journalist Biswa Kalyan Purkayastha explained the sequence of events to Newslaundry.
"Assam has had two waves of floods this summer: first one in May and the second one in June," Purkayastha explained. "Once the river's water level fell in May, the water collected in Bethukandi did not drain into the river because of the embankment. Locals there asked the administration to do something about it, even wrote letters which I have seen, but nothing happened. On the night of May 22, they breached the embankment so that the accumulated water would drain into the river."
However, when the river rose again on June 19, Purkayastha added, the water entered from the same breach in the embankment in Bethukandi. "So the locals who made the breach during the first flood were the first to get affected during the second one," he explained.
According to Purkayastha, Silchar was not only flooded from Bethukandi but three other spots around the city – Bhagadar, Berenga and Sonabarighat. "There is no religious angle to this tragedy," he told Newslaundry. "Hindus and Muslims have suffered equally in Silchar."
Which brings us to the news studios of NewsX.
On her , NewsX's assistant editor Meenakshi Upreti was enraged.
Is there a plan to devastate Assam, she asked. Are the floods a sinister terror plot by foreign forces inimical to India's interests? This is, Upreti said, "flood jihad".
Upreti was ably assisted in her quest for justice by her panel. Former diplomat Bhaswati Mukherjee called the breach a "treacherous" and "treasonous" act by "traitors". Sunday Guardian editorial director Madhav Nalapat went a step further and saw the hand of the "Sino-Wahabi lobby" in the floods.
NewsX's show did not include reporters sharing inputs from the ground. Upreti was in her studio; her panellists appeared to be pontificating from their living rooms. The chief minister's official statement on this "terror plot" was overlooked too. Instead, the channel's headlines asked "Was it a planned #FloodJihad?".
But NewsX wasn't the only star in the Noida constellation to burn for #FloodJihad. Earlier that day, India Today managing editor Gaurav Sawant – – had tweeted it, saying "police investigations underway".
Journalist Abhijit Majumder followed suit, writing in panic, "We are at war."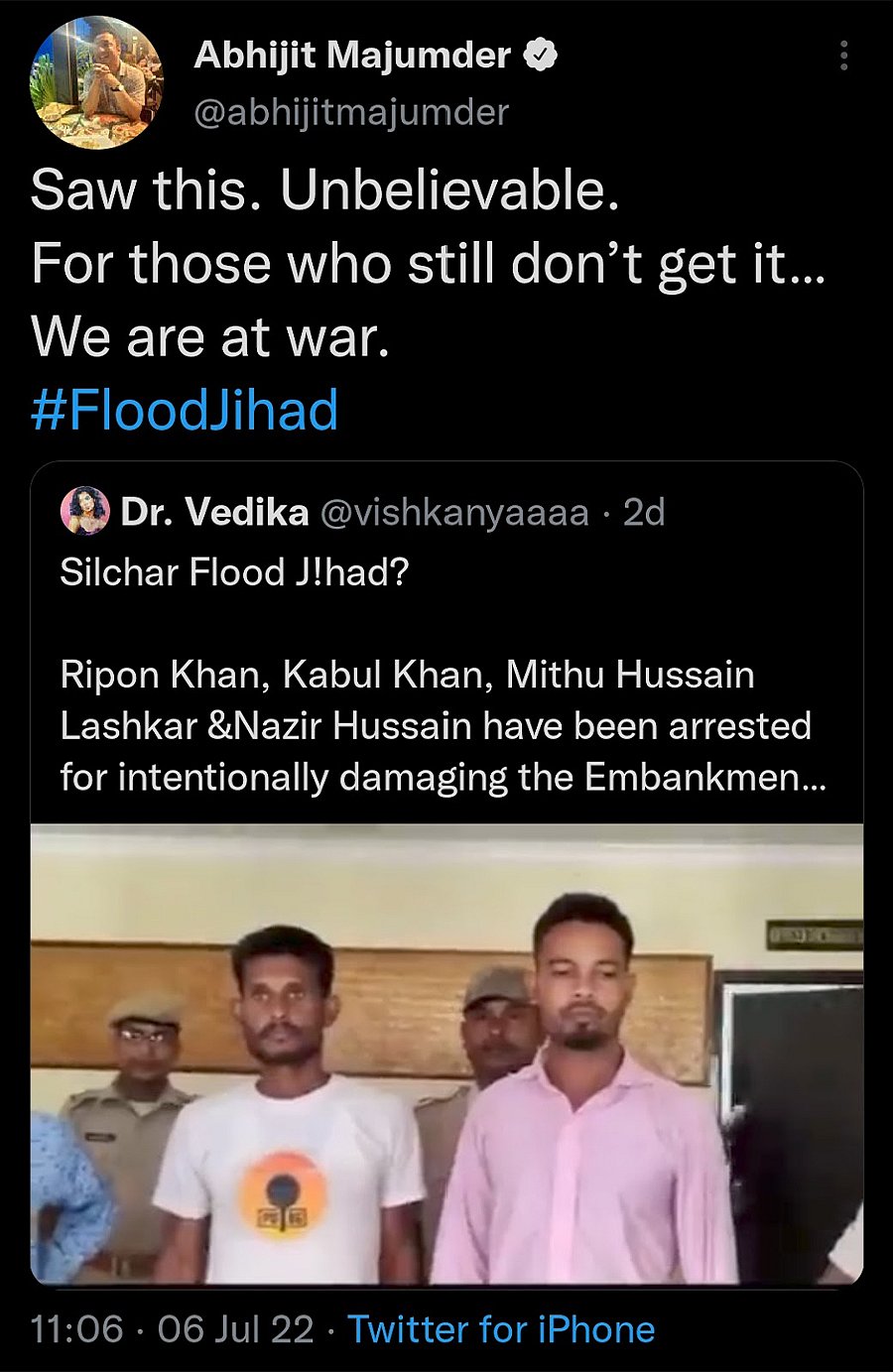 Despite Sawant's tweet, India Today later dropped the show, Newslaundry was told. Sadly, NewsX didn't seem to get the memo. We should also point out the irony of its broadcast a week after it of "inflammatory campaigns" run by "proxy social media accounts".
Newslaundry reached out to Sawant, Majumder and NewsX managing editor Rishabh Gulati for comments. The story will be updated if we receive a response.
Newslaundry is a reader-supported, ad-free, independent news outlet based out of New Delhi. Support their journalism, here.