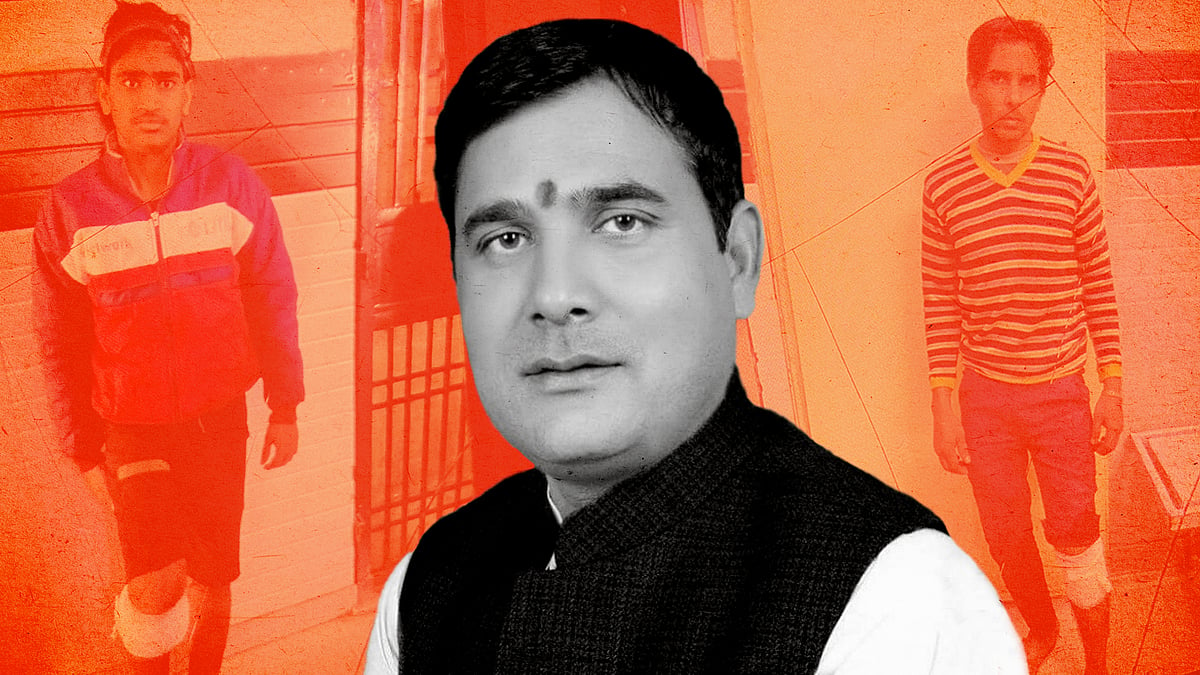 "I'm an activist and can, therefore, muster the courage to follow up with concerned authorities. Those who are poor, how can they ask questions?" said Jabir Qureshi, 48, as he flipped through documents regarding renewing the licence of his meat shop.
Jabir has lived in Ghaziabad's Ikram Nagar for more than three decades. He's also run a meat shop near his home for 17 years. Jabir, who is also a member of the CPIM, claimed that since 2017, getting a no objection certificate to run a meat shop has been tricky.
Why?
In March 2017, the BJP-led government under Adityanath came to power in Uttar Pradesh. According to meat traders in Loni, most of whom are Muslim, they've been at the receiving end of the administration ever since.
Leading the charge is Nand Kishor Gurjar, the BJP MLA from Ghaziabad's Loni constituency, which covers western Uttar Pradesh though technically, the area comes under the national capital region. Getting the mandated licence to run a meat shop has become so challenging that Jabir had to approach the high court twice – but to no avail.
Gurjar is a first-time MLA who won the assembly election in 2017. Last October, videos surfaced showing Gurjar to shut during Navratri. Earlier, in April 2019, he had against meat shops operating near temples, calling it "rashtradoh", treason.
On July 18, 2019, Brajesh Singh, the district president of the CPIM, wrote a letter to the district magistrate and police commissioner of Ghaziabad, flagging Gurjar's behaviour.
"Since July 15, 2019, at the behest of local MLA, police have been threatening hotel and dhaba owners thus, forcing them to shut down," Singh wrote. The hotel and dhaba owners had promised not to serve meat during the annual Kanwar yatra, Singh added, but the police were pressuring them to close their establishments entirely.
But delays in issuing licences to Muslim meat traders is just one part of the problem.
Newslaundry learned that "vigilantes" in Loni often aid the police in cracking down on those who trade in meat, particularly cattle. Case in point is an "encounter" involving seven Muslim men in November based on allegations of cow slaughter.
The quest to renew a meat trader's licence
"There are those who make a living by selling 20-30 kg of meat daily," Jabir said. "But owing to pressure from the local BJP MLA, they are targeted by the police and hence forced to live in fear."
Before 2006, the municipal corporations were tasked with renewing licences. Since then, the job fell to the Food Safety and Standards Authority of India, which distributes licences for a period of two years. A trader must fill a form after which the food and safety department issues the licence. But Ghaziabad's traders told Newslaundry that they first need to procure a no objection certificate from the municipal corporation – which is where the delays take place.
Jabir had filed an application for renewal in April 2017. When he received no response, he filed a PIL in the Allahabad High Court the following month along with two other meat traders from Loni, Wahab and Farukh.
In an order dated May 29, 2017, the bench said the Nagar Palika Parishad, or municipal corporation, of Loni must process the applications for licence renewal within four weeks of receiving the applications from the petitioners.
The court also told Jabir, Wahab and Farukh to file fresh applications within two weeks.
Accordingly, on June 3, 2017, Jabir wrote a letter addressed to the chairperson of the Loni municipal corporation about renewing his licence. "Kindly fulfil the necessary obligation as stated by the high court in an order dated May 29, 2017," he wrote.
There was no response. So, in August 2017, Jabir filed another petition at the high court.
But it was around this time, locals told Newslaundry, that Gurjar and the administration had started citing the "Hindon Air Force Act" to justify a "ban" on meat shops.
But it's unclear what this "act" is; the Ghaziabad administration also said "there is no such thing as Hindon Act applicable in Ghaziabad" while responding to a query on one of its websites.
There is, however, rule 91 of the – cited by the high court while responding to Jabir's plea in August 2017. This rule prohibits the "slaughtering and flaying of animals...in the vicinity of aerodrome". The court said if Jabir fulfilled the conditions as laid out in the rules, his licence should be renewed.
But his licence was never renewed. Only three years later, in March 2020, did Jabir's meat shop receive a renewed license valid for a period of one year. This coincided with the nation-wide lockdown to contain the Covid pandemic. Jabir's licence came up for renewal again in April 2021 – and he was back to square one.
"We held several protests and wrote letters to the district magistrate," he said, "yet the Loni administration is not willing to take any action."
In his last letter, dated July 30, 2021, to the district magistrate, he wrote, "Despite repeated requests to the municipal corporation and food department, we are not getting an NOC and a new license is not being issued."
Several meat traders have similar stories to tell. A few lanes away from Jabir's home is the shop of Mohammed Salim Qureshi, who sells buffalo meat. He's been waiting for a renewed licence for the last three years.
Things also took a turn: in October, the police arrested him on charges of animal cruelty.
"I was sitting at my shop when policemen came and took me into custody. I was not told the reason or handed over a copy of the FIR," Salim told Newslaundry. He claimed the police acted on an input from a local informer, or mukhbir, and that he was released a day later.
Salim pointed out he procured his meat from a distributor, and had a valid licence pending renewal. But he was reluctant to give Newslaundry more details, fearing reprisal from the police.
Tale of an 'encounter'
In Ghaziabad's Prem Nagar colony, which falls in Loni constituency, Kauser and her daughter Mouni sat outside their one-room rented flat. Neighbours were pouring in, queuing up to console the family.
On November 11, Kauser's son Monu was among seven Muslim men arrested by the UP police on allegations of cow slaughter. He is currently in police custody and lodged at Dasna jail.
Curiously, all seven men received bullet injuries – just below the knee – in an operation the police claimed was an "encounter".
Monu, 20, got married in October, weeks before his arrest. While waiting for the "vidai", he lived with his mother and younger sister in a one-room house with a monthly rent of Rs 1,500.
Monu is the only earning member of the family. He used to make a living ferrying generators for wedding processions. But it was seasonal work, so he started a new job as a scrap worker at a warehouse a week before his arrest, hoping to earn Rs 200-300 daily.
His family recalled what happened the day of his arrest.
"He had left that day soon after the azaan at 5 am," Kauser said. "When he didn't return in the evening, we began calling on his mobile. It was switched off. Then, one of our neighbours showed a video of him sitting with others, a bandage on his left leg."
Monu's grandmother, Phoolmati, chimed in.
"Why is it that no one received any injury in their head, shoulder or elsewhere?" she asked. "How come these children of the poor were hit at the same spot?"
In the FIR filed in the case at Loni Border police station, station house officer Rajendra Tyagi was quoted as saying that the cops received a tip-off from one Adil, a local who had allegedly rented a godown to Aamir, one of the seven men arrested. Adil claimed the godown had been rented to "wash drums" but instead, was used to slaughter cows with "illegal weapons".
The police launched an operation. The FIR alleged the police recovered guns, bullets, axes, and equipment used to slaughter cows from the spot.
"On seeing the police jeep, those present at the spot who were carrying out cow slaughter began incessant firing on us," Tyagi was quoted as saying. "While the glass of the jeep was broken during the firing, me and my colleagues managed to escape."
Tyagi was a day after the operation. The UP police later ordered a probe and Tyagi was suspended.
On November 14, Nand Kishor Gurjar expressing his anger at the police's decision to transfer Tyagi – a sentiment he reiterated in a letter addressed to Pawan Kumar, the senior superintendent of police, Ghaziabad.
"Just like the previous government under which action would be taken against those officials trying to curb cow slaughter, you have also done a mahapaap [grave misdeed] by transferring SHO Tyagi," he wrote in the letter.
A day later, according to the Wire, Gurjar also met Tyagi and with a shawl.
On November 20, Gurjar wrote a to the Ghaziabad SSP, demanding that the owner of the warehouse involved in the operation be "booked under the National Security Act" and that the warehouse itself be demolished.
"While I have evidence of 21 cows being slaughtered at the warehouse," he wrote, "you have been quoting the figure as four…"
In another colony in Ghaziabad, another family is crying foul over the "encounter".
Shamina lives in Ashok Vihar. Her sons Aasif, 16, and Intezar, 20, were also arrested in the "encounter", as was her nephew Salman. Shamina claimed that MLA Gurjar had been alleging that her sons and nephew had "threatened" him after their arrest.
"These kids don't know how to peel vegetables with a knife," Shamina said. "Now, the BJP MLA is saying he's receiving threats from them. How can someone be threatened from behind bars?"
Aasif and Intezar are currently lodged in Dasna jail. Shamina told Newslaundry, "My younger son had recalled how the police had resorted to firing soon after he opened the latch of the door."
Mohammed Islam, whose son Bolar, 19, is among the seven men arrested, said, "They [the police] can even make believe that a rope is actually a snake."
Citing the case of a 22-year-old Muslim man who this year, he added, "Police is capable of doing anything. Instead of rakshak, they've become bhakshak." Instead of saviours, they've become predators.
A vigilante army
The administration isn't alone in cracking down on "cow slaughter" – it's ably assisted by self-proclaimed vigilantes like Amit Prajapati.
Prajapati, 29, works for an IT firm in Delhi. When he isn't working, his work as a member of the Hindu Raksha Dal keeps him busy. So busy that he claimed the Ghaziabad police filed eight FIRs this year – "most of them related to cow slaughter" – thanks to his initiative.
Speaking to Newslaundry from the Hindu Raksha Dal's office in Bhopura colony, Prajapati said they were a "vigilante group" with 2,000 active members across Ghaziabad, though Prajapati said there are 10,000 members across India, including online members. Members identify themselves by a kalava, or thread, tied on their wrists and a choti, a lump of hair, tied at the back of their heads.
According to Prajapati, the group was spurred into action by the of an nine-year-old Hindu girl in Ghaziabad. A Muslim man was arrested for the rape.
"She used to live in the same neighbourhood," Prajapati said. "After the incident came to light, there were clashes and this led me to join the Hindu Raksha Dal." He was also among those arrested in 2014 under the National Security Act for "rioting" after the rape.
The Hindu Raksha Dal claims no political affiliation to the BJP. It's affiliated to the Hindustan Nirman Dal, a political party launched in 2019 by former Vishva Hindu Parishad leader Praveen Togadia. "The families of Veer Savarkar and Nathuram Godse are considered to have laid the foundation of the Hindustan Nirman Dal," Prajapati said. "Though we are also inspired by Bhagat Singh's idea of kranti, revolution."
The group's current president is a man named Pinki Chaudhary, who was arrested in connection with at Jantar Mantar in August this year.
"Our work is not anti-Muslim," Prajapati insisted. "If our voice is heard, then it's fine. Else we have to resort to force to get things done."
So, what are these "eight FIRs" that he was involved with?
Prajapati said they were almost all connected to charges of cow slaughter. It should be noted that in 2017, the UP government to the state police to take action under the NSA and Gangster Act against those involved in cow slaughter or cattle smuggling. In 2020, the state government then the Uttar Pradesh Prevention of Cow Slaughter Amendment Ordinance, making "putting the life of a cow in danger" punishable with a maximum sentence of 10 years.
Additionally, Prajapati said, the Hindu Rashtra Dal has taken up the cause of fighting "thook jihad" – a baseless right-wing conspiracy theory that Muslims "spit" into food to be consumed by Hindus.
Newslaundry looked at two "thook jihad" videos in Loni based on which the police filed FIRs, one filmed near Banthla flyover and the other in Panchvati. Both videos show Muslim cooks bending a little while cooking. Neither establish deliberate spitting.
Yet the issue has taken on a life of its own in recent times. On November 15, for instance, a man named Hardeep Singh filed a complaint at Loni police station based on a video he received on a WhatsApp group.
"A man working at a dhaba can be seen spitting into the roti while making it on a tandoor," he claimed. His religious feelings were hurt, he added, and therefore action must be taken.
The Loni police accordingly booked the dhaba's owner, Nawab, under penal charges including defiling a place of worship and spreading infection, as well as sections of the Epidemic Diseases Act and the Disaster Management Act.
The story ran a similar course when a complaint was filed on October 16 against the Muslim cook/owner of a restaurant called Chicken Point in Ghaziabad's Panchvati colony. There too the accused was booked under the Indian Penal Code.
"Muslim owners of dhabas and hotels have become easy prey in the backdrop of Covid," said a local activist who has worked with hotel owners on the issue. "Hence they invoke sections related to the Epidemic Diseases Act."
Prajapati did not explain how he and his team concluded "contamination of food", or how these videos even came into their possession. All he said was, "If there is a kriya, there will be a pratikriya." If there is an action, there will be a reaction.
This is the same analogy used by prime minister Narendra Modi as Gujarat chief minister in the backdrop of the 2002 riots in the state.
"We are only highlighting the wrong and so the administration also helps us," Prajapati added. "We coordinate with the police."
Waiting for development
The colonies of Ghaziabad are characterised by choked drains, unpaved roads, and mountains of garbage. The main traffic intersection leading to Loni is dotted with hoardings of Nand Kishor Gurjar inviting people to attend a "Ram Katha" – a week-long event marked by recitations from the Ramayana.
When Newslaundry visited Naipura colony in the first week of December, its ghat still bore decorations from the recently concluded Chhath puja festivities. A signboard announced that the ghat was built in 2018-19 due to Gurjar's efforts.
Gurjar had also visited the area on October 26, addressing locals at a nearby temple on the occasion of Govardhan puja. At least five locals told Newslaundry he had made pointed references to Muslims, including a promise to make the area "Musalman-mukt", free of Muslims.
When asked about Gurjar's work to develop the area, a local tailor, Govind, replied, "Whatever work has been done is before you. Drains are non-functional in this area. Schools are flooded with water during the rainy season."
But some people were appreciative of the crackdown on meat traders.
"Yes, they [the traders] would make the place dirty," said Vijaypal, a local. "At least 50 percent of roadside vendors are Muslims. Now, it's clean."
Newslaundry sent MLA Gurjar a questionnaire after he was unavailable for comment. This report will be updated if we receive a response.
Also Read: Ghaziabad attack: The mystery of two complaints and a Samajwadi Party leader
Also Read: 'We just want to pray with dignity': With cops passing the buck, Gurugram's namaz is at an impasse
Newslaundry is a reader-supported, ad-free, independent news outlet based out of New Delhi. Support their journalism, here.