Hong Kong to launch door-knock campaign to get elderly vaccinated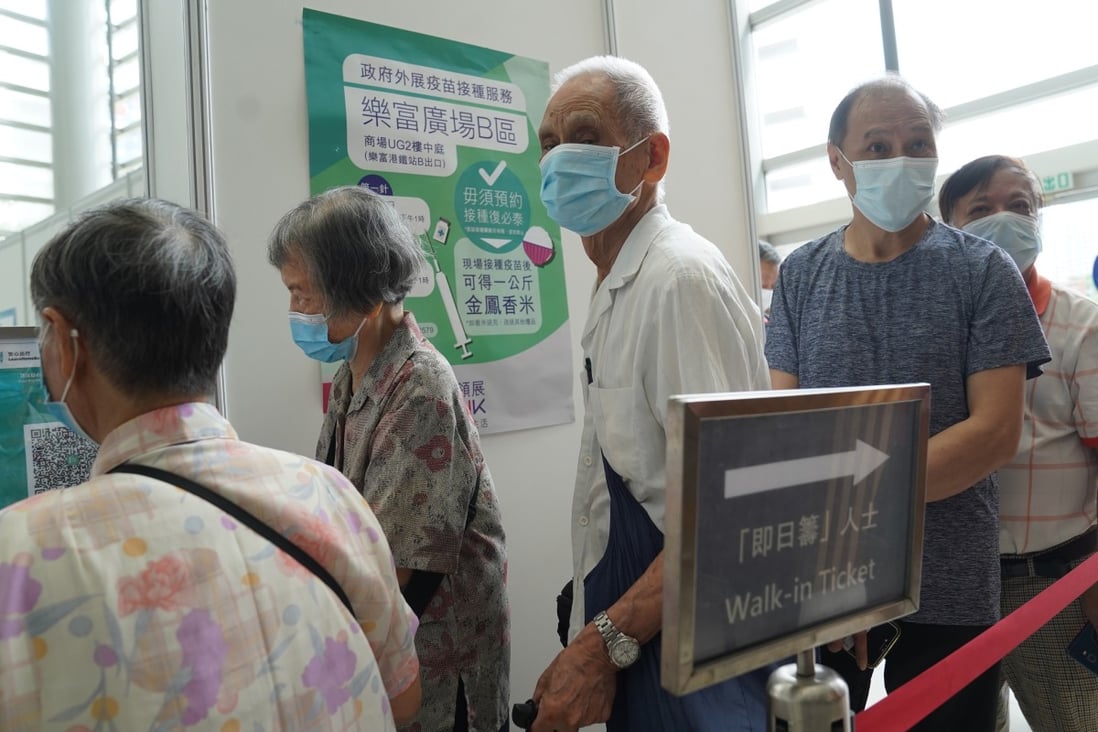 Hong Kong will take its coronavirus vaccination message directly to the residents most reluctant to get a jab, with government workers going door to door to visit the elderly and promoting special appointment-free inoculation days.
Secretary for the Civil Service Patrick Nip Tak-kuen, who oversees the city's vaccination drive, stressed the programme was still behind its target of inoculating at least 70 per cent of the eligible population. Fewer than 30 per cent of residents aged over 70 had taken their first dose and the rate was substantially lower for those older than 80, he noted.
"Elderly people in the city are the group least interested in vaccination. We have to be more proactive, and make getting into the community to reach senior people our coming strategy," he told a radio programme.
The city recorded four new cases on Saturday, all imported and involving a domestic helper from the Philippines, an aircrew member from Canada and arrivals from Japan and the United Arab Emirates. Fewer than five people tested preliminary-positive. The city's tally of confirmed infections stood at 12,142, with 212 related deaths.
Separately, 16 crew members who had worked on a cargo vessel named Ever Calm tested positive for Covid-19 upon arrival in Osaka on September 9 after sailing from Hong Kong. It was docked at the Kwai Tsing Container Terminals for two days beginning on September 2. People who had worked on the vessel and remained in the city will be issued with mandatory testing notices.
In addition to taking their message door to door, authorities would work with the Social Welfare Department to arrange day-long vaccination sessions in all 18 districts for which no appointment would be needed, Nip said.
Talks would be organised at some housing estates and malls, with free consultations and immediate vaccination provided on site.
"We will also do more talks at care homes for the elderly, as most of them did not get vaccinated there due to family members' worries," he added.
Singapore and the United States carried out similar door-to-door campaigns in February and July to encourage unvaccinated citizens to get jabs, although the American campaign was accused by some as being coercive.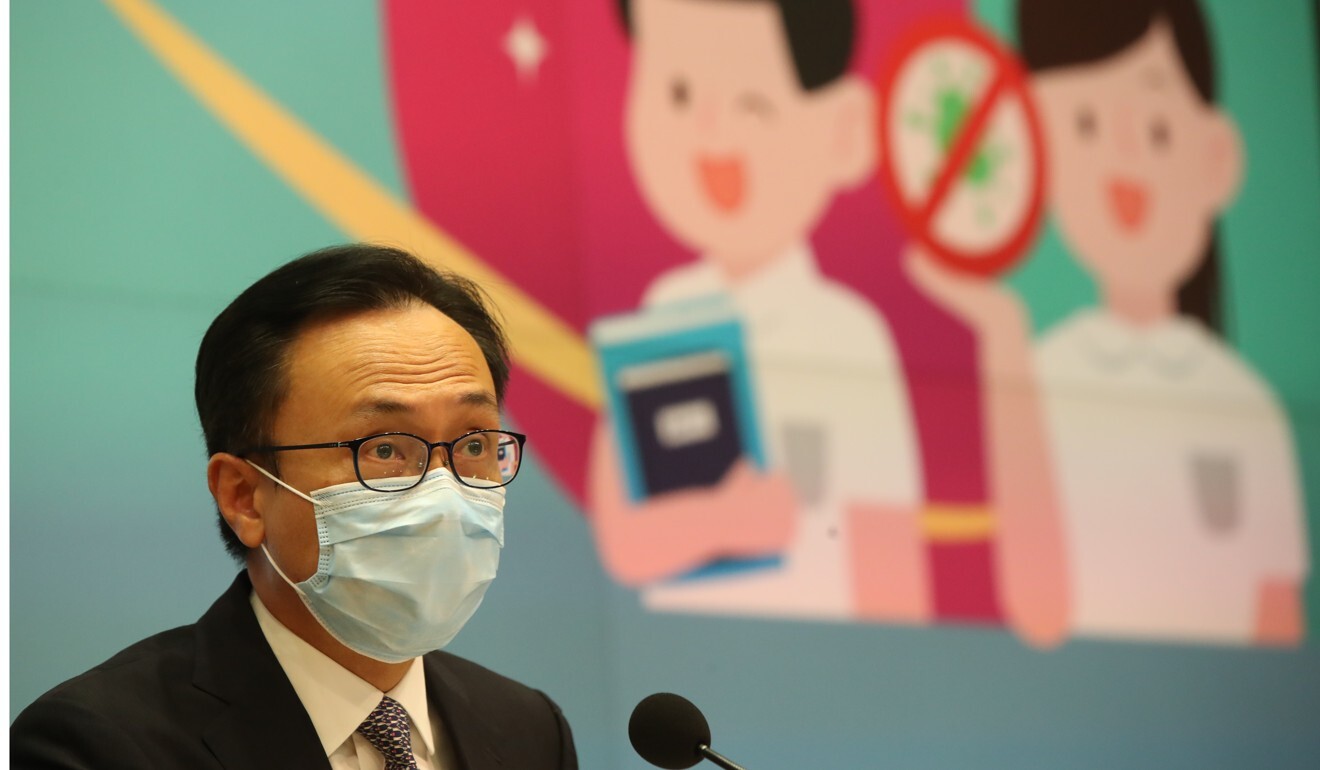 The Hospital Authority on Friday also suggested it would soon issue letters of recommendation reassuring patients dealing with other medical issues that they could be vaccinated at local community centres after a consultation.
As of Saturday, 4.33 million people had received their first Covid-19 jab, accounting for 64.3 per cent of the eligible population. But the uptake has mainly been concentrated among those aged 20 to 59, a demographic in which more than 70 per cent were vaccinated.
That number drops for people aged 60 to 69, with only 57 per cent having had their first jab, and falls even further for those in their seventies and eighties, at 38 and 13 per cent, respectively.
Government pandemic adviser Professor David Hui Shu-cheong said Hong Kong was not yet eligible for the strategy of "co-living" with the virus due to the low vaccination progress.
"The rate for the first dose among our high-risk groups, referring to those aged 70 or older, was over 20 per cent," Hui said after a radio show. By comparison, the vaccination rate among the elderly in Singapore and Britain had reached about 90 per cent.
"If we relaxed [our social-distancing measures] and adopted the strategy [of co-living with the virus], many people might be infected and develop serious conditions. Our health care system would not be able to handle it," he said.
Joint scientific committees under the Centre for Health Protection will discuss the necessity of a third dose of vaccine next Wednesday. Hui said the elderly, people who had undergone organ or bone marrow transplants, and those with weaker immunity might be given priority to take the third dose.
The committees will also look into whether the age requirement for inoculation of Covid-19 vaccines can be further lowered.
The government places great importance on a high inoculation rate not only because vaccines help build an "immunity barrier" against an ever-evolving virus, but also because officials have said it would be one of the conditions to reopening the door to quarantine-free travel to mainland China.
Nip said authorities would continue to lobby the central government to reopen the border.
"Hongkongers must think on behalf of the mainland, about whether allowing our residents to return to the mainland without quarantine would be very risky," he said.
Chief Executive Carrie Lam Cheng Yuet-ngor last week said that privilege would be extended to non-residents across the border – starting with mainlanders and expatriates arriving from Guangdong province and Macau – who tested negative for Covid-19 under the city's long-awaited "Come2HK" scheme, which launches on Wednesday.
Hong Kong had previously completed preparatory work on a "health code" necessary for cross-border travel with mainland China and Macau. The code, which would have been based on Covid-19 screening results, was tested last year but never implemented.
Travellers between the mainland and Macau already employ a similar system using coloured QR codes based on risk levels.
But Nip said the government had not yet concluded whether a city health code could play a role in tracking Hongkongers once they were allowed to enter the mainland.
The idea of the code was originally conceived with an eye towards mutual recognition between versions created for Hong Kong, Macau and Guangdong province.
On Wednesday, Lam told lawmakers she believed cross-border exchanges between health experts were needed to find out what else Hong Kong had to do, conceding she was unsure what areas the central government expected the city to strengthen.