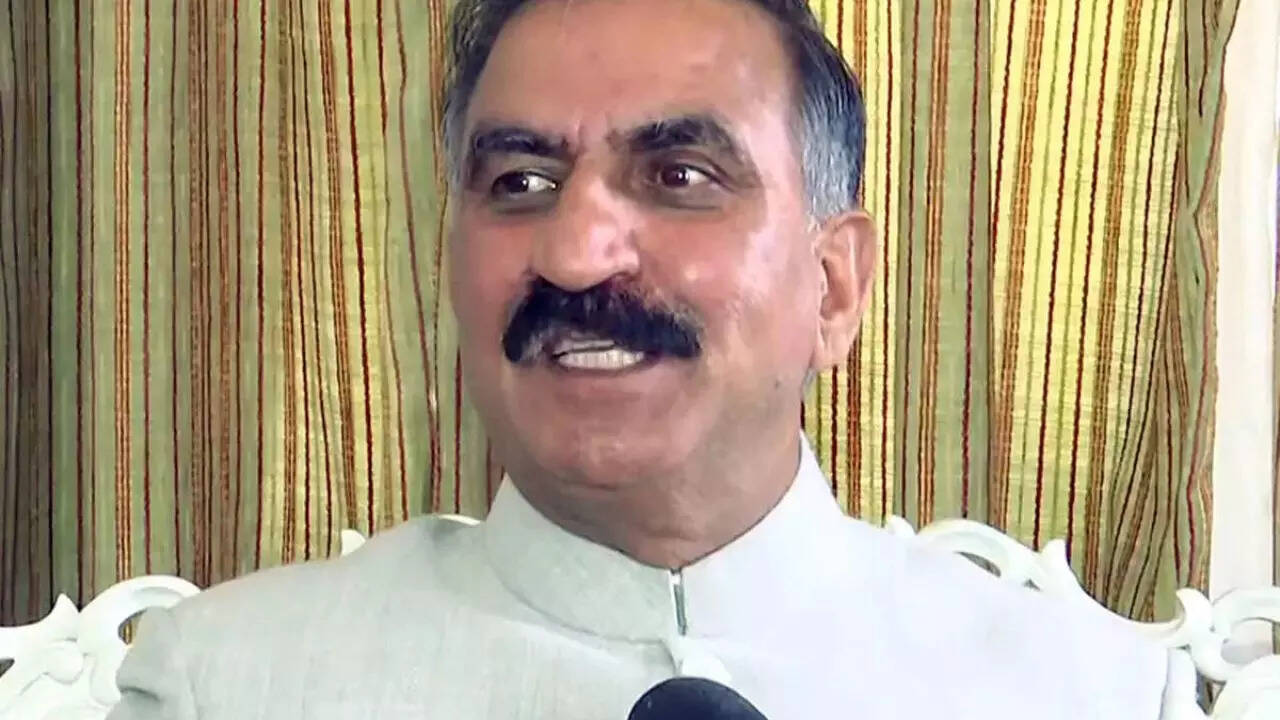 SHIMLA: Himachal Pradesh chief minister Sukhvinder Singh Sukhu, while presiding over a meeting of senior officers of energy department, HPSEBL etc, with the aim to preserve the environment said that the government intends to make Himachal Pradesh as 1st Green Energy state by the end of 2025 by harnessing hydro, hydrogen and solar energy and switch on to green products which will enhance the premium and advantage in export.
In the meeting held on Thursday late evening, the chief minister directed all the concerned departments including HPSEBL, HIMURJA, Himachal Pradesh Power Corporation Limited (HPPCL) and Department of Energy to initiate action in this direction and make policy changes, wherever required. He said that refurbishing of the present system is essential and the departments should focus on harnessing green energy in the best interest of the State.
To ease the norms, chief minister directed the officers to make necessary amendments in the existing power policy and open all the solar projects upto 5 MW capacity for allotment. The state government would also invest in Solar plants and will install 500 MW Solar projects during the year 2023-24, out of this, 200 MW would be installed by HPPCL for which land has been identified for 70 MW capacity and the rest of the sites will be finalized soon.
He said that Solar project upto 150 MW capacity would be installed by HIMURJA through private participation and priority would be given to Himachali's in awarding these projects. The capacity of the projects will range from 250 KW to 1 MW, he added.
He said that to ensure that the State also gets some financial benefits, he directed HIMURJA to evolve a mechanism by seeking royalty of solar projects above 3 MW capacity and in case of land being given to PSUs for developing solar projects, some percentage of land equity may be charged as well.
Sukhu directed HIMURJA to ensure 5 percent premium for the state in each solar power project up to 5 MW and 10 percent share in the solar power projects of more than 5 MW capacity. He asked HPPCL to expedite the incomplete power projects like Kashang II and III, Shongtong and Karchham. He stressed the need for fixing the timeline for each project and completing all these projects by 2025.
He directed the HPPCL to appoint a consultant for the preparation of Detailed Project Report (DPR) within 10 days and also to submit the report within a month so that the work on the Solar projects could be started. The Department of Energy and HPPCL will identify sites in other States like Rajasthan etc. where the land is available at discounted rates for installation of Mega Solar Plant.
During the meeting, Sukhu also reviewed the progress of Kishau Dam Project 660 (MW) where the water component was being financed by the Government of India and State in the ratio 90:10 respectively and the Power component to be shared 50-50 by Himachal and Uttrakhand States.