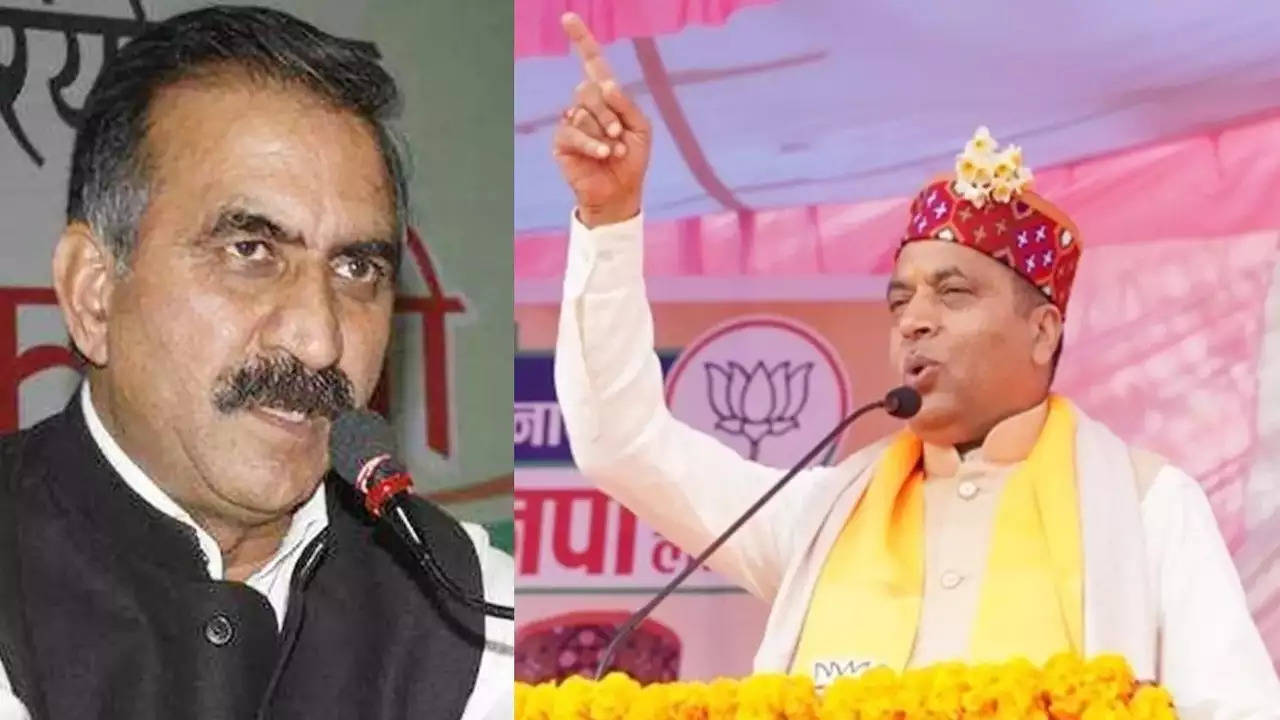 SHIMLA: Ahead of parliamentary elections next year, Haryana chief minister Sukhvinder Singh Sukhu and former chief minister Jai Ram Thakur have started attacking each other on the issue of debt burden on Himachal Pradesh.
Sukhu said that his government has received empty coffers from the previous BJP regime while Jai Ram Thakur claimed that Sukhu is lying on the debt issue by giving false figures and said that the manner in which the chief minister is repeatedly presenting the figure of loan among the public, is completely wrong.
Jai Ram Thakur, while addressing media persons in Shimla on Tuesday, said that when the BJP government was in Himachal Pradesh, this loan was about Rs 70,000 crore and now this loan has not even reached Rs 75,000 crore while the Congress chief minister is repeatedly singing the tune of Rs 95,000 crores debt burden on the state.
The leader of opposition said that Congress is only trying to create an atmosphere and he would like to tell that the Congress government has been in power in Himachal Pradesh for 10 times and the BJP government has been in power for 5 times, so the biggest culprit in taking loans is the Congress party. He said that when Virbhadra Singh was the chief minister at that time, the state had a loan of Rs 50,000 crores.
He said that Congress leaders have been demanding 4 years to improve the financial condition of the state, but if the kind of promises they are making are considered, then the financial condition of Himachal Pradesh will not improve for the next 40 years.
The chief minister Sukhvinder Singh Sukhu on his part said that the previous BJP government, though had announced the pay commission to its employees, but failed to give their arrears. He said that the haphazard decisions taken by the BJP were unwanted and uncalled-for. He said that BJP had made all the false promises to gain political mileage.
He said that besides a loan amount of Rs 75000 crore, the BJP has left an outstanding amount of Rs 11000 crore as arrears to be paid to its employees and pensioners. Similarly, dearness allowance was also announced but it was not provided to the employees, he said adding that the BJP handed over empty coffers to his government.