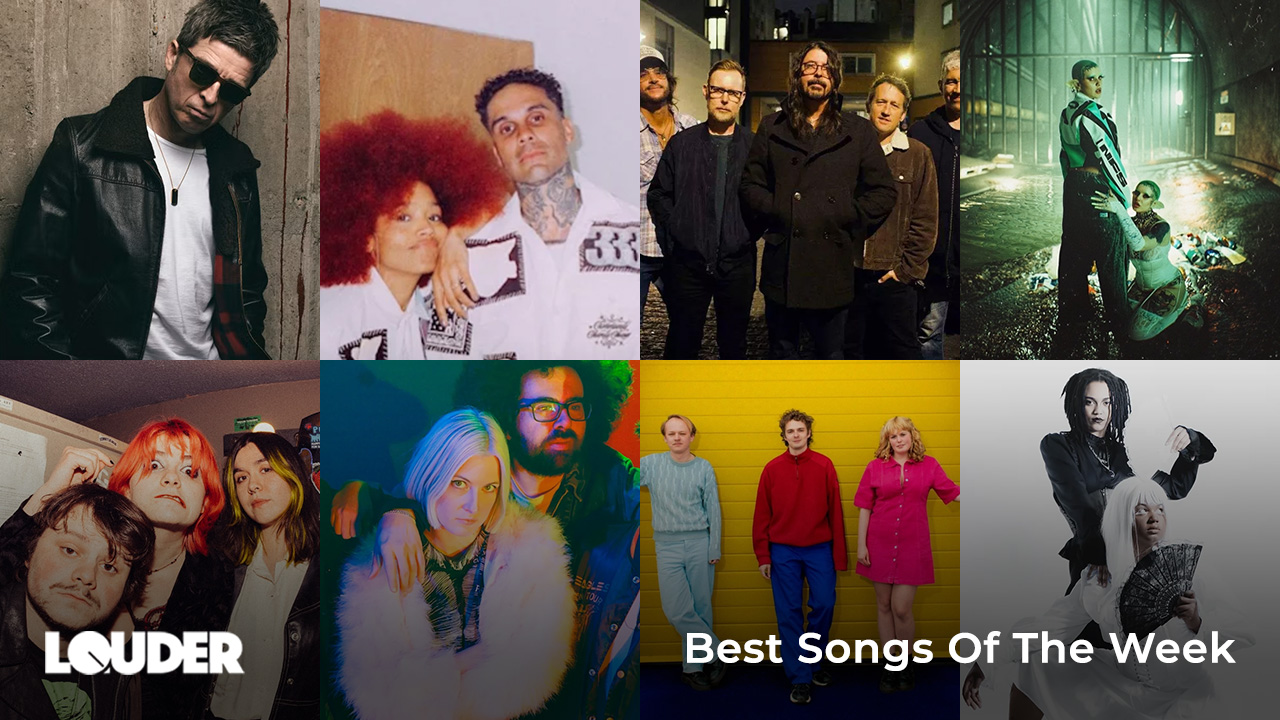 The sun is shining, the weekend is looming and festival season is finally here. We're in high spirits, raised all the higher with this new bounty of tunes that's ready to soundtrack the summer season and help us mark out who we want to see on our festival schedules. While such events are a great way to discover new music, our tracks of the week feature keeps us all one step ahead, so dive in below and make sure to vote for which song you think is the best of the lot.
But before you scroll down, let's take a minute to celebrate last week's winners, with Militarie Gun's Will Logic coming in at first place with 63.96% of the votes. Following on from that lovely slab of gritty, alt rock was Depeche Mode's Wagging Tongue, crowned second place with 18.02% of the votes. And on the third place podium stands riff masters Royal Blood, with their tune Mountains At Midnight capturing the favour of 4.8% of you.
To vote in this week's round up, check out the best song's below:

Noel Gallagher - Open The Door, See What You Find 
Former Oasis bandleader Noel Gallagher harbours an optimistic curiosity and a rosy lust for life on this floaty paean lifted from his newly-released album with the High Flying Birds, Council Skies. 'Alright dream it if you wanna / All night down on the corner…Open the door / See what you find' he echoes out, seeping through the track's thick veneer of retro, fuzzy production. As lavish strings play out a fanciful melody, Britpop hooks marry into an Alice In Wonderland-type of trippy 70's psych-rock; heavy with the heat of festivals at summer time.
---
Foo Fighters - The Teacher 
Their longest track to date, Foo Fighters' The Teacher is a 10-minute-long deluge of grief and uncertainty, as frontman Dave Grohl ponders the fragility and immensity of life, and how the path ahead can so quickly become unfamiliar. While intense, anxiety-ridden alt-rock races through the first half of the track, it soon reaches a resolute climax, as the vocalist laments 'You showed me how to grieve, but never showed me how to say goodbye', before calling out one final farewell. An emotional and deeply moving journey.
---
FEVER 333 - $wing 
Fever 333 are back with their first new music in three years alongside a new line-up and a new label. On comeback track Swing, the quartet slam the sports industry's historical exploitation of people of colour with quick-fire Zack De La Rocha-esque rapping and visceral, blood-pumping punk riffs. "In a system that exploits the aforementioned instruments of power (the people) for financial and political advancement, we must collectively understand and redirect the dynamic once we realize that we are not powerless against it", frontman Jason Butler states. "$WING is a sonic reminder that you are the power that they seek and you are the resource they need". 
---
Zand - DTF
Feral goblin energy meets abrasive industrial electronica on nu gen star Zand's new single, DTF - which is an abbreviation of the phrase, ahem, 'down to fuck'. With unhinged giggles and a creeping melody, Zand vibrates with a horny mischievousness to a backing of clunky percussion, like the sound of a set of rusted pans falling from a lofty height. Darkly alluring, they demonically murmur out lines such as 'I'm so fucking sneaky do you wanna come and see me…' casting listeners under a playful yet troublesome spell.
---
Skating Polly - Send A Priest 
Send A Priest is a grubby spinning-top of gutsy alt-rock; spiked-collared, hair-on-end, a punk let off from the leash in need of a good exorcism, and possibly even a good bath. As distorted riffs fizz their way into a mosh pit-igniting maelstrom, Kelli Mayo  rips through the noise, swinging from a sly mousiness into gritty, throat-burning snarls; raw and unclean. Of the track, Mayo describes it as a "Who's using who?" type of song, all about inviting the Big Bad Wolf in and turning a blind eye to the consequences".
---
Be Your Own Pet - Worship The Whip
Taken from Mommy, their first album in 15 years, Be Your Own Pet's Worship The Whip is all about channelling your inner leather-clad dominatrix, heaps of fun but with an important message present underneath the tongue-in-cheek, BDSM-style lingo about father-figures pressing down boots on necks and licking. "Mommy is the bitch in charge, the one in control," says singer Jemima Pearl. "It's a reclamation of myself." Spunky, punky, alt-rock, full of spit and sleaze; it's good stuff.
---
Pip Blom - Is This Love? (with Alex Kapranos)
Slick guitars, pop hooks and synth-embellished melodies bubble and spume into this tangy-sweet elixir, fizzing with funk on a rainbow-coloured dance floor. Led by Pip Blom and Franz Ferdinand's Alex Kapranos, together the pair emit an effortless coolness, swirling together in a flirtatious loop, as her sugary vocals bounce off the deep silkiness of Kapronos' croon. "Never before has such a funky Pip Blom song appeared, and we all absolutely love it" state the band.
---
ALT BLK ERA - I'm Normally Like This (INLT)
"We got tired of the Alt gatekeepers who tell us that we don't belong in their community - and we got tired of the normies telling us that we should change the way we act, dress, and make music. This song is speaking up LOUDLY for anyone who has felt excluded or intimidated by others - just for being who they are" says ALT BLK ERA - formed of teenage sister duo Nyrobi and Chaya. Defiant and middle-finger-raising, I'm Normally Like This is powered by big and buzzing electro-riffs, like a crossover between The Prodigy and Pendulum, but with huge, growling vocals; empowering and pit-ready. A reminder to be your authentic self, no matter what the nay-sayers have to say.
---