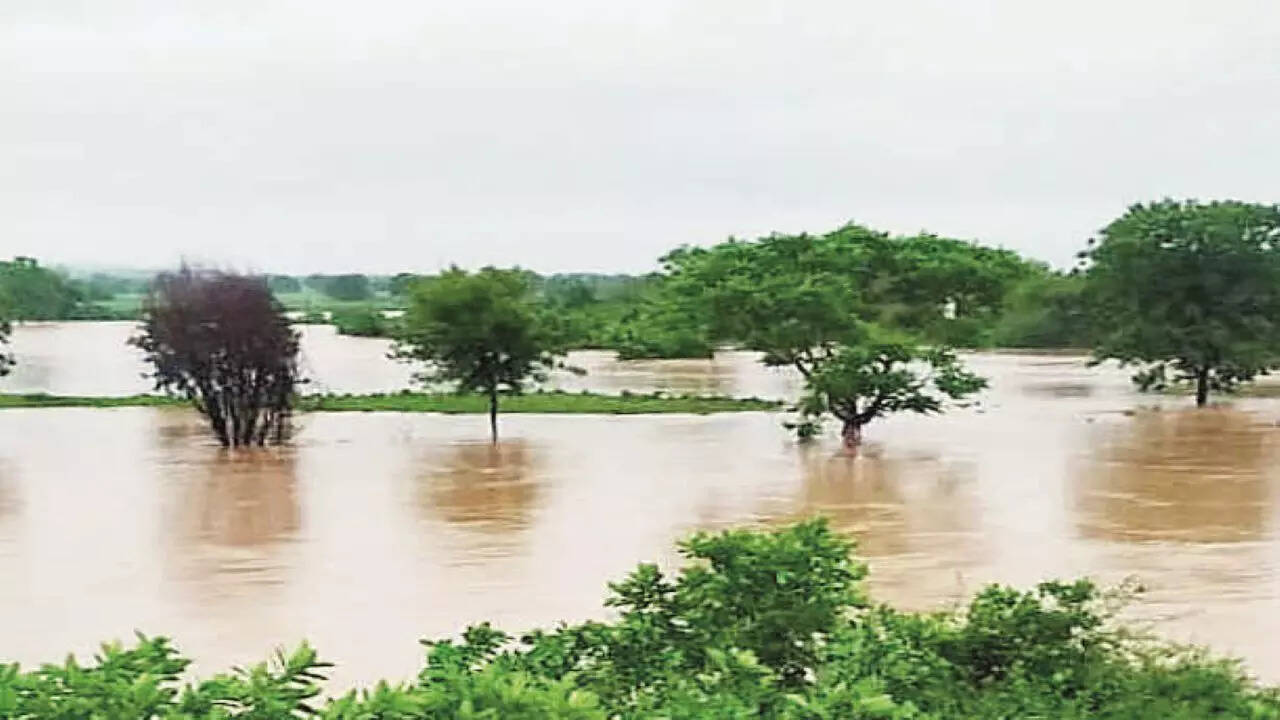 AURANGABAD: Overnight heavy to very heavy rain in parts of Hingoli and Nanded districts has left several houses and roads submerged, while many hectares of agricultural land have been destroyed.
Divisional disaster management department authorities said several people have been evacuated by the respective district administrations as different rivers and nullahs were flowing close to the danger mark till Saturday afternoon. No rain-related deaths have been reported in the region so far.
Among different rescue and evacuation operations in the flood-affected areas, two construction workers from Jharkhand have been safely rescued from the floodwaters in the Bamni village of Ardhapur taluka in Nanded district.
The Asana river in the Hingoli district was filled to the brim till Saturday afternoon, affecting vehicular movement between Marathwada and Vidarbha.
Hingoli district was at the receiving end of the monsoon fury, with the entire district recording an average of 67 mm rain, falling in the heavy rainfall category.
Kurunda, Girgao and Ambad circles from Basmat taluka of Hingoli recorded 180 mm, 168 mm and 130 mm of rainfall, respectively. These are the worst affected areas, whereas Dongarkada (158 mm), Waranga (150 mm) and Akhada (127 mm) circles from Kalmnuri taluka also reported very heavy rainfall of over 115 mm, revealed the official data.
The Nanded district recorded 59 mm rainfall, followed by Parbhani (50mm), Osmanabad and Beed (both 35mm), Latur (34 mm), Jalna (19mm) and Aurangabad (13mm).
Nanded city, Mudkhed and Ardhapur talukas, along with several other areas from the Nanded district, also reported incessant showers. Ardhapur (136mm), Dabhad (118mm) and Malegaon (102mm) circles from Ardhapur taluka, Barad (135 mm) and Mudkhed (124 mm) circles from Mudkhed taluka along with Tardoa (112 mm), Limbgao (111 mm), and Vishnupuri (100 mm) circles from Nanded taluka witnessed heavy rainfall.
District disaster management officer for Nanded, Kishor Kurhe, said SDRF teams, fire brigade and other rescue machinery are put on high alert to deal with any eventuality. "Some parts of Nanded city, located on banks of Godavari river were affected due to heavy rain and swelling of Godavari river. The situation is under control as no fresh major rainfall has been reported during the second half of the day," he said.
As per India Meteorological Department (IMD), Marathwada, which has received 240 mm rainfall (128%) since June 1, is expected to receive more showers with a forecast of heavy rainfall in Nanded and other areas.
The directorate general of information and public relations of the state government, in a statement, said chief minister Eknath Shinde has taken stock of the rain situation in Hingoli district and other parts of Marathwada over the phone during his Delhi tour.