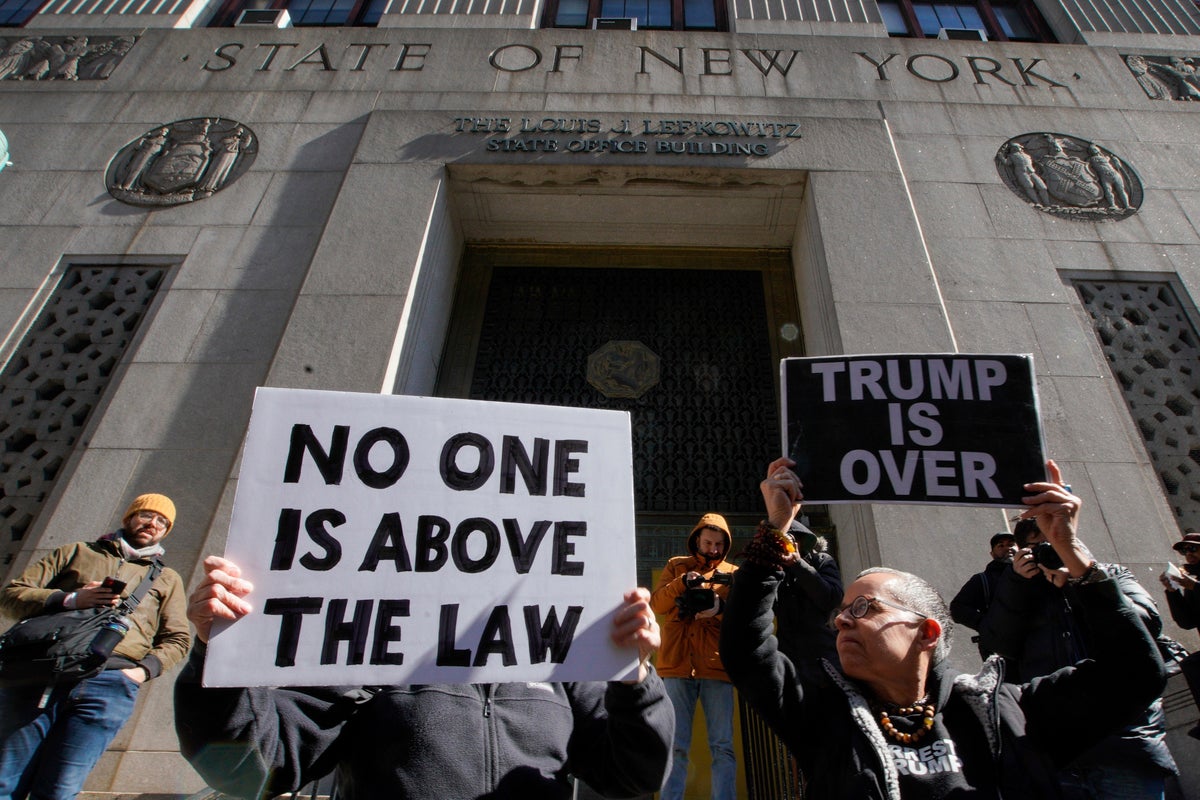 Workers began erecting barricades around the Manhattan Criminal Courthouse last week, bracing for a potential, unprecedented moment: Donald Trump arriving to face charges in a hush money probe, making him the first president in US history to face criminal charges.
In an all-caps warning on his Truth Social account on 18 March, the former president predicted his own arrest and called on his supporters to protest what he called the "corrupt and highly political Manhattan district attorney's office."
A Trump spokesperson later clarified the former president's team has been given "no notification" of an impending arrest or indictment beside "illegal leaks," though Mr Trump was the only person to have announced his imminent arrest, which he said would take place on 21 March.
A grand jury in New York City has met on Mondays, Wednesdays and Thursdays since January to consider evidence involving the former president's role involving a $130,000 payment to Stormy Daniels that prosecutors at the New York County district attorney's office reportedly allege was an illegal campaign expenditure.
The grand jury was told not to appear on 22 March, and jurors did not review the case when they convened on 23 March. The grand jury is expected to meet on Monday 27 March.
Grand juries convene in secret, and prosecutors are statutorily barred from discussing their actions. It is unclear whether the panel will hear from other witnesses. Details concerning the timing of the highly scrutinised case and potential charges, which could mark the first-ever criminal indictment of a former president, are largely unknown.
After hearing from all witnesses, the jury could then vote on whether to indict Mr Trump.
If an indictment is handed down, the former president is not expected to appear in court until sometime during the following week.
Mr Trump was given a chance to go before the grand jury, a typical sign that the office is preparing to indict, though the former presidnet remains at his Florida compound.
His lawyers said that the president will surrender if indicted and there won't be a "stand-off at Mar-a-Lago".
A defendant who surrenders usually reports to the district attorney's office for a pre-scheduled appointment. Mr Trump will need to have his fingerprints and mugshot taken. Karen Agnifilo, a former prosecutor in the Manhattan district attorney's office, told the Wall Street Journal that Mr Trump would then be interviewed by detective investigators and arrested.
"And he would be issued a rap sheet reflecting this arrest, like every other person who is arrested and fingerprinted in this country," she said.
She added that Mr Trump would likely be spared being held in a holding cell like most defendents awaiting arraignment.
Meanwhile, Mr Trump's call for supporters to protest the charges at various sites around the country has been largely met with only small crowds, while on far-right messageboards and social media platforms, some users have suggested protests could be a trap by federal agents, echoing similar conspiracy theories surrounding January 6.
Mr Trump's potential rival for the 2024 Republican presidential nomination, Florida governor Ron DeSantis, spoke out on 20 March about the potential charges against the former president.
"I don't know what goes into paying hush money to a porn star to secure silence over some kind of alleged affair," Mr DeSantis said at a news conference in Panama City. "I can't speak to that."
The former president also faces legal threats from a probe in Georgia examining his efforts to flip the 2020 election results, a federal special counsel investigating his role in the January 6 insurrection, and a New York suit alleging Mr Trump conducted corrupt business practices.