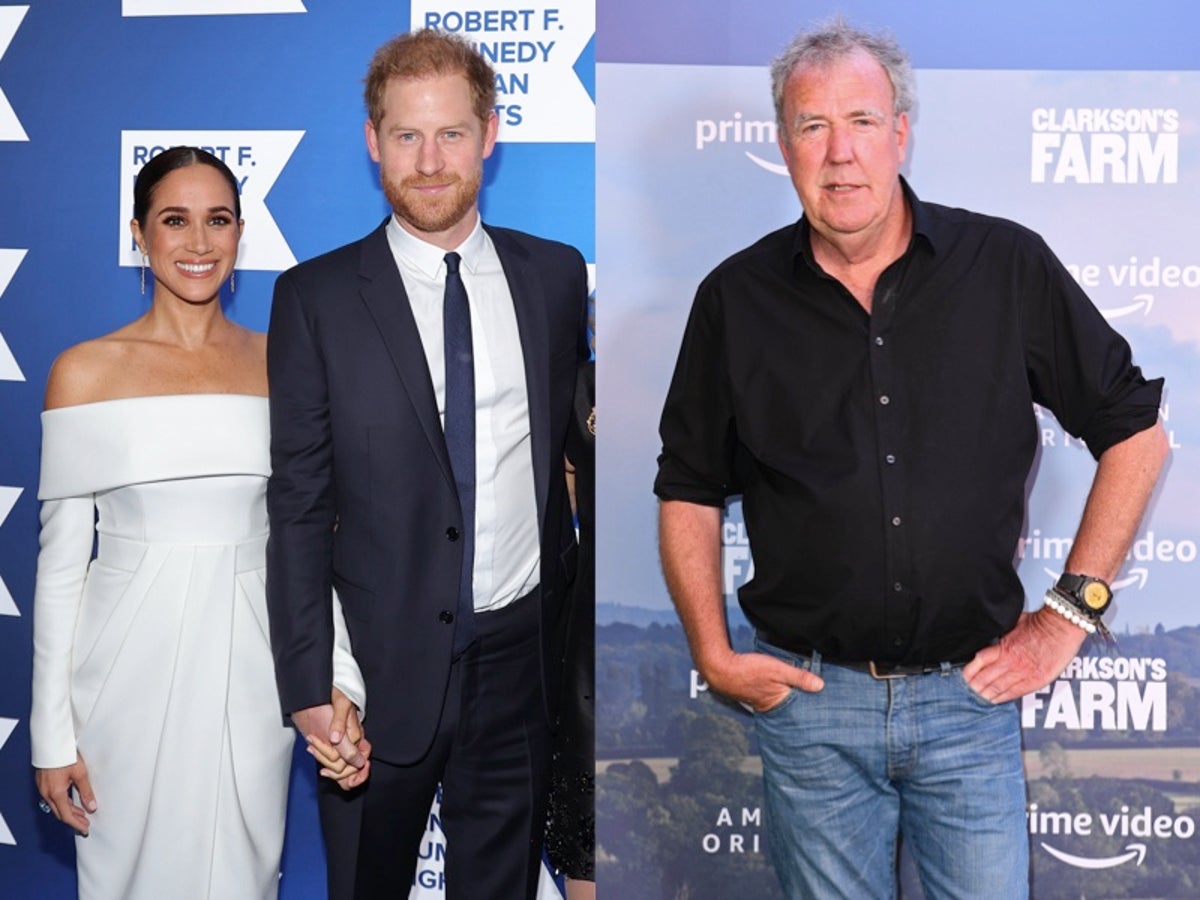 Prince Harry and Meghan Markle have been commended for calling out the hidden misogyny in Jeremy Clarkson's apology, after the Duke and Duchess of Sussex claimed the presenter wrote "solely" to Harry to apologise.
On Monday 16 January, Clarkson issued a public apology to the couple over disparaging comments he'd made about the duchess in a controversial column in The Sun.
In the column, published 16 December, the former TV presenter, 62, wrote that he despised the duchess on a "cellular level," and said he dreamt of the day that Meghan would be "made to parade naked through the streets of every town in Britain" as crowds chanted "shame" and threw "lumps of excrement at her".
The column sparked intense backlash, prompting Clarkson to claim on 19 December that he would be "more careful in the future".
The British presenter has since issued a longer apology on social media, in which he claimed he also reached out directly to the duke and duchess to apologise.
In the lengthy post, which saw Clarkson reveal he is "profoundly sorry" for his "disgraceful" language, the columnist alleged that he emailed Meghan and Harry on Christmas morning. "Then on Christmas morning, I emailed Harry and Meghan in California to apologise to them too," he wrote.
However, in a statement shared with royal reporter Omid Scobie through the Sussexes' spokesperson, the couple alleged that Clarkson had only reached out to Harry.
"On December 25 2022, Mr Clarkson wrote solely to Prince Harry, the Duke of Sussex. The contents of his correspondence were marked Private and Confidential," the statement reads.
According to the couple's spokesperson, Clarkson's new apology also fails to address "his long-standing pattern of writing articles that spread hate rhetoric, dangerous conspiracy theories, and misogyny".
"Unless each of his other pieces were also written 'in a hurry,' as he states, it is clear that this is not an isolated incident shared in haste, but rather a series of articles shared in hate," the statement continued.
The response has prompted praise for the couple, with many applauding Meghan and Harry for clarifying Clarkson's claims, and for calling out the presenter's "misogyny".
"Another deplorable example of misogyny. @JeremyClarkson owes an abject apology to Meghan, Duchess of Sussex. Who does he write to? Her *husband*, Prince Harry," one person wrote. "SHE is the one he insulted. SHE is the one he must apologise to."
Another person said: "Jeremy Clarkson really said I'm not sexist, but I'm going to apologise to a woman via her husband. Meghan was the wronged party and she is the one who is owed the apology. Directly. To her."
"So he wrote an apology to Harry?!?! Jeremy Clarkson has shown no remorse for his actions against Meghan. NONE," someone else tweeted. "Good on the Sussexes to reject his latest attempt at 'apologising' in real time."
The Sussexes' "phenomenal response" also prompted praise from one fan, who described it as the "perfect 'I do not accept your apology and here's exactly why' message".
"BOOM. Good for them for calling it as it is. They're not kidding when they say they're on a mission to be disrupters, change agents when it comes to the British tabloid press. They're not going to be walked on, that's for sure," another person tweeted.
The couple's statement comes after they rejected an apology from The Sun over the column, which they described as "nothing more than a PR stunt".
The newspaper issued an apology for publishing Clarkson's hate-filled column about the duchess on 22 December, in which it said: "Columnists' opinions are their own, but as a publisher, we realise that with free expression comes responsibility. We at The Sun regret the publication of this article and we are sincerely sorry."
At the time, a spokesperson for the duke and duchess dismissed the apology on the basis that Meghan and Harry were not contacted by The Sun.
"The fact that The Sun has not contacted The Duchess of Sussex to apologise shows their intent," a spokesperson for Harry and Meghan said. "This is nothing more than a PR stunt. While the public absolutely deserves the publication's regrets for their dangerous comments, we wouldn't be in this situation if The Sun did not continue to profit off of and exploit hate, violence and misogyny.
"A true apology would be a shift in their coverage and ethical standards for all. Unfortunately, we're not holding our breath."
The couple's response to Clarkson's latest attempt at an apology comes amid reports that Amazon has cut ties with the presenter. Sources told Variety that Prime Video, Amazon's streaming service, will no longer be working with the British presenter beyond episodes of The Grand Tour and Clarkson's Farm that have already been commissioned.
The Independent has contacted representatives for the Sussexes and Clarkson for comment.