Harrison helps hoist Temu into Stars spotlight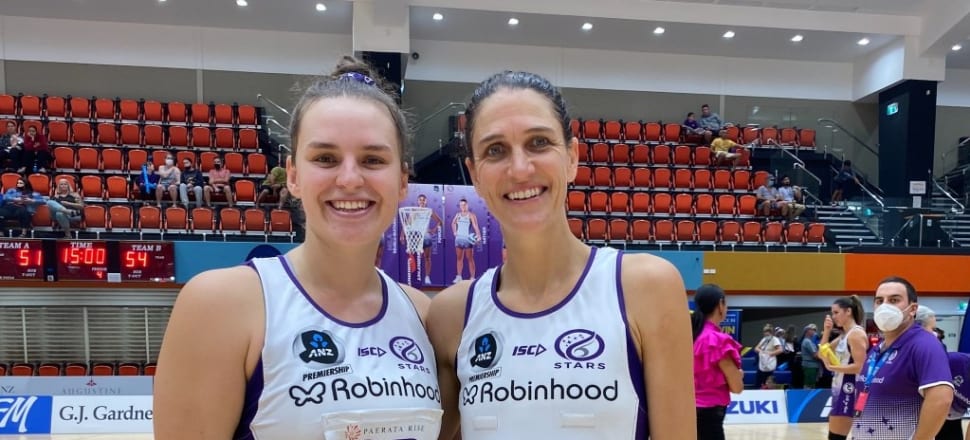 Elle Temu is having a standout season in the ANZ Premiership, the in-circle defender one of the ones to watch. And she couldn't have asked for a better defensive partner than Anna Harrison. 
One of the toughest defensive duos to get past in New Zealand netball, Elle Temu and Anna Harrison make a perfect pair. Even if there are 16 years between them.  
Originally from Auckland, 23-year-old Temu returned to play for the Stars in the ANZ Premiership last year, after three seasons honing her craft in Wellington. Her signing with the Stars coincided with 88-capped Silver Fern Anna Harrison coming out of retirement.  
And it's resulted in a potent partnership on court, and a strong friendship off it.  
Temu is full of praise for Harrison, who made her Silver Ferns debut as a 19-year-old in 2002, and just played her 150th national league match last weekend at the age of 39.  
"I have just good things to say about Scar [Harrison], I really enjoy my time with her. It's been cool," Temu says. 
"She's such an awesome person and she's always willing to help out and share her knowledge. And off-court she's just a lovely person, she loves to put people first."  
Harrison echoes the sentiment for Temu.  
"I don't think there's anyone who could say anything bad about Elle - she's an absolute beautiful person inside and out," she says.  
The Stars have had a mixed bag this season, but are sitting third on the ladder, with five wins from their nine games. And win or lose, their defensive end has been a constant threat to their opponents.  
Renowned for her innovative tricks on the netball court, Harrison can often be seen being hoisted by Temu. It's almost 10 years ago to the exact day Harrison introduced the netball world to "the Harrison Hoist". (The first netballer to lift Harrison? Stars team mate Kayla Johnson, when they were both playing for the Mystics in the ANZ Championship). 
Harrison suggests maybe she and Temu will pull a few more tricks out of the bag in the final weeks of the competition.  
Harrison's long limbs and Temu's strength are the perfect combination. Temu says Harrison is always willing to share all the tips in her netball brain.  
"She also reminds me I need to play to my strengths - so play to what I can see and I think that's what works really well for both of us," she says. 
Temu was originally a shooter until midway through high school at Mt Albert Grammar, and jokes that while she loved the attacking plays as a shooter, the pressure of the final shot was too much.  
"Oh my goodness, I was terrible at it. I probably had the most rebounds because I couldn't shoot properly," she laughs.  
Despite saying she's struggling with rebounding at the moment, Temu sits in sixth place this season for rebounds in the premiership, with nine. She's third for deflections, and second for intercepts, with 22.  
"I just love playing and going out for intercepts and trying to disrupt the play and not worry about having to finish the goal," she says.  
Harrison sits just behind Temu on all three defensive leaderboards, the two often swapping positions out on court.  
"You can see she's played attacker because her attacking game is really nice so it's always great for a player to experience a bit of both ends of the court," Harrison says, noting how much they've grown over their nearly two seasons together.  
"It's great we can interchange in the two positions, she's up for great conversations, she reads the play brilliantly, what's ahead and her trademark is coming through for those beautiful intercepts."  
The great conversations continue off-court as well - Temu looking after Harrison's three kids a few times to allow Harrison and husband, Craig, to go out for date nights.  
While Silver Ferns selection is on her radar, Temu's primary goal this year is to simply get good minutes, play consistent netball and push herself at training.  
"The ultimate goal for the majority of us young and up-and-coming athletes in ANZ is that Silver Ferns dress, so obviously I'd love to do that soon," she says.  
"But I'm just really enjoying playing some consistent netball and just putting my best foot forward."  
With sport a big part of her life growing up, Temu dabbled in a few different sports, playing volleyball in the summer, but she was always going to follow wherever netball took her.  
Sport is in Temu's blood - her dad, Jason Temu, was a rugby league player who represented the Cook Islands and spent one season with the New Zealand Warriors in the NRL.  
Elle Temu's partner, Isaiah Papali'i, has also made a name for himself in the NRL - after four seasons with the Warriors, he's spent the past two with the Parramatta Eels, meaning most of his time is spent in Australia.  
"It's super hard but it's definitely what we both want to do, and we both really want to do well in our sports," says Temu on their time apart.  
"I can't wait until the seasons are finished and we can spend some time together. Long distance is not an easy feat, but I know it'll be worth it when we're finally together, as cliche as that sounds."  
Over summer, Temu spent three months in Australia with Papali'i, and trained with the Giants, who represent New South Wales in Australia's Suncorp Super Netball.  
"I was quite nervous going into it, but it was the best thing for me because training by yourself is always a drag and a bore," Temu says.  
"It was so nice having different people around me and getting good quality training in. I really benefitted from it and I just really enjoyed it as well." 
Enjoying her netball is key this year for Temu, who balances a hectic training schedule with studying a bachelor of business, hoping to combine her love of sport and her major of marketing when she graduates.  
Solidifying her role as the starting goal defence for the Stars, Temu has grown in confidence with increased game time this season.  
"Starting out when you're new and on the bench, you get a few minutes here and there, you always really treasure it. But getting full games and getting the starts has definitely given me more confidence in myself," she says.  
"I've just learnt so much and I now know how far I can go, how far I can push my body to get ball or how far I can pass to Maia [Wilson]. It's given me confidence in myself and my game and I've just enjoyed it so much more, getting game time." 
Temu played alongside Wilson at Mt Albert Grammar (MAGS), and when she moved to defence, paired up in the defensive circle with Holly Fowler, another current Stars player.  
The trio (captained by Fowler) won the New Zealand secondary schools champs with MAGS in 2015, beating Saint Kentigern College in the final, 43-32.  
Temu was awarded the player of the match award for her efforts at goal keep - marking another Stars player, Amorangi Malesala.  
Graduating in 2016, Temu spent two years in the National Netball League (formerly the Beko League), making the move to Wellington and captaining the Central team to victory in 2018.  
The ANZ Premiership came calling, and Temu made the step up from a training partner for the Pulse to a fully contracted player in 2019. Winning back-to-back titles with the Pulse, Temu's court time was limited, so 2021 saw the defender return home to Auckland.  
The move has paid off for Temu, playing all but 37 minutes of the Stars' total games so far this season. Harrison has also spent a lot of time in the circle, missing just one game, but otherwise playing all but one quarter of her eight appearances on court.  
With 20 years of elite netball under her belt, who better to spot a future star than Anna Harrison, who predicts young Temu will go far.  
"I think she's a really exciting player, she's getting all these beautiful intercepts and I think she's got a good future ahead of her. So it'll be exciting to see where she goes," says Harrison.  
"I'm honoured to be a part of her journey."