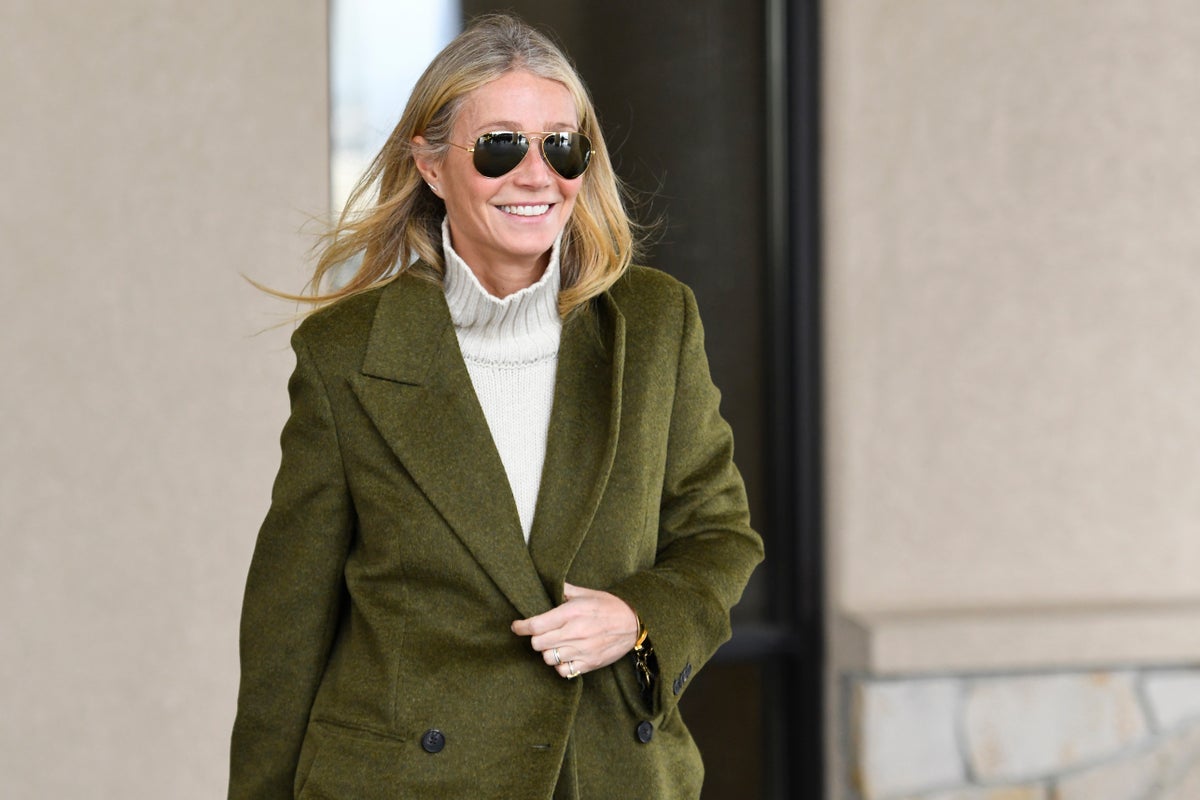 Gwyneth Paltrow has appeared in a US court to stand trial in a case in which the Oscar-winning actress is alleged to have collided with a skier Terry Sanderson, leaving him unresponsive at the Deer Valley Resort in Utah in 2016.
The attorneys for Paltrow and Mr Sanderson, who is suing her, gave their opening statements in court on Tuesday.
Mr Sanderson's attorneys said they plan to call Paltrow to the stand to testify on Friday, but could do so earlier in the week depending on the other witnesses' availability, reported the Associated Press.
Paltrow's husband, Brad Falchuk, and her two children 18-year-old Apple and 16-year-old Moses are also expected to testify.
The actor's lawyer Stephen Owens described the members of Paltrow's family as being a part of her skiing group when the incident took place on 26 February 2016.
"She, Brad, now her husband who you're going to hear from, her daughter Apple, who you're going to hear from, Moses, who you're gonna hear from," he was quoted as saying by People magazine.
Both described their clients as victims and blamed the other for the collision at one of the country's most upscale ski resorts.
Both have said in their versions that they collided while on a beginner's run but have accused each other of being at fault and skiing up behind them.
The actor has been sued for $300,000 in a case of negligence by Mr Sanderson, who said the incident left him with physical injuries and emotional distress.
The retired optometrist has said through his attorneys that after the accident he went to urgent care and the emergency room.
Paltrow has filed a counterclaim, seeking attorney fees and a single dollar in damages.
"All skiers know that when they're skiing down the mountain, it's their responsibility to yield the right of way to skiers below them," Mr Sanderson's attorney Lawrence Buhler told jurors.
He also referred to his client's military service record and described the broken ribs and brain trauma Mr Sanderson sustained during and after the crash.
Mr Buhler described Paltrow as a wealthy, experienced skier who adopted a "So what?" attitude about the collision.
On the other hand, Paltrow has alleged Mr Sanderson overstated his injuries and is trying to exploit her celebrity status and wealth.
The actor is also the founder and CEO of high-end wellness company Goop.
In addition to the counsel's statements, two witnesses testified on Tuesday that included Craig Ramon, a friend and ski companion of Mr Sanderson's, and Karlene Davidson, a woman who was dating him in February 2016 during the crash.
Mr Ramon said in court that Paltrow hit Sanderson, bouncing off his back and sliding to his right.
According to Mr Ramon, Paltrow's ski instructor, a Deer Valley employee, approached moments later and said, "Your buddy just took out Gwyneth Paltrow."
Ms Davidson said that in addition to his injuries, she noticed Mr Sanderson's demeanor changed after the crash and he grew more distant which eventually led to the end of their relationship.
While Mr Sanderson's attorneys attributed the changes to the crash, Paltrow's attorneys said he had started dating another woman quickly after their break up.
The trial is expected to continue for a week.
Additional reporting by agencies