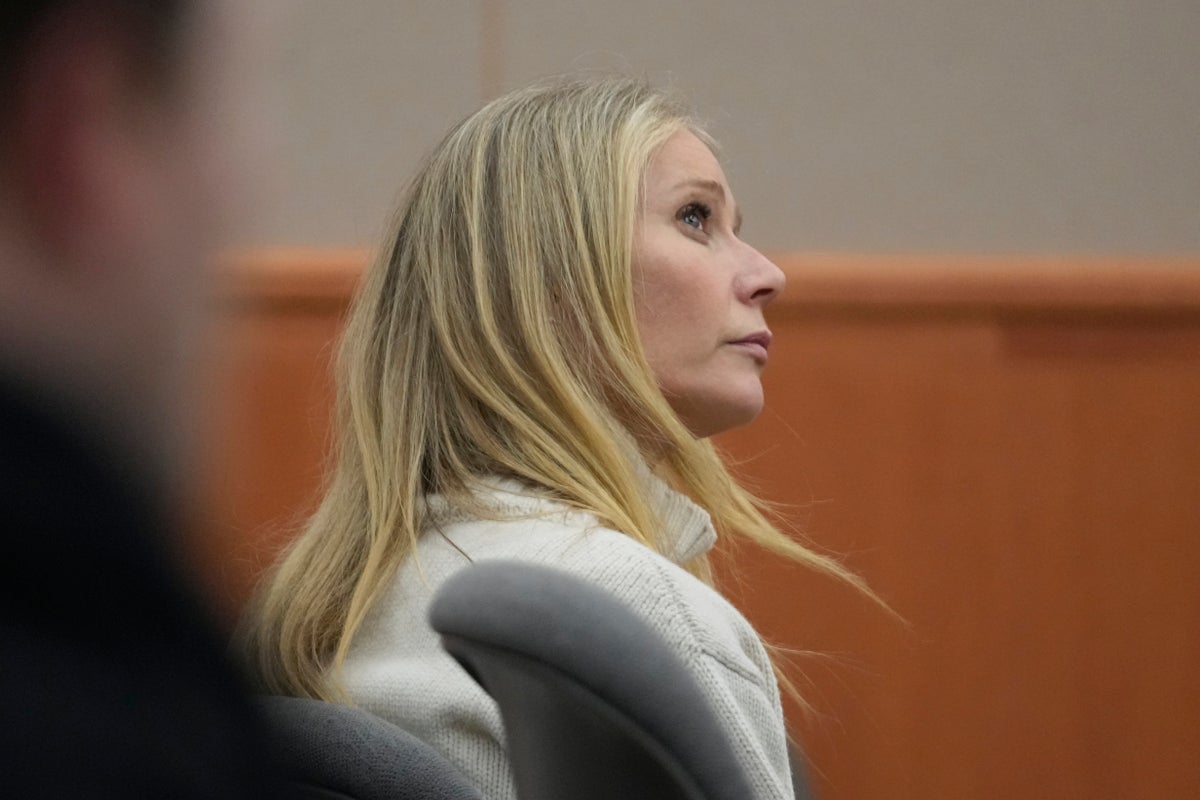 A 2016 ski crash with actor Gwyneth Paltrow caused a man to suffer long-term injuries, including to his mental health and cognitive ability, a Utah court heard on Wednesday, during a second day of testimony in a Park City courthouse.
Retired optometrist Terry Sanderson is seeking $300,000 in damages for the impact of a collision between the two at the Deer Valley resort in Utah, which experts testified left the now 76-year-old with lasting damage.
Radiologist Dr Wendell Gibby, who examined Mr Sanderson, told the court the man had the "typical hallmarks" of a brain injury, and his quality of life "deteriorated abruptly" following the crash, drastically changing things for the typically "very high-functioning, high-energy person."
"Terry had been a high-functioning, active person," Dr Gibby said. "Every day he was doing lots of things. Meeting groups, wine tasting, skiing, volunteering."
"I think that the ability to function at a high level was lost for Terry ... many of the things that gave him pleasure in life seem to have been abruptly diminished by this injury," the doctor continued.
The radiologist said Mr Sanderson's injuries, including broken ribs, would not have been "plausible" according to Ms Paltrow's version of events, where the Goop mogul argues it was Mr Sanderson who rammed into her without warning.
Elsewhere during Wednesday's trial, lawyers for the injured man said Ms Paltrow didn't follow proper ski etiquette, which holds that the person lower down on the mountain has the right of way. (She has claimed she was lower down the mountain and had the right of way herself before the collision.)
"All skiers know that when they're skiing down the mountain, it's their responsibility to yield the right of way to skiers below them," Mr Sanderson's attorney Lawrence Buhler told jurors.
Things got off to a dramatic start on Tuesday, with attorneys for Ms Paltrow complaining that her privacy was being disturbed by a camera in court pointing in her face, and a horde of paparazzi waiting for her outside the courtroom.
"We have a new camera directed at my client right there," attorney Steve Owens said. "This has been a [continuing] problem, for instance, reporters being in front of my client's car going out yesterday, cameras in her face."
"I'm mad, I don't want reporters to make changes without informing [the judge]," he added.
Judge Kent Holmberg agreed, finding that the court agreed to cameras, but only on those actively involved in the proceedings at a given moment.
"The court has permitted media coverage of the proceeding, not of the individuals who are participating in the proceedings so if you're speaking into the microphone, you can expect an image to be captured," Judge Holmberg said.
The Park City court agreed to minimal media presence inside the courtroom, comprising one photojournalist from the Associated Press and a videographer from Court TV.
"This is now interfering with the proceeding," Judge Holmberg said of the incident. "If it happens again, the offending photographer will be asked to leave."
Previously, the AP photographer at the centre of the complaint had been warned after taking a photo of Ms Paltrow during a recess in proceedings.
Wednesday's testimony also dug into the alleged lasting mental health impacts of the ski crash.
Neuropsychologist Dr Sam Goldstein, who examined Mr Sanderson, in the years after the 2016 incident, said the optometrist may have suffered from a psychological "mind injury" in addition to a "minor" physical brain injury.
"There's a brain injury and there's a mind injury," said the doctor. "The mind injury is more emotional or psychological, in the sense of what his mind chooses to think about those events subsequently in his life and what happened. What I suggested was that at that moment in time, if I could help his mind look at his life a little differently, then I think he could function quite a bit better. He could return to doing some of the things he was doing before."
During the previous day's testimony Tuesday, witness Craig Ramon, who was skiing with Mr Sanderson, said he saw the crash, in which a skier, later alleged to be Ms Paltrow, "slam" into the optometrist and "bolt" down the slopes without stopping to help.
The actor and health guru has countersued Mr Sanderson for $1 and legal fees, arguing he's responsible for the accident.
Ms Paltrow's attorneys have called Mr Sanderson's accusations "utter BS" and accused him of targeting her for her celebrity.
"He demanded Ms. Paltrow pay him millions. If she did not pay, she would face negative publicity resulting from his allegations," they wrote in a 2019 court filing.