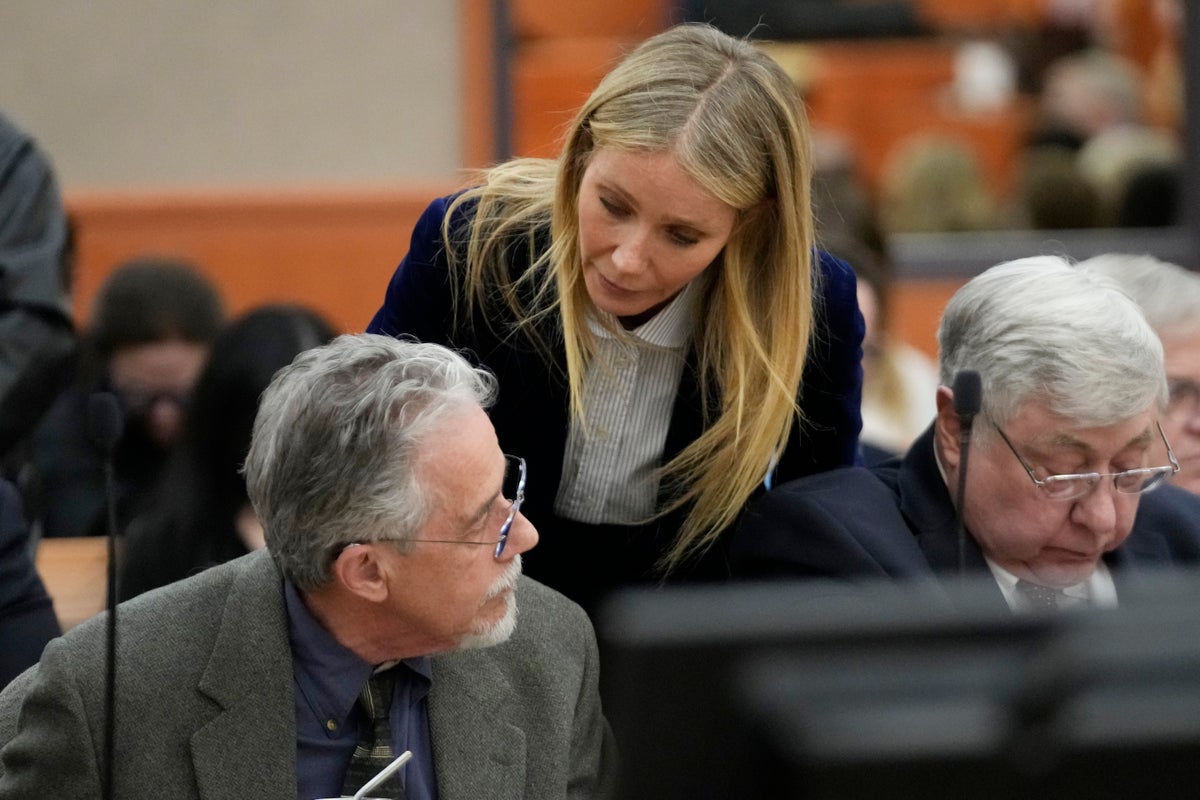 Gwyneth Paltrow has been praised for her "classy" and "gracious" response to her lawsuit accuser after she was found not responsible for their ski collision.
On Thursday, the Goop founder was filmed leaving the courtroom after a Utah jury ruled that she was not liable for the 2016 incident involving accuser 76-year-old Terry Sanderson. As she exited the courtroom, after being awarded her $1 countersuit and the cost of her legal fees, Paltrow could be seen bending down to whisper something in Sanderson's ear.
According to Sanderson, who spoke with reporters following the verdict, the actress told him: "I wish you well," to which he'd responded: "Thank you, dear."
The retired optometrist, who was seeking $300,000 in damages from Paltrow for injuries he said he sustained during a crash at the high-end Deer Valley Resort near Park City, Utah, in February 2016, also told Extra that he thought Paltrow's parting sentiment was "very kind of her".
Paltrow's accuser was not the only one who had kind words to say about her farewell message, as fans, who have been following the oftentimes-bizarre trial closely over the last two weeks, also praised the actor for her "graciousness".
"Gwyneth Paltrow left the court hearing with some grace. It was sweet of her to say 'I wish you well' to her accuser. I'm impressed," one person tweeted, while another said: "I love her! So classy through and through."
"Wow, she's a saint. That's very big of her to be so gracious," someone else claimed.
Others found amusement in the sentiment, which has quickly turned into a meme, with some alleging that Paltrow could use the message in future Goop branding, such as for the name of one of her infamous candles.
"Only a matter of time before Gwyneth Paltrow releases a 'I wish you well' Goop candle," one person joked, while another said they are hoping for "'I wish you well' with Gwyneth Paltrow's face on a T-shirt sponsored by Goop".
The actress's parting wish for Sanderson also inspired others, with some claiming they planned to use the remark in their own day-to-day encounters.
"Normally I do not like Gwyneth Paltrow at all, but her saying 'I wish you well' to the doctor who tried to grift her after she won her dollar in court is iconic and I will be saying it to anyone who tries to wrong me henceforth," one person claimed.
Someone else tweeted of Paltrow's exit: "This is so boss," while another fan referenced the actress's role as Pepper Potts in the Marvel Cinematic Universe as they claimed Paltrow was channeling her character in real life. "Just as Pepper Potts would have done," they wrote.
After two hours and 20 minutes of deliberation, jurors concluded Thursday that Sanderson, who claimed the crash left him with multiple injuries, including permanent traumatic brain injury, was 100 per cent at fault for the ski accident.
Following the ruling in her favour, Paltrow said she was "pleased with the outcome".
"I felt that acquiescing to a false claim compromised my integrity. I am pleased with the outcome and I appreciate all of the hard work of Judge Holmberg and the jury, and thank them for their thoughtfulness in handling this case," she said.
As for his thoughts on the outcome, Sanderson told Extra he was "very disappointed," before seemingly alleging the lawsuit was made more difficult by Paltrow's celebrity.
"You get some assumed credibility from being a famous person… Who wants to take on a celebrity? No wonder I hesitated. It's difficult. Who wants to do that [with] someone who learns lines, learns how to play someone else's part and be believable, be credible, wins awards? Who wants to go on that path," he said.
A juror in the case later said that Paltrow didn't win because she's famous, but because the decision was based on "evidence".