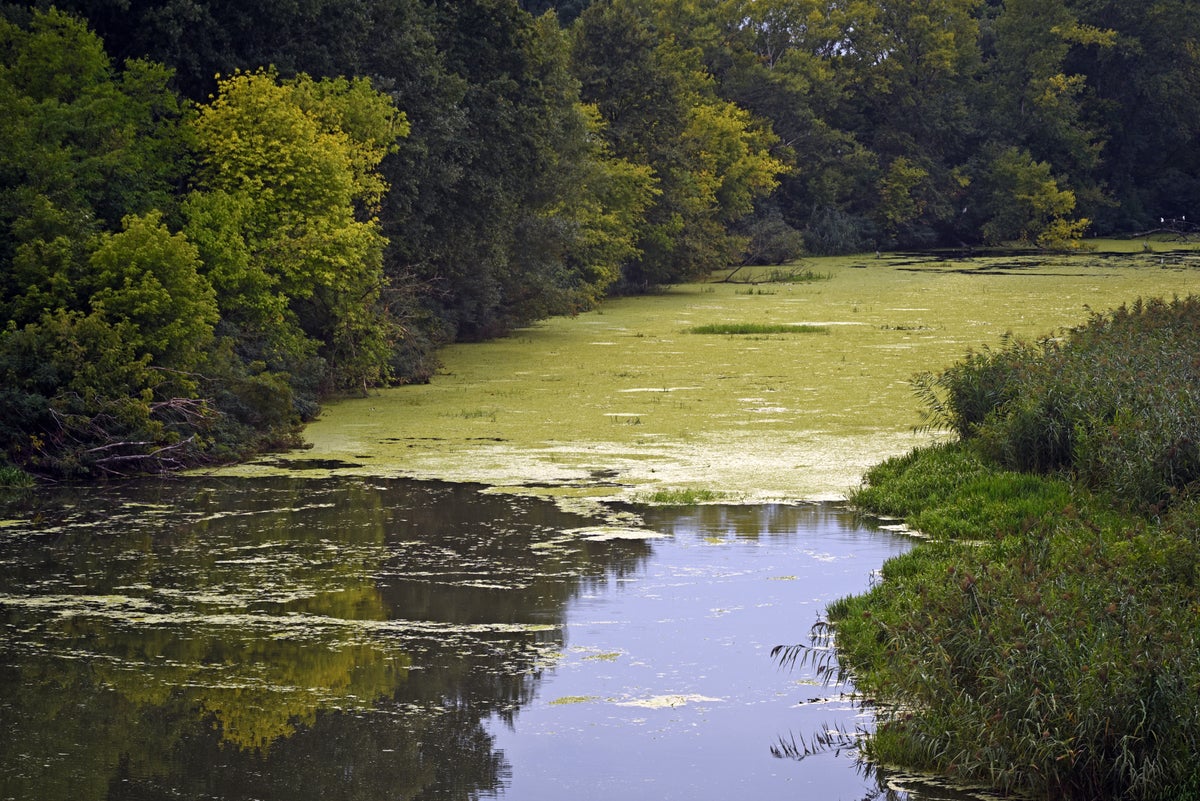 The government's new legally-binding environment targets have "gaps" that need closing, campaigners have warned.
Environmentalists welcomed the publication of Thérèse Coffey's 13 new targets on Friday but said they were concerned that important areas like overall water quality had been left out.
The government was meant to publish the slate of targets under the Environment Act earlier this autumn, but delays in bringing them forward left it in breach of the law.
They were finally released on Friday, with measures like a pledge to increase tree cover from 14.5 per cent of land area now to 16.5 per cent by 2050.
Ministers have also said they will reduce exposure to harmful particulate matter in the air by 2040 and halt the decline in species abundance by 2030, among other measures.
But environmentalists say the government has only done half its job because of the absence of measures on protected sites and overall water quality.
The targets include four specific pledges relating to water: clamping down on abandoned metal mines, reducing agricultural pollution of water, greening wastewater and reducing water demand.
But Ruth Chambers of the Greener UK coalition said: "The absence of targets for things like river health and protected sites for nature makes no sense. These are two of our most pressing problems.
"We now need the government to show how they will meet the new targets and plug the gaps where no targets exist at all."
Richard Benwell, CEO of Wildlife and Countryside Link, said it was "good to see the governemnt catch up with its legal obligations".
But he urged ministers to come forward with the missing targets and said the current package did not match their rhetoric.
"Environment Act targets are more than political aspirations. They are meant to provide legal certainty, clarity for business, and shared purpose across Government," he said.
"So a package without targets for protected sites and overall water quality is a job half done. Ministers are in Montreal now promising to protect 30 per cent of the land and sea for nature by 2030. To publish targets at home without a commitment to improve the condition of our most important wildlife sites is a world away from that rhetoric.
"In January, Defra is legally required to review whether the targets would deliver a significant environmental improvement. The 2030 target to halt the decline of species is a real positive, but without protected sites and water quality targets, the package does not live up to that test. Defra should commit to consult and fill these gaps without delay."
Environment Secretary Thérèse Coffey, speaking at the UN Convention in Montreal on Friday, said she was "committed to leaving our natural world in a better state for future generations".
"These targets are ambitious and will be challenging to achieve – but they will drive our efforts to restore our natural environment, protect our much-loved landscapes and green spaces and marine environment, as well as help tackle climate change," she said.
Marian Spain, chief executive of government body Natural England, said: "The message is clear: without the ambitious targets to tackle climate change and reverse the long-term decline in Nature, we will be unable to sustain the ecosystems on which we rely for our health and our prosperity.
"We therefore welcome today's publication of the statutory targets needed to put nature recovery at the heart of the government's priorities.
"With the first targets only eight years away, we are already working with the government and with businesses, land managers and environmental charities through the Nature Recovery Network Partnership to ensure that we are on track to turn around England's loss of nature and deliver the ambitions set out in the 25 Year Environment Plan."