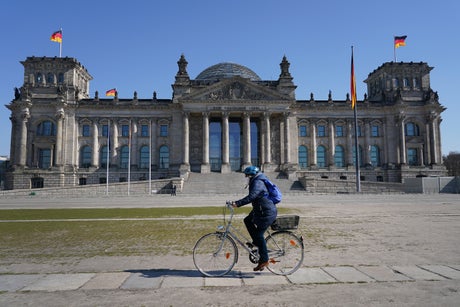 Germany is set to extend its coronavirus lockdown until 28 March. This was suggeted in a draft agreement for talks between chancellor Angela Merkel and the heads of the country's federal states.
The draft still needs to be agreed on and discussions are set to take place on Wednesday between Angela Merkel and the leaders of Germany's states.
In spite of the proposed lockdown extension, small private gatherings of people from multiple households may be allowed to take place from Monday 8 March.
In the draft, bookshops, florists and gardening shops will be allowed to reopen. Other businesses will be able to do business in regions where levels of Covid-19 infections have dropped below 35 per 100,000 over 7 days. The draft agreement also indicates that in order to open, businesses will have to follow under strict hygiene requirements.
It is expected that Germany will make an appeal to citizens suggesting that they avoid travel, both domestic and foreign, over the Easter holiday period. However the draft, seen by Reuters on Tuesday, said that an exception will be made for small family gatherings during the holiday period.
Hairdressers across the country reopened for business on Monday, following nearly two-and-a-half months of closures due to Germany's strict lockdown rules. This is on the proviso that they follow rigorous hygiene measures and operate on a bookings-only system.
Hardware stores and flower shops have also been allowed to reopen in certain states since the start of the week. This includes Germany's most populous state of North Rhine-Westphalia where the cities of Düsseldorf, Cologne and Dortmund are located.  
Restaurants, bars, sports and leisure venues have all been closed since 2 November, with most shops shutting on 16 December when tighter restrictions were introduced. Hotels in the country are currently only open for use by business travellers.
The country's lockdown measures have been credited with helping to reduce numbers of daily coronavirus infections.
Despite this, last week experts warned that the infection rate had stopped going down and in some cases was going back up. This has been attributed to the possibility that new variants could be circulating.