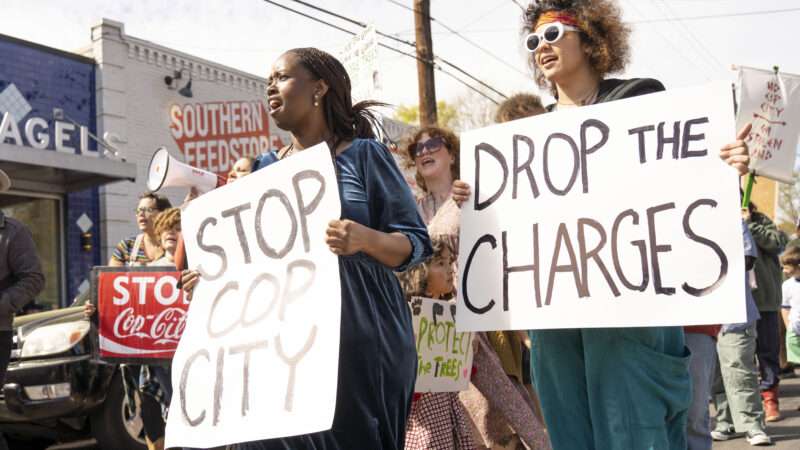 After the Atlanta City Council approved the construction of the Public Safety Training Center, a police training facility, in a patch of city-owned forest in 2021, activists mobilized against the project, which they derisively call "Cop City." A group called Defend the Atlanta Forest camped out in treehouses to prevent construction. Some have even turned violent, throwing rocks and Molotov cocktails at police.
But the police response has come under scrutiny in recent months, including the police killing of a protester that was later ruled a homicide and numerous arrests of activists and protesters for nonviolent offenses.
This week, the Georgia Bureau of Investigation (GBI) and the Atlanta Police Department (APD) arrested three activists—Marlon Kautz, Adele Maclean, and Savannah Patterson—on charges of money laundering and charity fraud. According to a GBI press release, the agencies "executed a search warrant and found evidence linking the three suspects to the financial crimes." The Intercept described it as "a heavily armed…SWAT raid," seemingly corroborated by a photo shared on the blog Welcome to Hell World.
The charity in question is the Atlanta Solidarity Fund, a bail fund that has supported activists arrested while protesting Cop City. Kautz, Maclean, and Patterson are the three listed officers for the Network for Strong Communities, of which the bail fund is a part.
Bail funds are nonprofit organizations that pay bail bonds for arrestees who could not otherwise afford it. This allows people who have been charged but not convicted of a crime to go home rather than sit in jail awaiting trial. Some conservatives find bail funds controversial, stipulating that such agreements let "murder and rape suspects get out of jail while awaiting trial." But judges are the ones who set bail, and in Georgia, some crimes are ineligible for bail. Anybody offered bail in Georgia has, by definition, not been charged with any of the most egregious offenses.
Georgia's actions this week seem retributive. The charging documents are not yet available, but arrest warrants provided to Reason by GBI Public and Governmental Affairs Director Nelly Miles are underwhelming.
The warrants hang on the contention that Defend the Atlanta Forest is "a group classified by the United States Department of Homeland Security as Domestic Violent Extremists." Law enforcement has used this claim for months, charging 19 protesters in February with domestic terrorism charges even though nine were only accused of misdemeanor trespassing. According to Grist, "a DHS spokesperson denied that the federal agency classifies any specific groups with this term."
But the warrants justify the arrests based on this supposed classification, apparently deeming any payments or reimbursements as material support for terrorism. In one example, Maclean was reimbursed $228.29 to "move the jail support hotline to a new plan" and add "two (2) phone lines." In another, "Patterson was reimbursed via her personal PayPal account" $6,657.59 in 26 payments over nearly two years. "These payments were for various expenses such as gasoline, forest clean-up, totes, covid rapid tests, media, yard signs and other miscellaneous expenses."
Perhaps these uses violate the law on how a bail fund can use the cash it raises. But the arrest reports explicitly use support for forest protesters as justification for prosecution. Just like deploying a SWAT team to look for evidence of financial crimes, using domestic terror charges for operating a bail fund seems particularly egregious.
In a statement after the arrests, Georgia Gov. Brian Kemp said, "These criminals facilitated and encouraged domestic terrorism with no regard for others, watching as communities faced the destructive consequences of their actions." Georgia Attorney General Chris Carr, whose office also participated in the case, further clarified that the "arrests are about the violence that occurred at the site of the future Atlanta Public Safety Training Center and elsewhere."
But the arrest warrants contain no such allegations of violence against Kautz, Maclean, or Patterson. Georgia law enforcement is once again using group affiliation and a specious "violent extremist" classification to justify treating an entire swath of people as domestic terrorists.
Lauren Regan, executive director of the Civil Liberties Defense Center, called the raid and arrests "an extreme provocation," in a statement to the Atlanta Community Press Collective. Regan added, "Bailing out protestors who exercise their constitutionally protected rights is simply not a crime. In fact, it is a historically grounded tradition in the very same social and political movements that the city of Atlanta prides itself on," including the Civil Rights Movement of the 1960s.
The post Georgia Arrests 'Cop City' Bail Fund Organizers for Fraud, Money Laundering appeared first on Reason.com.