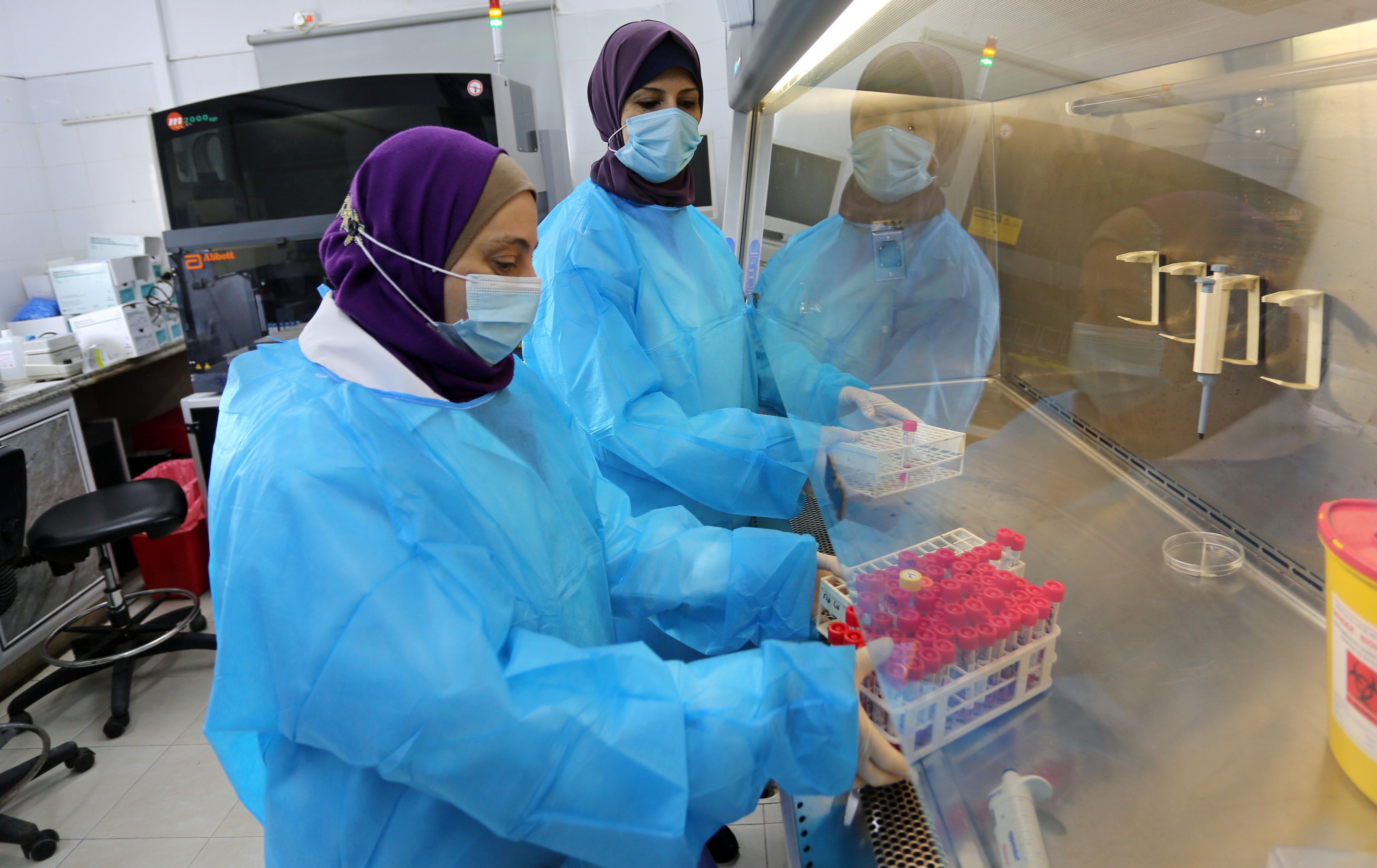 Gaza is running out of coronavirus tests, Covid-19 intensive care beds and oxygen to treat patients, according to the health ministry that warned the blockaded strip was buckling under the worst health crisis in its history.
On Monday, health officials warned they had run out of PCR tests and were now unable to measure the spread of the virus, described as already out of control.
The World Health Organisation (WHO) is working to bring in an emergency supply of nearly 200 testing kits, but that would only last a week, officials said.
Meanwhile, 80 per cent of the ICU beds are now occupied, and the fear is that if the numbers continue to rise there will not be enough oxygen to treat all patients.
"This is the worst health care crisis that we have ever faced," said Dr Abdullatif Haj, a senior official at the health ministry who is himself infected with the deadly virus. The situation was even more critical, he said, than the 2014 Israel-Gaza war, when more than 1,000 people died and another 11,000 were wounded, according to UN figures.
"Even the emergency delivery of PCR tests from the WHO will only last a week and we will be back in the same position," Dr Haj said.
"We are witnessing the collapse of the health care system in front of our eyes and unless the international community steps into help, death will be the end result."
So far more than 23,000 people in Gaza, including Hamas leader Yahya Sinwar, have contracted Covid-19, while at least 122 have died, according to official figures. A lack of testing means the number is feared to be much greater.
Health officials warned that this would rise exponentially when they ran out of available ICU beds, tests and oxygen in coming weeks.
Hamas, the militant group which runs the Strip, has imposed a new strict lockdown to stem the surge. But health officials warned that it was almost impossible to enforce in the 25-mile long territory that is home to 2 million people and one of the most densely populated places on Earth.
Gaza's health care system was already careering towards collapse before the pandemic, after 13 years of Israeli blockades and restrictions from Egypt.
It has meant that today nearly 50 per cent of the essential drug list is missing, including oncology drugs, heart medicines and items such as intensive care masks and intubation tubes.
But because the territory is so isolated it was spared the first wave of infection as the WHO was able to set up a strict testing and isolation regime for anyone entering from Egypt or Israel.
However, community transmission began and over the past few weeks containment has virtually collapsed, infecting hundreds more people including doctors, nurses and paramedics.
Dr Medhat Abbas is among more than 700 health care workers who have caught Covid-19 alongside his wife and children, who are also medics and sick. He said almost every street in Gaza has a case and warned it was too late for a lockdown.
"If we reach capacity on ICU beds, the death rate will soar. We are not just lacking the beds and monitors, but we need human power to run the ICUs, and oxygen," he said from his home where he is self-isolating with his family.
"Limited donations, the blockade and the pandemic, together the three of them are fatal."
Dr Haj said that while hospitals were stretched managing the pandemic, they had to halt non-emergency surgeries and treatment for patients with other long-term medical issues such as diabetes and heart conditions.
"We will face a higher mortality and disability rate from those not suffering from the coronavirus because we have had to halt regular other services for people," he said.