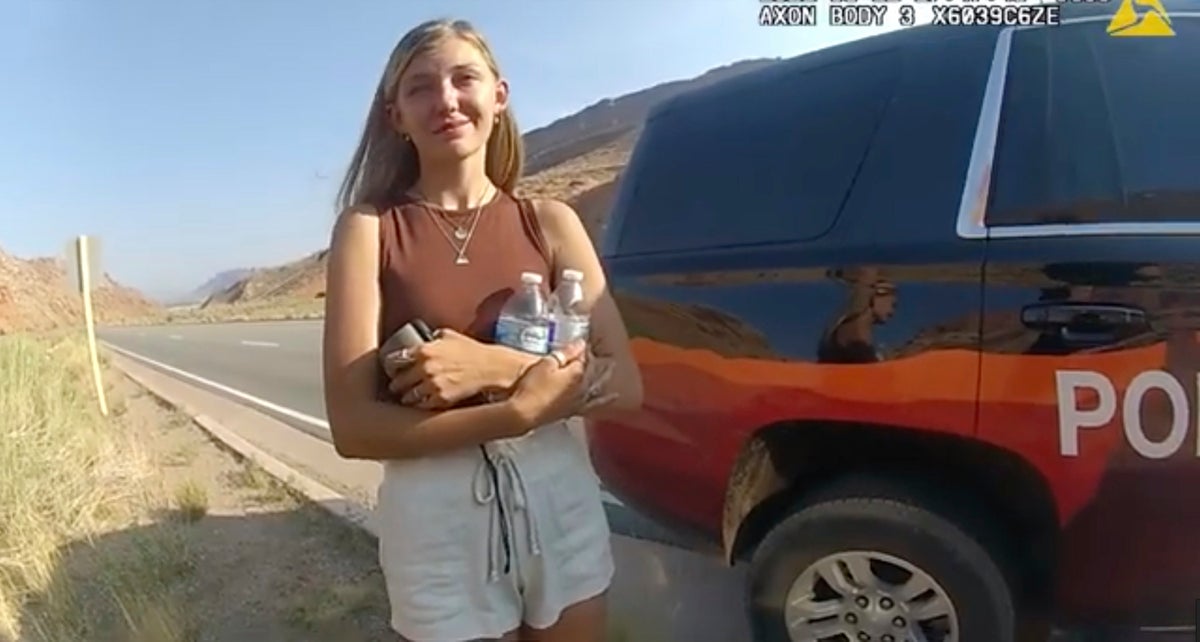 Gabby Petito's family have filed a $50m wrongful death lawsuit against police in Moab, Utah, accusing them of negligence that led to the vlogger's death.
The lawsuit accuses the police department, three Moab police officers and 10 other unnamed individuals of "negligent failure" during an investigation into an alleged assault by Brian Laundrie of the 22-year-old a few weeks before her death.
The suit was filed by Utah personal injury law firm Parker and McConkey on behalf of Joseph and Tara Petito and Nichole and Jim Schmidt.
They say Petito's death was caused by the police department's "wrongful acts or neglect."
Petito's remains were found near the Grand Teton National Park in Wyoming on 19 September last year after a month-long, nationwide missing persons search that captured the attention of the country.
Investigators determined she had been strangled by Laundrie, who later admitted killing her in a confession note before taking his own life in a Florida swamp.
Police in Moab pulled the couple over on 12 August after receiving a 911 call from a witness saying they had seen Laundrie hitting Petito.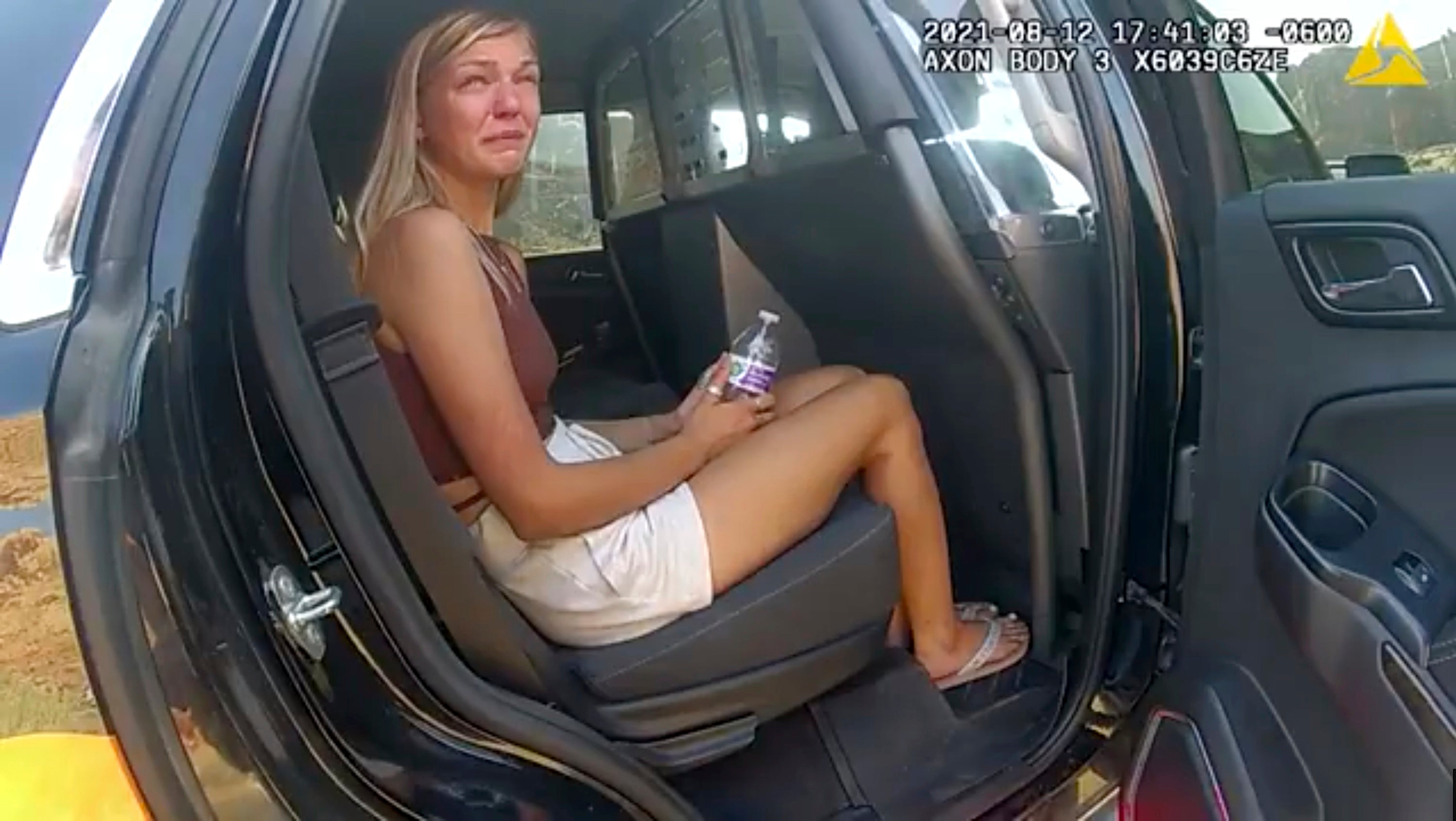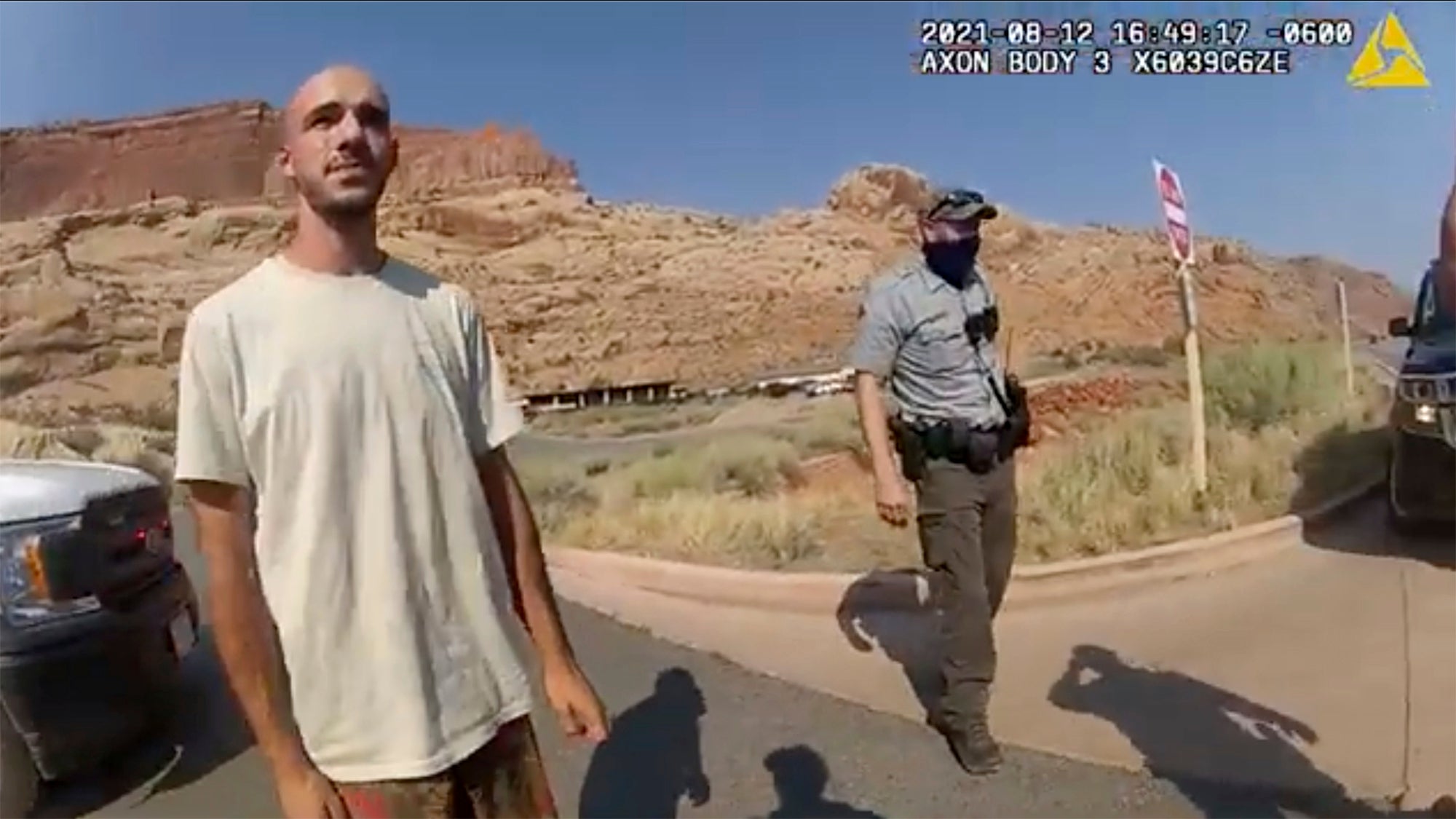 Laundrie was released without charge, and the couple were separated for one night before being allowed to continue on their cross-country van-life trip.
An independent investigation into police failures in the case later found that Petito was very likely a "long-term victim of domestic violence".
The Petito family's attorney Jim McConkie, of Parker and McConkie, said during a news conference on Monday that they were bringing the lawsuit "to honour Gabby's legacy".
Mr McConkie said the parents hoped the lawsuit "would save lives and give meaning to the senseless, avoidable and tragic murder of their daughter".
Another lawyer Brian Stewart said the suit would rely on evidence not yet made public. He said FBI had "extensive information" about the Moab incident that has not yet been released.
The lawsuit contained a previously unreleased photograph of Petito that showed blood smeared on her cheek and left eye, according to CBS News.
A tearful Nichole Schmidt told the press briefing they were going to do "whatever we can" to help other victims of domestic violence.
She said watching the police body cam footage was "very painful".
"I wanted to jump through the screening rescue her."
Joseph Petito encouraged other victims of intimate partner violence to learn from his daughter's story.
"There are people out there that will do whatever they can to help," he said.
"You're worth it."
According to CBS News, the three individuals named in the suit are Moab assistant police chief Braydon Palmer, and officers Eric Pratt and Daniel Robbins.
Mr Robbins pulled the couple's Ford van over outside the Arches National Park after seeing it speeding along a highway, swerving across a centre line and hitting a curb.
He separated the pair and interviewed them on their own.
Officer Pratt and two park rangers then joined him.
The lawsuit claims that Petito showed "the classic hallmarks of an abused partner" as she tried to take the blame for instigating the assault witnessed by the 911 caller.
It said the officers had failed to properly question Laundrie on inconsistencies in his statements, and showed a complete lack of understanding about domestic violence cases.
At one point Laundrie told the officers that he had tried to take Petito's phone because he didn't have his own, and later pulled out his phone.
Officer Pratt called assistant chief Palmer, who informed him he should "carefully read the assault statute" and decide what to do.
The decision on whether to charge Laundrie was given to the junior officer, Mr Robbins, according to the lawsuit.
He allegedly said he didn't believe Petito and declined to press charges, and that he would pass the file to the city attorney.
It's alleged that both Officer Pratt and a park ranger raised objections to his decision not to press charges.
The couple were separated for the night, with Petito remaining with the van and Laundrie checking into a local motel.
They reunited the next day, and a few weeks later Laundrie strangled his girlfriend to death in the Grand Teton National Park in Wyoming.