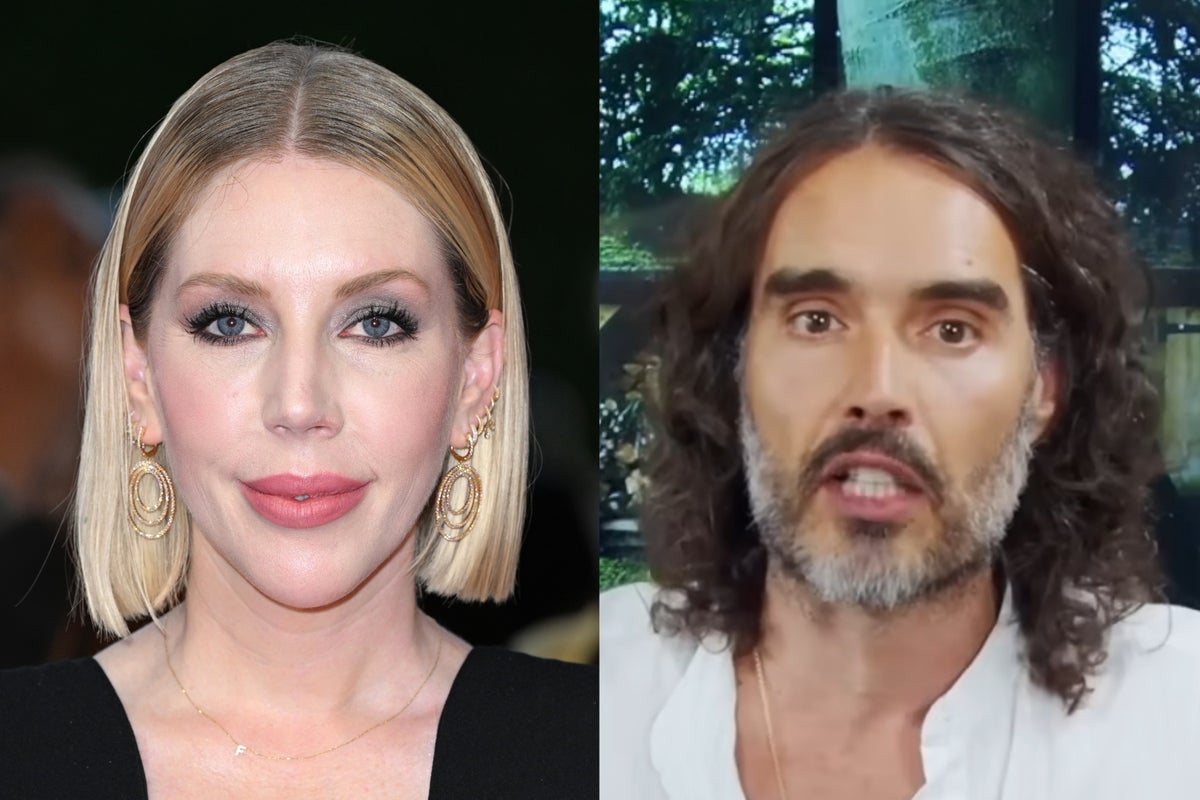 Russell Brand left the series Roast Battle on Comedy Central after co-star Katherine Ryan kept mentioning sexual abuse claims on camera, a new report claims.
Brand, 48, was accused of rape, sexual assault and emotional abuse by four women as part of a joint investigation by The Times, The Sunday Times and Channel 4's Dispatches last weekend. He has vehemently denied all allegations and maintained that all of his sexual relationships were consensual.
Ryan starred in the first season of Roast Battle alongside Brand and Jimmy Carr in 2018. Brand departed after six episodes, with Jonathan Ross taking his spot as a judge.
Follow The Independent's live coverage for the latest updates. If you have information in relation to the allegations against Russell Brand that you would like to share with The Independent's reporting team, please email yourstories@independent.co.uk
According to a report in Deadline, three sources close to the production of Roast Battle have said that Ryan mentioned sexual abuse allegations on camera, describing Brand as a "sexual predator", but the footage did not make it into the edited version of the show.
The report claims that Brand was said to be "furious" at his treatment on the show.
Ryan, 40, previously discussed an incident in which she called out a co-star on a TV set for sexual abuse, but did not name the co-star or the series she was referring to.
Ryan first discussed the subject publicly in June 2022 on an episode of her Prime Video series Backstage with Katherine Ryan. In conversation with Sara Pascoe, whom Ryan said also knew the alleged offender, the comic recalled: "I raised it. I called him a predator to his face and in front of everyone every day.
"What am I supposed to do? It's such a messy thing because I don't have proof. What, am I not supposed to feed my children because of someone else?"
Ryan didn't name the alleged abuser, but Ryan was questioned on the subject again in an episode of the BBC series Louis Theroux Interviews... in November 2022.
The Canadian comic said that she believed the alleged abuser to be a "perpetrator of sexual assault", telling Theroux: "It's very dangerous for us to have this conversation.
"I'm happy to have it, but it's a litigious minefield because lots of people have tried to nail this person down for their alleged crimes and this person has very good lawyers, so am I going to put my mortgage on the line by saying who this person is or entering into any conversations like that? We've seen what happens to the people who talk about alleged predators."
Comedian Katherine Ryan

— (PA)
Ryan reiterated that the allegations were "not my story to tell" as "no one has perpetrated any sexual assaults against me".
"But this person, I believe very strongly – many people believe very strongly – is an open secret, is a perpetrator of sexual assault," she continued. "I, in front of loads of people, in the format of the show said to this person's face that they are a predator."
Deadline reports that it has confirmed with multiple sources that Ryan was speaking about Brand at the time.
The Independent has contacted representatives for Brand and Ryan, as well as the production company Fulwell 73, for comment.
On Saturday, a joint investigation by The Times, The Sunday Times and Channel 4's Dispatches brought to light allegations that Brand had abused multiple women between 2006 and 2013. One of the alleged victims was 16 at the time. You can read in depth about the allegations here.
Following the report, the BBC and Channel 4 have vowed to investigate the claims against Brand.
Russell Brand in a YouTube video

— (PA Media)
The Sunday Times also stated that additional women have come forward with allegations against Brand after the report's publication. The new claims are being "rigorously checked", the publication said.
Channel 4 has taken down programmes featuring Brand from its All 4 streaming catalogue following the allegations, with the BBC and Paramount+ following suit.
This week, YouTube also suspended adverts on Brand's channel, citing a violation of website policy. Brand will still be allowed to upload new videos
The suspension, for "violating its policy", will still allow Brand to upload videos, but he will not receive advertising revenue.
Rape Crisis offers support for those affected by rape and sexual abuse. You can call them on 0808 802 9999 in England and Wales, 0808 801 0302 in Scotland, and 0800 0246 991 in Northern Ireland, or visit their website at www.rapecrisis.org.uk.
If you are in the US, you can call Rainn on 800-656-HOPE (4673)