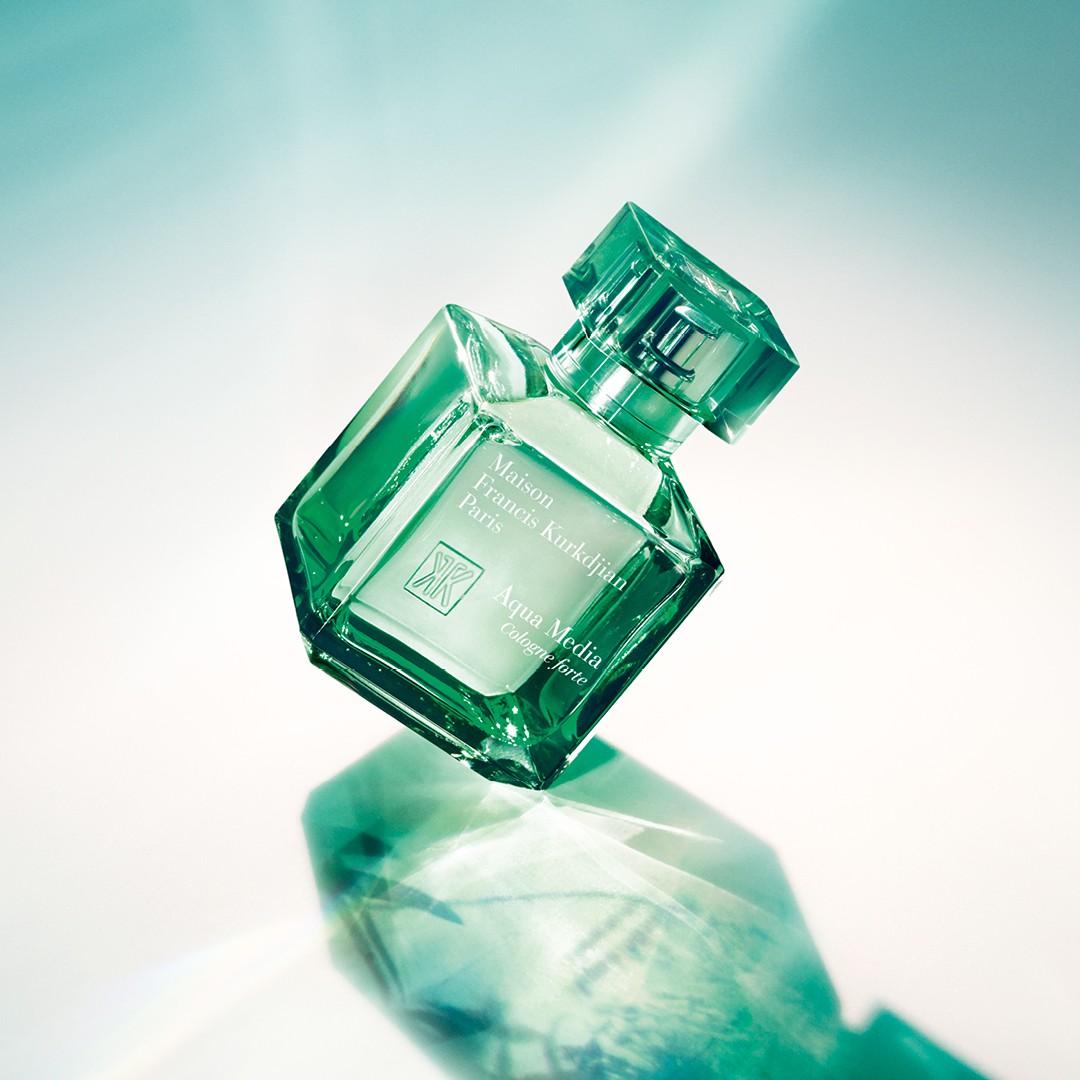 In the fragrance world, Francis Kurkdjian is in a league of his own. He started his career in 1995, eventually becoming famous for creating the wildly popular Le Male for Jean Paul Gaultier that same year. For decades he channeled his passion, eventually showing his devotion to perfume by founding fragrance house Maison Francis Kurkdjian in 2009 and later launching his bestseller, Baccarat Rouge 540. 
Kurkdjian has a special approach to fragrance. While most perfumers focus on the notes and story, and then decide on a name, his method is the opposite. "Throughout my career, my approach to the creative process has always remained the same," he says.  "I start by naming a fragrance and that guides my road map for the story I am seeking to tell with a scent."
This process holds true for his latest fragrance, Aqua Media Cologne forte, the third installation within the Cologne Forte Collection, which strikes a balance between the notion of light and freshness. The bottle features a deep green shade that signifies the center of the rainbow, a tone Kurkdjian considers perfect mix of water and sunlight. Here, Kurkdjian describes his newest eau de parfum and explains how a healthy mind and body inspired him to create the collection.
Marie Claire: How is Aqua Media Cologne forte different from other fragrances within the Aqua collection? 
Francis Kurkdjian: The heart of the Aqua Collection is the interaction between light, water, and freshness. Each of them has their own story but they're all tied to this concept, expressed in different ways, to convey different emotions. This fourth scent of the collection bears a Latin name, Aqua Media, which literally means the "water of the center". The fourth fragrance echoes the fourth color of the rainbow, from which it takes its green hue.  The middle color of the rainbow, a phenomenon that springs from the meeting of water and light, two key elements of the Cologne forte Collection. Aqua Media Cologne forte embodies this feeling of balance and harmony—it opens a window onto a luxurious landscape of eternal freshness, like a hidden garden, where living but serene water flows. I wanted to highlight facets that I particularly like: the tangy and aniseed notes. It's really appetizing! I kept Italian bergamot as a top note to accompany hedione, an airy and luminous molecule, to give breath to the sweet fennel. This is at the heart of this composition, in duet with verbena, two very green and aromatic notes. I added woody musks in the base to accentuate the sensuality of the trail and added a hint of patchouli to give volume and reinforce the impression of freshness. This gives a green, electric, and almost effervescent foam facet, shining through in this garden of citrus. 
MC: How would you describe Aqua Media cologne forte?
FK: To me, Aqua Media cologne forte is the idea of obvious simplicity. It reflects happiness, a form of freedom. Being happy is above all being in harmony with oneself—your mind, body, and nature. Without pretenses. 
MC: What type of person is Aqua Media cologne forte designed for? 
FK: For everyone. Just like all my fragrances, I want people to have the freedom of choice. So, I didn't design it with a specific person in mind. It's a new addition to the Maison's olfactory wardrobe, a new option that anyone can wear whenever they feel like. It's a scent that is meant to evoke a feeling of balance, harmony, a savory freshness. What matters is that you feel great wearing it.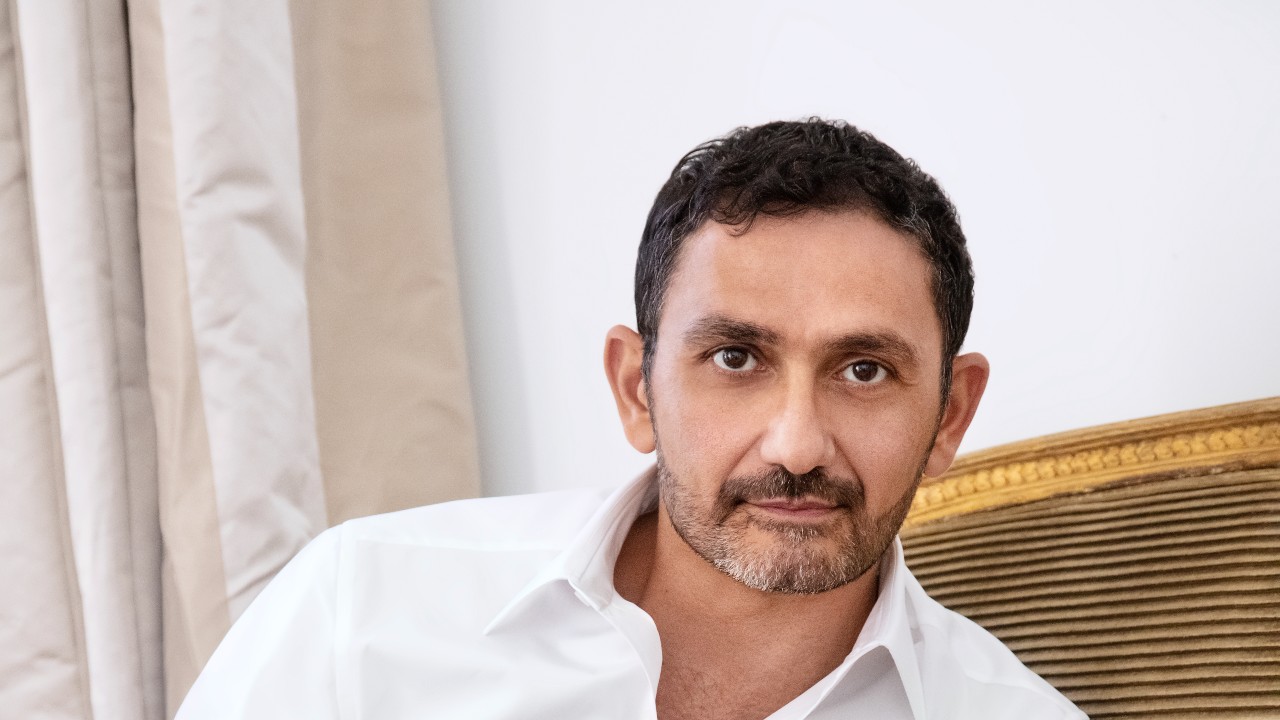 MC: Green moss is a popular note that's been at the forefront of many recent fragrances. What makes your combination of green moss and citrus so unique?
FK: The remarkable duet created by verbena's harmony with sweet fennel evokes a bursting, shifting aromatic note of green. This botanical structure is built upon a solid base of woody musks, which underline the fragrance's sensuality. An effect accentuated by a hint of patchouli amidst these fresh notes, unveiling the fragrance's electric, almost effervescent facet of green moss.
MC: What's the significance of naming the fragrance Aqua Media Cologne forte?
FK: Words are very important to me and for the Maison. I studied Latin and ancient Greek at school and I always loved it. Both these languages bring something essential to my mind. Latin is the origin of so many modern languages; it gives a feeling of essentiality, of something primal, like the unexpected, irrational almost, ways we each react to fragrances. All of my Aqua fragrances have a Latin name. I was inspired by historical eau de cologne when I started creating them. Until the mid-19th century, eau de cologne could be ingested and had a double effect of smelling good and making you feel good. The Latin phrase "Mens sana in corpore sano," which means "a healthy mind in a healthy body" inspired me with this collection particularly. Cologne forte stands for the idea of a long-lasting eau de cologne, an intense freshness that is essential nowadays.