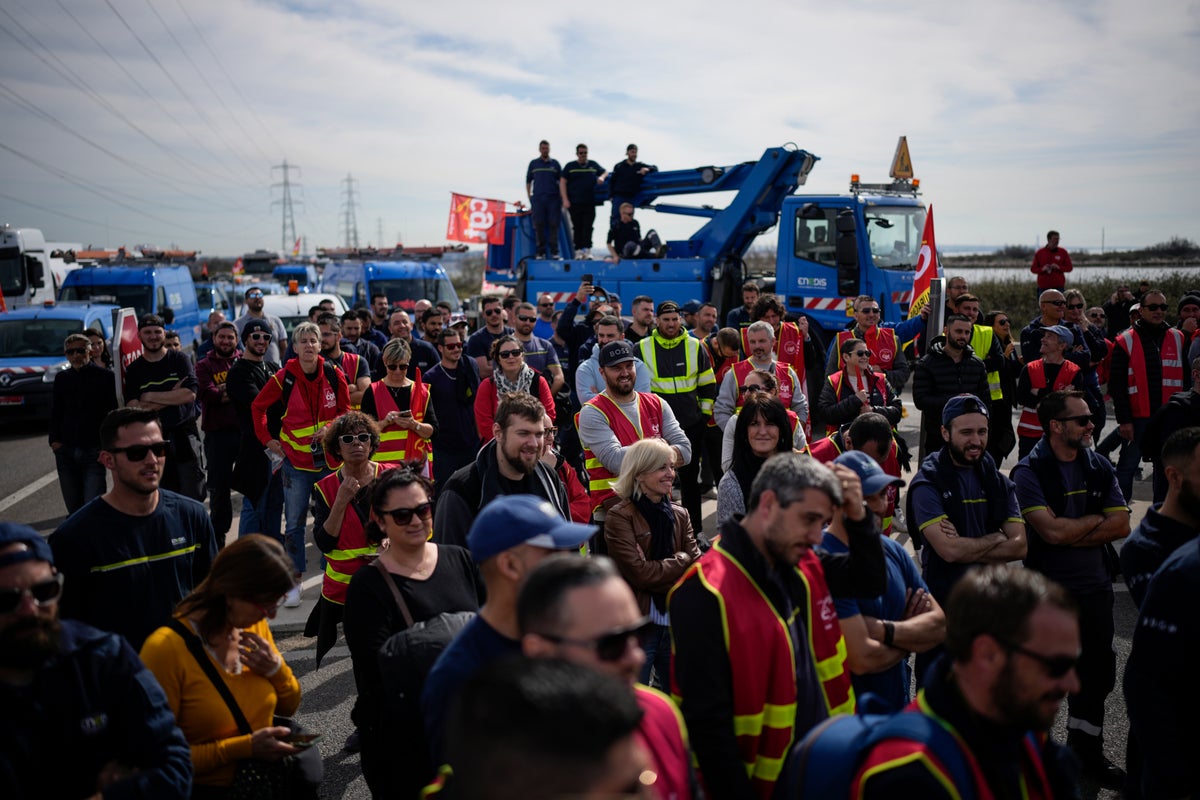 Paris police said Tuesday that 234 people were arrested overnight in the capital mostly for setting fire to garbage in the streets, after France's parliament adopted a divisive bill raising the retirement age from 62 to 64 pushed that was through by President Emmanuel Macron.
Mostly small, scattered protests were held in cities around France, some degenerating late Monday into violent incidents. In Paris, small groups took to the streets to set fire to piles of trash that have formed due to a strike by garbage collectors in the capital that is in its 16th day.
Macron has planned a series of political meetings on Tuesday with the prime minister, parliament leaders and lawmakers from his centrist alliance.
The French president, who made the pension plan a centerpiece of his second term, is to speak Wednesday on national television, a first since he made the decision last week to use a government's special constitutional power to force the bill through parliament. The move prompted two no-confidence motions against the government in the lower chamber of parliament that were both rejected Monday.
The bill still faces a review by the Constitutional Council before it can be formally signed into law.
Prime Minister Elisabeth Borne is going to refer the issue to the body to accelerate the process, her office said. Some opposition lawmakers from the far right also have filed a request, and leftists are expected to do the same.
The Constitutional Council can reject articles within the measure if they are not in line with the constitution. Opponents argues the text as a whole should be rejected.
Paris police authorities said in a statement Tuesday that they ordered garbage employees to work in order to ensure a "minimum service." It said that 674 staff have been covered by the orders, allowing 206 garbage trucks to operate since last week.
Meanwhile, oil shipments in the country were partially disrupted amid strikes at several refineries in western and southern France.
The Energy Transition Ministry said Tuesday that it would require some employees who are "indispensable to the functioning" of the Fos-sur-Mer oil depot, in southern France, to return to work. The move led some protesters to head to the site to support strikers and block access.
The Fos-sur-Mer depot supplies fuel for gas stations in the southeast of France, which currently are the most affected by shortages. French government spokesperson Olivier Veran said the government order started being implemented from Monday evening and warned that other orders may follow in the coming days.
Unions have called for new nationwide protests on Thursday to demand the government simply withdraw the retirement bill.