Fox News hosts appear terrified by Care Bear shortage in bizarre montage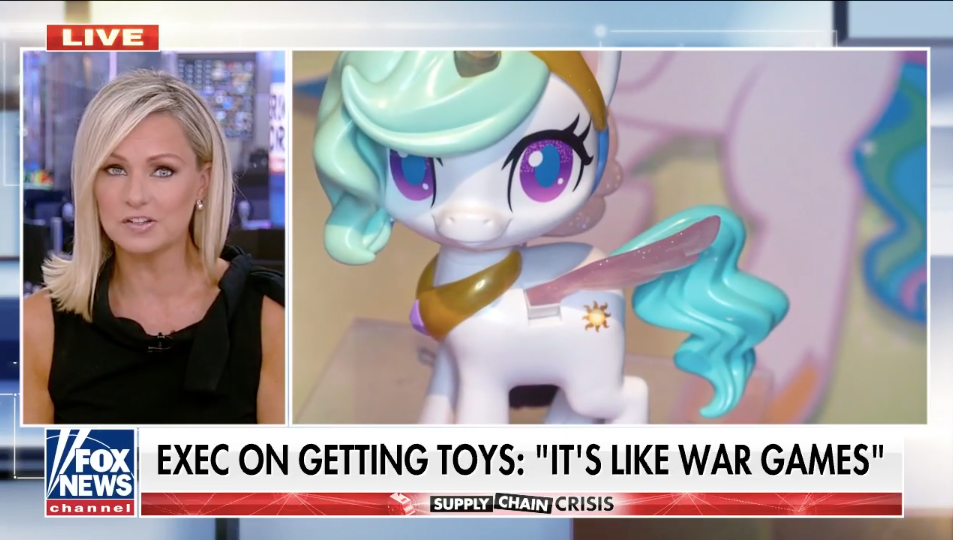 Fox News hosts seem a little too concerned with the Care Bear and Tonka Truck supply chain in a new montage that highlights various Christmas-related segments.
The video, created by political media company The Recount, shows various panicked segments from the right-wing network about a shortage of popular childrens' toys such as Care Bears, Tonka Trucks, My Little Pony, and Lincoln Logs. Dramatic music plays as holiday graphics flash across the screen and several hosts echo the sentiment that the lack of these toys can "make or break a Christmas." A clip shows Basic Fun! CEO Jay Foreman holding up the Togetherness Care Bear and emphasizing that "everybody needs one." The video ends with Fox & Friends host Steve Doocy saying "If people can't get bacon, and people can't get a Tonka Toy..." then mentioning President Joe Biden.
There's a new front in the Fox News "War on Christmas" coverage: supply chain delays. pic.twitter.com/kosVA3pkMV

— The Recount (@therecount) October 13, 2021
During a briefing on Wednesday, White House Press Secretary Jen Psaki said that the House cannot guarantee whether or not holiday gifts will arrive on time. These shipping delays are a direct result of Covid-19 restrictions and worker shortages.
Biden announced that several steps will be taken in an effort to tackle supply chain issues, including the launch of 24-hour operations at the Port of Los Angeles to combat the line of ships waiting to dock.
This prompted a response from Laura Ingraham, host of The Ingraham Angle, who ran a segment discussing the toy shortage accompanied by a graphic of President Joe Biden depicted as the titular character of Dr. Seuss's The Grinch Who Stole Christmas. Hannity ran a similar graphic.
We live in stupid times pic.twitter.com/OtXYfMde3G

— Acyn (@Acyn) October 14, 2021
The War on Christmas just begins earlier every year. I blame the fact that it's become too commercialized. https://t.co/WCOpgJ4vxT

— Eric Kleefeld (@EricKleefeld) October 14, 2021
Christmas is 10 weeks away, with Americans still waiting to celebrate Halloween and Thanksgiving.