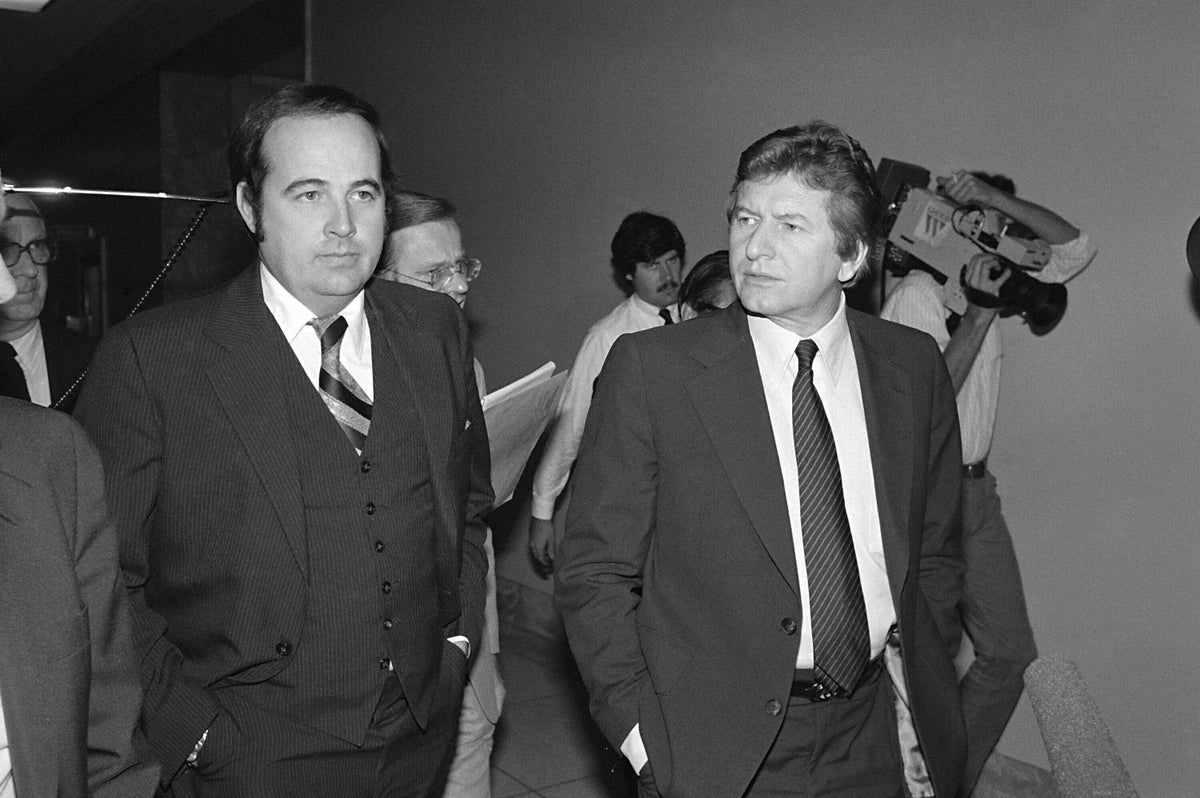 Former U.S. Rep. John Jenrette, a colorful politician who was convicted in the Abscam bribery scandal in the late 1970s and whose wife talked to Playboy about an in-session dalliance on the U.S. Capitol steps, has died. He was 86.
Jenrette, who had been in declining health, died Friday, according to his obituary from Goldfinch Funeral Home in Conway, South Carolina.
Jenrette served three terms as a Democrat in the U.S. House, and while his crime and escapades received the most attention, he also was known for securing federal help for his mostly rural district, including aid to tobacco and other types of farmers and a new bridge in Georgetown tall enough to allow ships to easily pass.
Jenrette was elected to the U.S. House in 1974, knocking off the incumbent Republican in the wake of the Watergate scandal.
Democratic leaders respected Jenrette and his ability to accomplish things. There was talk of leadership positions. But his splashy, outspoken nature would be his downfall.
A FBI informant approached Jenrette and other congressional members in the late 1970s, offering bribes if they would help pass immigration bills to help get into the country foreigners who wanted to run casinos in the U.S.
"I've got larceny in my blood," Jenrette said on the grainy video as the FBI, for the first time in the agency's history, taped politicians taking bribes.
Jenrette said he was drunk when he took the $50,000 bribe. He was convicted and served 13 months of a two-year prison sentence. He resigned from the U.S. House in 1980 just before his term ended. Even with all the news about the bribery scandal, Jenrette nearly won reelection.
After his conviction, Jenrette's second wife, Rita, posed nude in Playboy magazine and said she had sex with her husband behind a column on the U.S. Capitol steps during a break in a late-night U.S. House session. The escapade was the inspiration for the group The Capitol Steps, which did policial satire songs and skits for almost 40 years.
The book "Capitol Steps and Missteps: The Wild, Improbable Ride of Congressman John Jenrette" by John Clark and Cookie Miller VanSice detailed his life.
Both were former aides. They chronicled Jenrette's productive life after prison, where he helped tobacco companies sell cigarettes in Eastern Europe after the fall of communism, bred horses in Bulgaria, and bought and sold land in Myrtle Beach, eventually settling into a beachfront home with his third wife, Rosemary.
Jenrette helped promote the book about his life.
"I made some mistakes, but I lived a great life," Jenrette told The Post and Courier newspaper in 2017 . "I've been blessed. I've been around the world and done things I never even thought I could do."