Football fans recall the Roy Keane and Alan Shearer fight from 20 years ago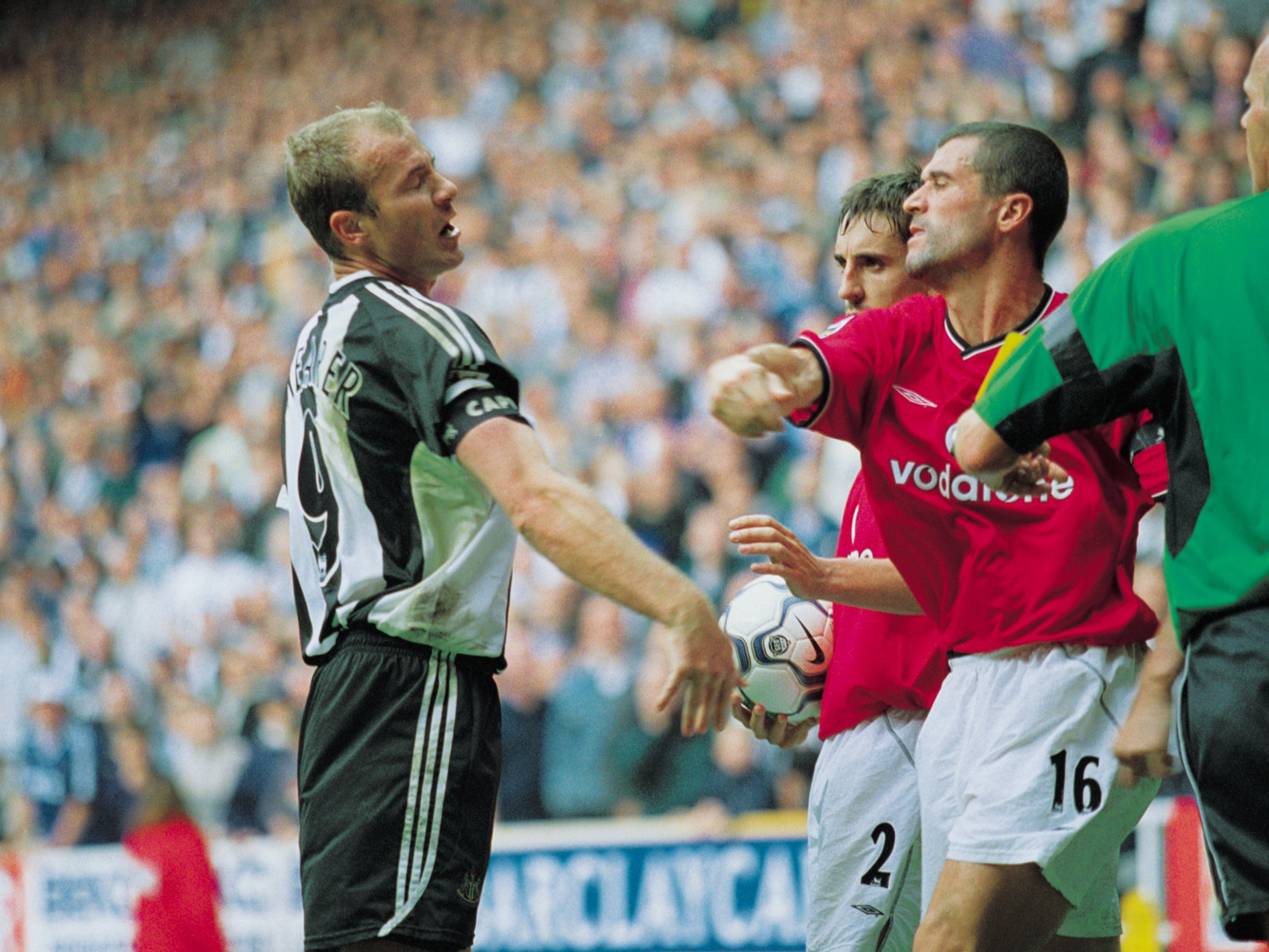 On this day 20 years ago, one of the most memorable clashes in English football took place between Premier League legends Roy Keane and Alan Shearer, which still has fans talking two decades later.
Let's cast our minds back to 15th September 2001, when Newcastle United faced rivals Manchester United at St James' Park.
Even before the clash it proved to be an eventful match, with the scores level at 3-3 after goals for The Magpies from Laurent Robert, Robert Lee and Nikolaos Dabizas and the Red Devil's goals coming courtesy of Ruud van Nistelrooy, Ryan Giggs and Juan Sebastián Verón.
However, Wes Brown's 82nd-minute own-goal proved to be the winner for the Toon Army.
And let's just say Roy Keane wasn't happy with this...
2️⃣0️⃣ years to the day....

Since @alanshearer & Roy Keane, err, had words 🗣 pic.twitter.com/cwiNNxm5Zs

— Amazon Prime Video Sport (@primevideosport) September 15, 2021
In frustration, the United captain threw the ball and hit Shearer in the head while pretending to take a throw-in. At first, Shearer didn't react to the hit, which only angered Keane further and the two soon exchanged some heated words. Keane ended up getting a yellow card for his actions by referee Steve Bennet.
Sign up to our free Indy100 weekly newsletter 'The Viral Democracy
But more was to come, as Keane completely lost it and took a swing at Shearer. Despite the best efforts of David Beckham and Gary Neville to pull Keane away from the situation, the Irishman's actions prompted the referee to show him a red card and sent Keane off in the closing minutes of the game.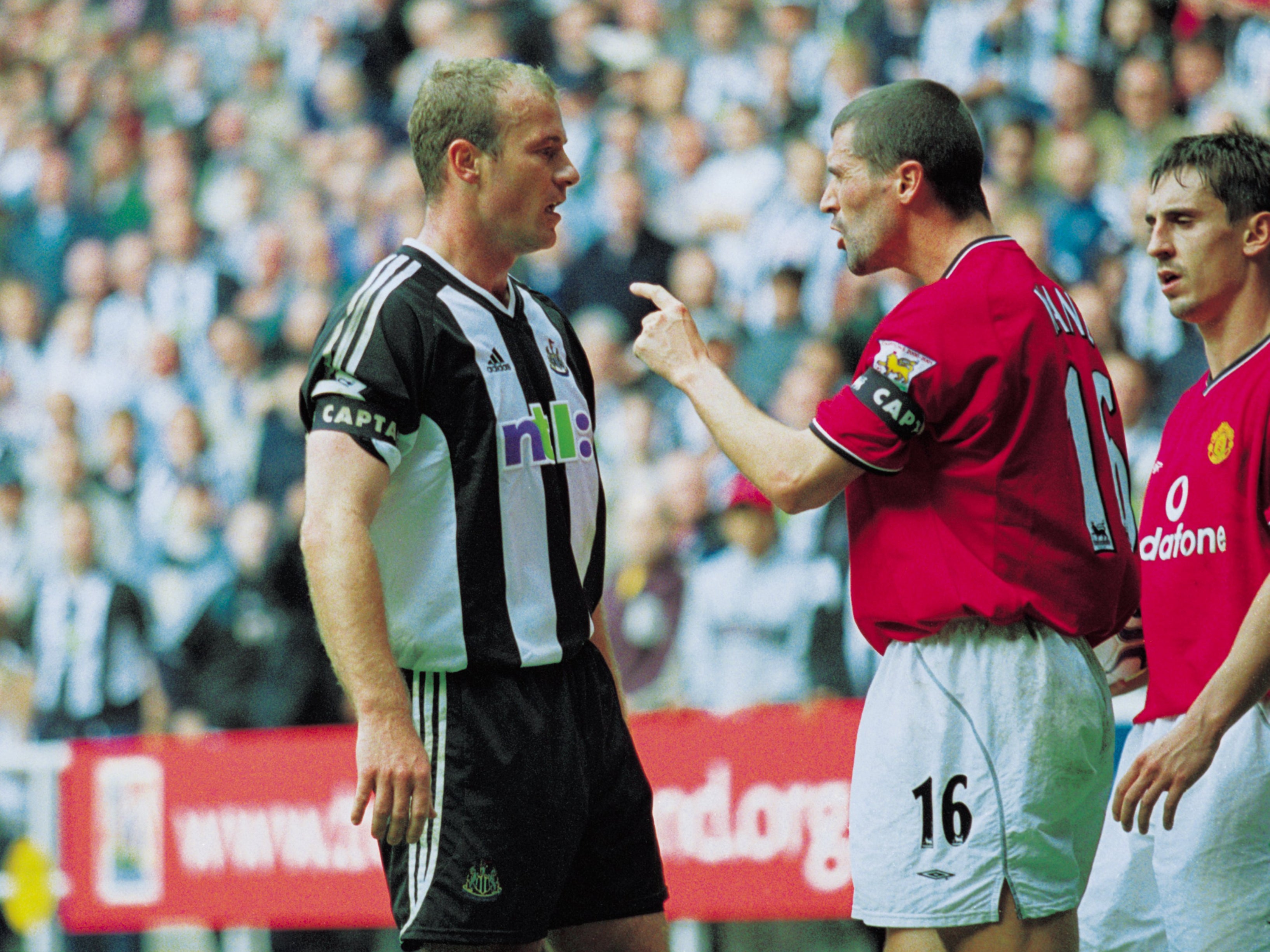 Football fans have taken to Twitter to reminisce about the confrontation two decades on and share their opinions as to which player came out on top.
20 years ago today: Shearer vs Keane.

The sort of thing no one (absolutely everyone) likes to see.

Bring yer dinner.pic.twitter.com/1XAXYbLZCf

— A Funny Old Game (@sid_lambert) September 15, 2021
Roy Keane is my all time football hero and favourite player....but Shearer played him like a fiddle on that day 😅🤦‍♂️ https://t.co/4WjOC7shiv

— Sion 🏴󠁧󠁢󠁷󠁬󠁳󠁿 (@SionBen86) September 15, 2021
One of my favourite PL moments.
Big tough Keane, so wild & enraged Beckham held him back 🤣😂🤣😂
All the time Shearer just stands there basically begging him to Bring It. https://t.co/L32h778gI3

— Luke Tansley (@TheLukeTansley) September 15, 2021
"siri - show me rattled" https://t.co/LJdAWE9gPo

— Rob Bunting (@BuntingsWorld) September 15, 2021
Honestly love watching Roy Keane back in the day. An absolute mad man roaming about the pitch 😂!! Football in that era was the best. https://t.co/hKYVSw6L6o

— CJ (@Jam_3192) September 15, 2021
Great day https://t.co/DzDx5eU090

— Dan Johnstone (@dan2jo) September 15, 2021
But how do Keane and Shearer recall the events on this fateful day?
What Keane said:
In an interview soon after the match, Keane shared his regret at being sent off over a push.
"If you're going to get sent off, the worst thing is, I pushed him," he said via talkSPORT.
"If you're going to get sent off you might as well punch him properly because you're going to get the same punishment.
"You might as well be hung for a sheep as a lamb. That's what I was thinking afterwards. It was just a push. It was ridiculous."
The now-50-year-old also recalled the incident with Shearer in his autobiography "Keane: The Autobiography."
"Newcastle away in mid-September," writes Keane, "We go 3-1 down Giggsy and Seba Veron get us back to 3-3. Shearer scores the winner. Christ. A bloody mess, a shambles, me worse than anyone.
"I grab the ball to take a throw-in. Shearer stops me. He's taking the p**s. I lose it, throw the ball at him. "You pr**k," he sneers. The way he says it, I know he really means it. I go for him, try to grab him by the throat. He's grinning. "You pr**k", he says, again. The red card comes out.
"Shearer's right: I am a pr**k. Fell into the trap. In the dressing room I felt empty. Hollow. Nothing in there, just remorse ...."
What Shearer said:
Meanwhile, Shearer recalled how Keane was waiting for him after the match.
When you went from the pitch into the tunnel at St James', there were a set of steps and then you split towards the home or away dressing-rooms," Shearer writes in The Athletic.
"When the final whistle went, Roy was standing at the top of the stairs waiting for me. I'm pretty sure a few more choice words exchanged, there was some bustling and scrambling.
"But there were way too many people between us for anything physical to actually happen. That's usually how it pans out in football."
Both men now regularly appear as pundits on BBC and Sky Sports respectively and thankfully their temper seems to have subsided...just a bit.
Football aye...it's a funny old game.