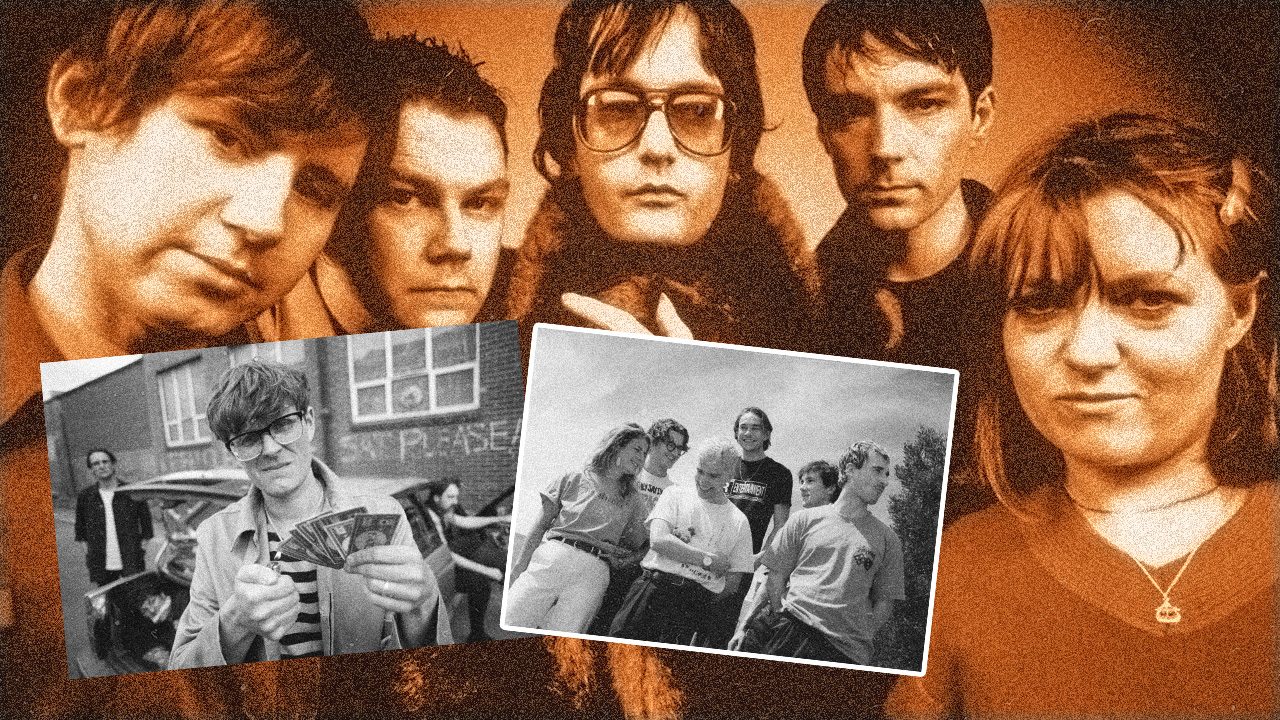 Formed way back in 1978, but forever connected to the Britpop boom of the 1990s, Pulp are one of the United Kingdom's most beloved and fascinating bands. Their origin story is both humble and suitably idiosyncratic, dabbling in obscure and largely-ignored art rock at a time when the UK's tastemakers were looking squarely in the direction of punk. That all changed when they wrote a set of anthems – 1995's A Different Class – that hit the summit of the album charts and saw them become Glastonbury headliners, Mercury Music Prize winners and BRIT Award disrupters. 
After that success, they rejected it all by making their most challenging album and then splitting up. Cut to the present day and they've joined fellow Britpop comrades Blur – and if you believe the rumours, Oasis – in something of a mid-90s renaissance, reforming for a series of hugely anticipated shows this summer. 
There's plenty to love about Pulp, including the new bands they continue to inspire. Here are five of the best.

Sports Team
Sports Team have a knack for finding the true romanticism of working-class culture, teaming that with twinkly-eyed sarcasm, funky, danceable indie pop tunes and a joy for the flamboyant – so it's clear why the London-based sextet are easy company alongside Jarvis Cocker and Co. The band's second album Gulp peaked at number 3 on the UK album chart, and is peppered with their finest material to date: R Entertainment is a cheeky strutting rocker, The Drop a ramshackle Roxy Music homage, while Dig! is Vegas post-punk complete with Elvis hip swivels.
---
Yard Act
Leeds-based indie band Yard Act broke through in 2022 when their self-titled debut album reached an incredibly impressive number 2 on the UK album chart. Their success is probably down to the current resurgence in appetite for British post-punk artists, as well as the fact that Yard Act borrow so heavily from the wry, dry Yorkshire wit and dashing cool of Jarvis Cocker. The combination of those two things have made Yard Act one of British music's hottest properties in recent years – securing them their own Mercury Prize nomination in 2022 – and they themselves would surely admit they owe a fair bit of it to Pulp's blueprint.
---
Pizza Crunch
Glasgow's Pizza Crunch have cited 80s indie as a huge inspiration on their sound, and you can certainly hear strains of The Cure and New Order woven through their music, but that includes early Pulp as well. The band's debut album That Serene Age, released in 2022, isn't as polished or bombastic sounding as the Sheffield legends at their mainstream-conquering biggest, but take a listen to the crooning, slight indie pop of Wilting Youth and Romanticised Past and you'll surely be reminded of the best bits of Pulp's debut album It.
---
Adult DVD
Back in 1992 Pulp released their third studio album Separations, a record that took their swooping post-punk and added synth pop and acid house influences to the mix. Three decades later Adult DVD are doing something very similar with current contemporary influences, taking arch, tongue-in-cheek lyrical narratives and sticking them over danceable indie with plenty of throbbing synth pop. At their best they are fantastically funny and catchy, their latest EP Fountain Of Youth contains the Jarvis fronts Hot Chip throb of Bill Murray which sounds brilliantly anthemic.
---
Brosnan
Hull trio Brosnan play indie rock, but are clearly fully in thrall of classic pop music – much in the same way that Pulp were an art rock band with a frontman who loved everyone from Burt Bacharach to Devo. The band currently only have a handful of singles to their name, but their jangly, upbeat pop is beautifully conceived and unquestionably influenced by the grandest of Britpop bands. Take a listen to recent single The King's Bed and tell us you can't hear at least a smidge of His n Hers.