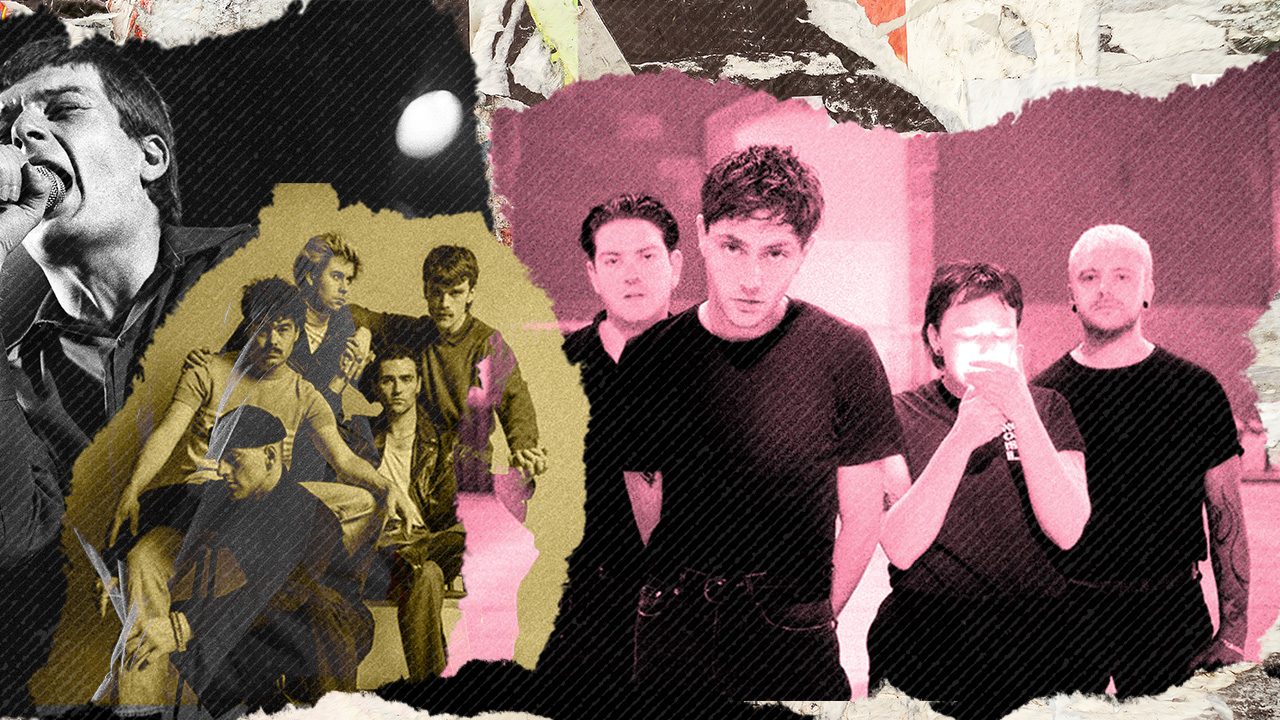 Despite only officially releasing two albums together in their time as a band – 1979's Unknown Pleasures and 1980's Closer – it's not hyperbolic to state that Post-punk pioneers Joy Division are one of the most influential bands of all time. Each individual element of the Manchester band was unique to them when they first emerged: Peter Hook's low-slung bass, Stephen Morris' seemingly disconnected drum patterns, Bernard Sumner's wiry guitar tone and, of course, Ian Curtis' deep, unsettling baritone. 
Since their emergence in the late 1970s, plenty of bands have tried to beg, borrow and steal from their distinctive sonic template with varying degrees of success. Here, five new bands who actually nail it.

Nation Of Language
The Brooklyn-based trio have been successful with their sombre, electronic indie pop over the course of two full-length albums – 2020's Introduction, Presence and 2021's A Way Forward. They are clearly influenced by Joy Division's second act – that would be New Order we're talking about – leaning enthusiastically into the bright electronics of that band's work on more than a few occasions. Still, listening to a song such as recent single Stumbling Still from their forthcoming third album Strange Disciple, it's clear that the shadow of the gloomy, stuttering shuffle of Hook, Morris and Sumner's first band can often push their way to the front of their pool of influences as well. 
---
Life
The Hull band's debut album North East Coastal Town is an intriguing mix of raucous, straight ahead indie punk and unconventional dub-bass-driven art rock. The latter is certain to chime with fans of Joy Division, and it's when Life dabble in this sound that they're at their best. Songs like Almost Home and The Drug jitter and twitch along in fine style, but it's album opener Friends Without Names that gets closest to capturing the browbeaten alienation and ennui of Ian Curtis at his best. More of that in the future please, chaps.
---
Model/Actriz
They may have been around since 2016, but New York collective Model/Actriz only released their debut album Dogsbody in 2023. It was, quite frankly, well worth the wait. Noise rock and no wave influences dominate the album, meaning that if we were doing this feature on, say, Swans, they'd be an equally decent shout. But it's the propulsive drum beats, the sense of melody buried beneath harsh electronics and the pure nihilism expressed throughout that we think would please fans of Joy Division, too. If you're more a fan of the early Warsaw-era material than Love Will Tear Us Apart then this is more in your wheelhouse, but Model/Actriz are exceptional nonetheless.
---
The Murder Capital
Formed in Dublin in 2018, from the same scene that spawned Fontaines D.C., The Murder Capital share a similar level of the baroque, downbeat poeticism that made people connect to Ian Curtis in such numbers. Their debut album, 2019's When I Have Fears, was produced by Nine Inch Nails, U2 and Depeche Mode collaborator Flood, and was a dark, angry collection of post-punk rage. Its follow up, 2023's Gigi's Recovery, was a more subdued but no less affecting set of songs that were brilliantly captured by producer John Congleton. Two very different, yet equally essential records.
---
Nightbus
They may currently only have two songs available for you to listen to, but Manchester trio Nightbus have already grabbed the attention of music fans. Vocalist, guitarist and keyboardist Olive Rees has a voice that recalls a more aloof Siouxsie Sioux, and the sounds of classic goth, post-punk and late-night electro accentuate her tones perfectly. Being from the same city as Joy Division will mean that the comparisons are obvious, but Nightbus have plenty of other elements in their music to keep them distinct. A hugely promising start.