NAGPUR: The Balasaheb Thackeray Samruddhi Mahamarg (expressway) between Nagpur and Mumbai will be the first highway in the country where nine green bridges (overpasses) and 17 underpasses for wild animal movement are being constructed as part of mitigation measures.
Also, all along the highway, leopard-proof fences will also be constructed so that the animal doesn't jump over on to the 701 km expressway which will see vehicles plying at speed up to 150kmph. The 120-metre wide road runs through 10 districts of Maharashtra and will cut the travel time from 16 to 8 hours.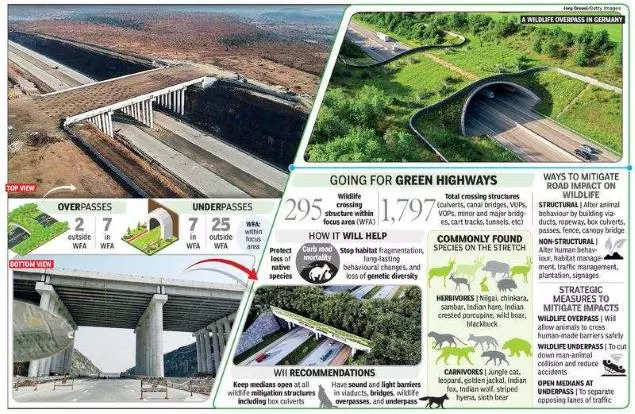 Of this 701km, 117km passes through wildlife habitats, tiger corridors, and eco-sensitive zone (ESZ) of three sanctuaries — Tansa, (corridor of Harishchandragadh sanctuary), Katepurna, and Karanja Sohol called as wildlife-focused area (WFA). Hence, the forest department insisted on mitigation steps to prevent animal deaths in road hits.
Overall, there will be 1,797 structures including box culverts, minor bridges, culverts, canals, viaducts, cart tracks, vehicle overpasses (VOPs), minor and major bridges, tunnels etc.
Bilal Habib, the scientist with Wildlife Institute of India (WII), Dehradun, who planned the wildlife structures, said, "Apart from these other structures, there will be 7 eco bridges in WFA and 2 outside WFA. Besides, there will be 17 wildlife underpasses in WFA and 25 outside WFA."
Talking to TOI, RL Mopalwar, managing director of MSRDC, the agency executing the project, said, "This is for the first time in the country that any highway will have so many wildlife structures and green bridges. We have agreed to most of the modifications recommended by an expert committee."
"These green bridges are under construction and work is going on at a fast pace. Some structures have also been completed. Most of these structures are 32, 45, and 60 metres wide and 120 metres long. These will have plantations and will look like a natural forest path to allow animals to cross safely even as traffic will pass under it. These will also have noise barriers so that animals don't feel threatened," said Mopalwar.
Kishor Rithe, state wildlife board (SWBL) member and who was also on the expert panel of Samruddhi, said, "The project is divided into 16 packages and we have ensured that every bit of the structures like culverts, were designed in a manner that would benefit wildlife and even small mammals like civet cats, reptiles, pangolins, etc."
"The DPR had included few wildlife mitigation measures which were modified by the WII after collecting a wildlife presence data through a study. The expert committee had made the site inspection in February and March 2020 to see and understand the WII modified proposed mitigation structures. We had suggested changes to some of the wildlife underpasses and overpasses and also to proposed box culverts, bridges, and viaducts considering some important aspects previously ignored. Knowing well that many such linear infrastructure projects will be planned in near future, the understanding generated by this project will be vital to find a win-win solution for both wildlife and the economy," says Rithe, one of the expert members.
"It is true that so many green bridges would be a new development and will help wildlife movement immensely. At a time when tigers hog all the limelight, we thought of chinkaras too, and in the dry land habitats, three overpasses of 32, 45, and 60-metre-width and 120-metre-long overpasses will be built. In the eco-sensitive zone (ESZ) of Katepurna sanctuary, one 16-metre-wide 120-meter-long eco-bridge will be constructed," said Rithe.
These eco-bridges are being built in the ESZ of wildlife sanctuaries through which the Samruddhi Expressway passes. Earlier, long underpasses were constructed on NH7's Pench-Kanha corridor between Nagapur and Jabalpur.
WII's Habib says, "Wildlife underpasses are equally important for animal movement. While constructing the Samruddhi Expressway, there were several hillocks that had to be cut for road work. Animals also use these hillocks to move. So, to ensure that their connectivity doesn't break, we suggested green bridges as well as underpasses. Once constructed, the animals will be able to cross over to the other side over moving traffic."
Suresh Chopne, of the Regional Environment Committee (REC), MoEFCC, who recently visited the site on Nagpur-Wardha-Pulgaon said, "It is a unique project in the country. These green bridges are needed for the future to save wildlife. Though not common in the country, these are important as they allow connection and reconnection between habitats. These green bridges can be used by carnivores as well as herbivores and even mammals. The structures will help avoid vehicle-animal collisions."
MSRDC executive engineer Bhushan Malkhandale said, "Mitigation measures are being taken seriously. This can be gauged from the fact that in my 58km section between Wardha-Nagpur, there are 29 wildlife underpasses and a couple of overpasses. In Bor and Tadoba tiger reserve corridor, a 300-metre underpass is being constructed for tigers."